A personal touch from Norris Plant Hire
11/02/2016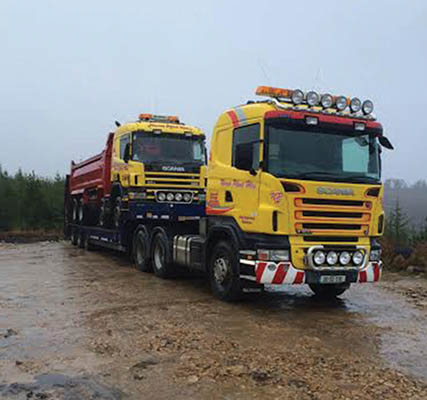 There is a general consensus amongst Irish people that when dealing with businesses, you get a better service from a firm that is family run.
Of course, there are arguments for and against this, but the fact that there is more of a personal feeling to a family run business cannot be denied.
It is true too that businesses handed down from generation to generation have greater longevity than some of their rivals and this covers every industry.
And the plant hire sector is no different as for this month's edition of Irish Trucker, we profile Sligo based Norris Plant Hire Ltd who are a family run business.
This company has over 20 years' experience within the construction and civil works industry, providing their customers with dynamic thinking to solve problems, complete works on time and within budget.
Norris Plant Hire was started in 1990 by Earl Norris, and seven years later the firm became a limited company, with Earl's wife Jean and their sons Alex and Steen Norris becoming the managing directors.
Another family member Jade is the officer administrator and she told us all about the services that they provide to a large customer base.
Norris Plant Hire Ltd. is a forward thinking family business that specialise in demolition, bulk excavation and plant hire, land drainage, bog work (soft ground), site clearance, shuttering, pile driving, construction, civil works, crushing and site development.
All our contracts are supervised by the Managing Directors to ensure the highest quality of work is delivered to our client," said Jade.
"We can also haul sand, gravel and rock and we are available for contract at an hourly or daily rate as required. Our company employs up to 20 people between full-time and part time."
To carry out their daily duties, Norris Plant Hire need a wide range of machinery and there is no shortage on that front as they ensure that they have every area covered.
"We have up to 30 ton excavators, loading shovels, dozers, dumpers, rollers rock breakers and other accessories as well as four trucks to name just some of the bigger machinery that we would use."
From their yard in Ballisodare, Norris Plant Hire Ltd do a lot of their own maintenance work, while Jade revealed that the plant is upgraded quite frequently.
"We would do a lot of our own maintenance work here at the yard. We do try to keep the fleet well maintained, while we also like to upgrade when possible. Since the recession, things have slowed down on that front as money is not as plentiful as it was in the past, but if we need to buy something, then we will."
The company's customer base is spread throughout Ireland and they are currently involved in projects in Athlone and Leitrim, while their customers range from the private sector to local authorities.
"There are two crews with the Sligo County Council, while we have a few jobs ongoing at the moment. There is definitely an improvement in the workload in the last few years and things are certainly turning around.
Health & Safety is paramount for the company and to this end all their employees are fully trained, FAS Safe Pass safety certified, CSCS cards Manual Handling and have wide experience in the construction industry.
Since the business was first established, 25 years ago, the aim has always been to provide a top quality service to their customers.
"We are totally committed to continuous improvement of safety standards and performance with zero accidents to date and zero accidents as our target. All our staff help us keep this by been such highly professional, motivated and experienced work team.
"Each project we work on, we work to the highest standard of quality with great emphasis on safety for clients in the housing, transport, industrial, commercial, utilities, energy, waste and leisure sectors.
"We pride ourselves on our systems of safety, value for money, project planning and programming and quality for the client on each individual project.
"Our staff are experts in their fields and have superior knowledge in the correct application and use of our range of equipment. All employees have current CSCS Cards and Safe Passes and full Irish License with CPC module 1,2,3,4 completed. Full employee records can be provided on request."
Norris Plant Hire are have completed many jobs in the past and their website details some of the bigger jobs including Tullynamoyle Windfarm, Sligo Racecourse, Connaughton Rd resurfacing and Stephen Street Car Park construction.
"We are always on the lookout for more work and we're confident that 2015 can be a good year for us."
Norris Plant Hire Ltd.
Corhownagh, Ballisodare, Sligo
Phone: 0719167915 Email: [email protected]
Web: www.NorrisPlantHire.ie
Taken from Irish Trucker & Light Commercials magazine, Vol 18 No 4, June 2015