Providing reliability and excellence
08/08/2018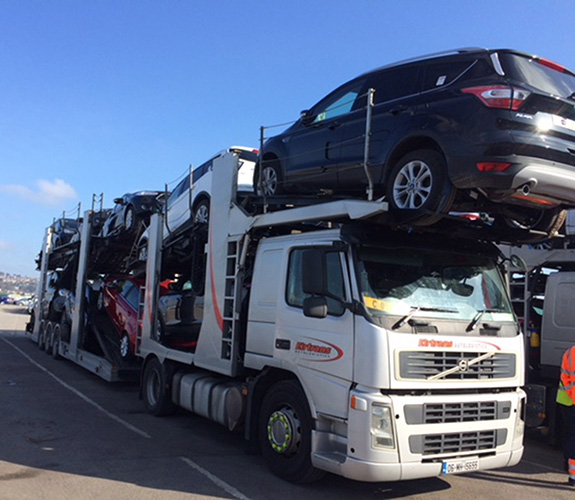 Eirtrans Autologistics provides a comprehensive transport service for cars and light commercials from Ireland to and from UK. Irish Trucker learned all about the Dublin-based business from its Managing Director Brian Hayes recently.
Eirtrans Autologistics has had a quick rise in the space of just four years and company co-founder and Managing Director Brian Hayes is keen to continue see the company grow.
The service Eirtrans supplies to its customers may sound as simple moving vehicles from "Point A to Point B" but Brian outlined to Irish Trucker recently that things are much more intricate than that.
Based just off the M7 on the outskirts of Dublin, the company is ideally placed for deliveries all over the Country and take great pride in its customer satisfaction as well as providing a quality service to all their clients.
Currently with a fulltime staff of 17, 12 of which are drivers who all have been fully trained in accordance with the ECG handbook.
The fleet of Car Transporters at Eirtrans Autologistics are all transporter engineering plus 11's and are all equipped with the latest standard of tie downs.
Eirtrans Autologistics are also members of the Road Haulage Association and all of their trucks are fully insured, as Brian himself outlined.
"We are in our fifth year now and the bulk of the work that we do is for retailers of all sizes based throughout the country" said the Managing Director who jointly runs the company alongside his business partner Brendan Cribbin.
Those retailers get provided with a comprehensive transport service for cars and light commercials both to and from the UK along with internal movement in the UK and Ireland.
Eirtrans Autologistics can also accommodate collection of larger vans and trucks in all areas of the UK.
"We move second hand cars from England and of course Brexit can have a big impact on that" said Brian. "We're just going to have to see what happens with it. At the moment we're doing between 250 - 300 units a week between here and the UK."
That's a far cry from when Brian first started out in this game. For over 25 years he worked for his family business delivering Renault vehicles to their dealer network.
He credits his father for his experience and knowledge in the industry as his Dad was one of the pioneers in the car transport industry in this country.
Following the Celtic Tiger crash and a brief spell driving for another company Hayes and Cribbin decided it was the right time to go out on their own.
"The first truck we bought was a Volvo and I actually didn't like it. However now I wouldn't buy anything else. I order them from numerous companies in England including Dawson Rentals.
"I still have a couple '03 Volvos here. We have looked after them and I can tell you that they're still cracking lorries.
"Since the announcement of Brexit it has seen a fair growth," the Meath native enthused. "In the last four years we have doubled in growth year on year but as I said we dont know what is going to happen and how Brexit might impact on our Industry. In the meantime all we can do is continue to
provide our loyal customers big or small with our highest standard of service."
The hope is that the effects of Brexit won't hit hard enough to stop the good work Brian and his staff continues to carry out on a daily basis.
Delving into the ins and outs of that work, Brian outlined why he feels Eirtrans Autologistics clients continue to choose them first ahead of other competitors in the field.
"We do what we say," he stated plainly.
"We strive to deliver our vehicles in an efficient and comprehensive manner. We employ drivers with vast experience and knowledge who in turn take great care and pride in their work. We appointed one of our former drivers as Logistics Manager as his knowledge of the transporters and routes was highly extensive.
"He has a very good working relationship with our Clients and drivers and his understanding of the business has been a big asset to the success of Eirtrans."
Right now the company is operating with 15 trucks in Ireland with two on English soil based in their yard in Crewe.
The facilities at Eirtrans Autologistics include state of the art security with 24 hour surveillance
and storage space for 300 cars plus.
Wherever you are located in the UK or Ireland, Eirtrans Autologistics can deliver or collect right at your door. The company's fleet of car transporters operate all across the UK and Ireland from the centrally located depots in Dublin and Crewe and their comprehensive door to door service ensures complete peace of mind for all customers, guaranteeing them a hassle free service.
Eirtrans Logistics Ltd
Brownstown Road
Newcastle
Co Dublin
Phone: 01 6012791/046 945 6035
Email: Enquiries: [email protected]
Accounts: [email protected]
Taken from Irish Trucker & Light Commercials magazine, April 2018, Vol 21 No 3