Clare Distribution - The Employees' Company
24/10/2018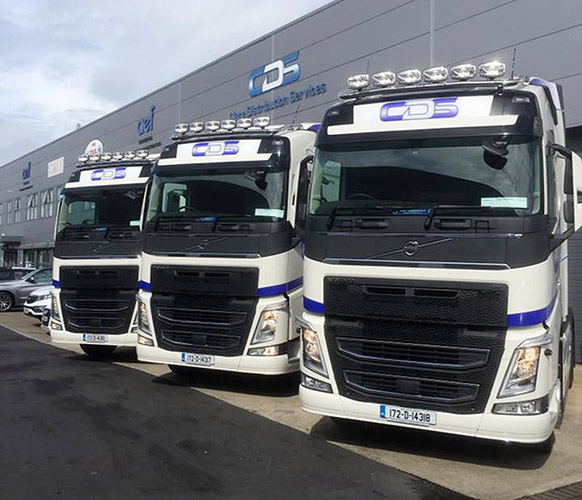 The success of any business can be attributed to a number of factors. However, one key area is having a reliable and efficient work force. Some companies take their employees for granted resulting in a lack of trust on both sides. This in turn can negatively impact performance and output. However, it is no coincidence that those companies who focus more on their staff reap the benefits and production levels are at a maximum.
One company that has benefited from placing a great deal of trust in their work force is Dublin based Clare Distribution Services. For the second year running, Clare Distribution Services (Dublin) has become the latest winner of The Irish Logistics & Transport Awards 2018, Transport Company of the Year while they also picked up the Employer of the Year award, which company director Mark Clare was delighted to receive.
"It is great to be recognised. Running a successful business requires a well thought-out back office team. As a service provider, we recognise that the success of our business is a reflection of the high calibre of personnel throughout CDS. CDS continues to go from strength to strength and I am very aware that I could not have achieved this success without the team around me," said Mark. "The CDS team are feeling proud and elated after the awards night and I was delighted that they got the recognition that they most definitely deserve."
Mark revealed that he places a great deal of trust in his employees and admitted that a change in their company's philosophy has certainly been a huge benefit to them.
"The majority of my team have worked with me for many years. We recognised about six years that there was a need to invest more in our employees. I believe that when there is a clearly laid-out path for advancement, the CDS Team will feel like they are a critical part of the company's success. They most certainly have been to date. By promoting from within, including them in new processes that will impact them, by implementing training programmes etc, we can create a powerful incentive for the team to stay long term with the company. You bring out the best in your team by allowing them to express their ideas, recognise their contribution, empowering them with the tools and information they need and giving them opportunities to grow. This in turn has helped improve efficiency."
The last couple of years have seen great change in the company as they opened a new depot in Cork where they have 13 trucks servicing the south of the country. "We felt there was a need for the Cork depot to help manage our customers in that part of the country. We now operate a fleet of 70 trucks and employ 105 people."
Running such a large business brings about its own issues and Mark revealed that there are many overheads, but the most problematic at the moment is the scandalous rise in insurance over the past 24 months. "Two years ago, our insurance rose by 40% and last year, it was up a further 55%. It is a situation that has become critical and it is something that needs to be addressed at Government level." Despite this, Mark and his team and focused on driving the company forward as they look to the future with a large degree of optimism
"It's all about providing the service. That's all we focus on. We don't produce or manufacture anything, so we concentrate fully on providing a stellar delivery service that's second to none. Regardless of the volume of work we're doing, we treat every customer as though they are our only customer."
He added: "I firmly believe that winning the awards has made companies take CDS a bit more seriously. We've worked hard and have been fortunate to pick up a few awards over the years and it has certainly helped the business."
This is a philosophy that has served Clare Distribution Services – and their customers – extremely well down through the years and has resulted in steady growth on an annual basis. When you set he bar as high as Mark Clare has, there is no such thing as resting on one's laurels. By optimising and maximising the company's strengths - embracing technology, automation and tracking systems etc. in the manner that best suits his own requirements – Mark continues to become more efficient, more competitive…
To achieve and maintain the high standards pinpointed by Clare Distribution Services as being critical to the smooth, efficient and profitable execution of the business, substantial investment is a prerequisite. To this end, Mark has demonstrated the courage to follow his convictions by investing in the best equipment and personnel.
"We set out with a five-year programme of freshening up the fleet and that has really stood to us in the long term. We have put ourselves out there as a serious distribution company and I like to think that people will look at us and say 'this is the way it should be done'."
Mark's aim is to stay on top of the game and to do so, he acknowledges that they can't rest on their laurels with regards to any aspect of the business.
" CDS specialises in the distribution of temperature controlled products delivering (in Ireland) chilled, frozen and ambient produce along with some pharmaceutical goods. Our lines of expertise include conducting, coordinating and adhering to specific delivery instructions for point to point, multi-drop and next day deliveries for a range of dry, chill and frozen products. We pride ourselves on building longstanding relationships with all of our customers as well as providing an efficient and reliable service.
" Today, I'm proud to say that Clare Distribution Services is considered one of the number one providers of frozen and temperature controlled goods in Ireland. Regular investment in a reliable, pristine fleet that's never off the road is part of our commitment of guaranteeing uptime - something which is particularly essential in the refrigerated distribution sector."
Clare Distribution Services
Unit B9,
Kingswood Business Park,
Lower Baldonnell Road,
Baldonnell,
Dublin 22.
Tel: 01 4032727
Email: [email protected]
Taken from Irish Trucker & Light Commercials magazine, July 2018, Vol 21 No 5