Best in the west for all tyres
20/03/2019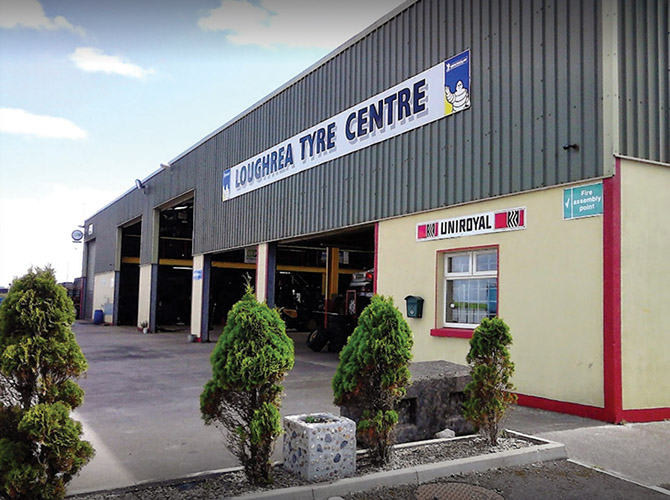 Supplying a full range of quality car, van, truck, bus and agri tyres backed up by a service level that is simply second to none, Loughrea Tyre Centre has over the last 18 years established itself as one of the premier tyre retailers in the West of Ireland. We travelled to County Galway and caught up with amiable founder / proprietor Thomas Monahan to find out more.
It would be no exaggeration to suggest that Thomas Monahan knows his chosen line of business inside-out. The Galway man has worked with tyres for almost four decades and has for the latter half of that time overseen the development of Loughrea Tyre Centre into a market-leading operation, stocking a full range of tyres for cars, vans, buses, trucks, jeeps, tractors, quads, construction equipment, trailers, agri machinery and everything in between.
Tyres are sourced, supplied and fitted in a professional, conscientious and cost-effective manner, outstanding service levels ensuring that the thriving operation continues to grow on the back of a steady flow of repeat custom complemented by new business through positive referrals.
Providing the best brands and accessories at the best price - including Continental, Dunlop, Firestone, Goodyear, Hankook, Michelin, Pirelli, Semperit, Federal, Bridgestone and BKT / Agrigear - Loughrea Tyre Centre also stocks rims, batteries, wipers and all parts and accessories associated with the tyre trade, making it the first port of call for tyre inspections, puncture repairs, tyre replacements, alloy wheel repair, wheel alignment and wheel balancing, with 24/7 breakdown recovery / roadside assistance also provided.
Very much the archetypal hands-on proprietor, Tom and his ex business partner Gerry built up the business by implementing an ethos of strong customer service, with an emphasis on quality and safety at all times. Tom subsequently bought out the business and little wonder Loughrea Tyre Centre has gone from strength to strength since its inception in 2000, serving tens of thousands of customers both locally and nationwide!
Reflecting on the genesis of the business, the founder reveals: "I had worked previously with Tom Curley Tyres for 19 years and had a good knowledge of the tyre trade, so it seemed like a logical move to go out on my own after that. At first, I rented the premises from Tom before relocating to new premises half a mile up the road."
Every possible tyre type is provided, literally from a wheelbarrow up to the largest truck, trailer or tractor, with a large number of haulage contractors included amongst the loyal customer base.
"There are a lot of hauliers in the local area, including a good few timber, sand and gravel, and concrete hauliers as well as general hauliers. We go out of our way to provide them with an excellent service and a lot of them return to do business with us over and over again."
Indeed, the Galway man confirms that repeat business is the very lifeblood of Loughrea Tyre Centre, with fleet owners and operators particularly demanding in terms of the service levels expected - and rightly so! "Service is No.1 with them. Then can't afford any downtime because money is going to be lost if they are broken down. So, we make sure they are looked after, as is the case with all our customers…
"As well as service, you also have to be strong on price and quality. Those are the three main things customers are looking for - service, quality and price - and you are expectedly to deliver on all three.
"We provide a call-out service around the clock and have a good network there to ensure that we can get to a customer quickly no matter where they are at any given time. You have to make yourself available. Answering the phone is very important and I have mine switched on 24/7. I am on call pretty much all the time, but I also have a couple of other lads here on standby in case it doesn't suit me to go out."
In total, gainful employment is generated directly for a crew of seven, including four full-time. Thomas also does a little bit of farming - sheep, sucklers, horses - with his son Jamie handling most of the work on the family farm.
As part of the local farming community, he points out that agri accounts for a large percentage of overall business: "We sell a lot of agri tyres. This is a big farming area and I'd say about 40% of my customers are farmers. As well as tyres for tractors, jeeps and machinery, a lot of them would have a car or two and their wives and children might have cars, too, so we get a lot of business that way. Again, it's knock-on business that you are getting from looking after people.
"We deal with Agrigear, Firestone, Bridgestone, Tyrecall, for our agri tyres and they provide a fantastic range of high-quality BKT, Firestone, Bridgestone and Tianli tyres for tractors and all agricultural implements - all great companies to work with."
On the truck tyre front, Thomas continues: "It's quality, quality, quality with the truckers. Bridgestone is the No.1 truck tyre for obvious reasons and Dayton is a newer brand we're selling, which is proving to be quite popular. We used to sell some Double Coin as well, which was a cheaper Chinese brand but they're not as popular now since they went up in price due to the increased import tax."
Loughrea Tyre Centre carries a large range of tyres of all makes and sizes, although demand is such that they tend to pass through quickly. With two service units on the road, a substantial catchment area is covered daily from Galway City to Athlone.
"Generally, we will go within 40km of Loughrea but we will go further for a regular customer if we can't arrange to have somebody else get to them quicker."
As for the goals of the business moving forward, Thomas says the focus will be on continuing to provide high-quality tyre solutions and optimal service levels: "We'll stay the same and concentrate on what we are doing. I have no intention of expanding the business or opening new premises. I'm happy with the size we are at and we're very busy at the moment," he concludes.
"The plan is to keep going as we are, keep our customers happy and keep hold of them. If we can do that and bring in some new customers along the way, we'll be more than happy."
Loughrea Tyre Centre,
Fairfield,
Loughrea,
County Galway,
H65 K652.
Tel: 091 841260
Mobile: 086 3045444
Email: [email protected]
Taken from Irish Trucker & Light Commercials magazine, Nov/Dec 2018, Vol 21 No 8