The tyre experts
03/05/2019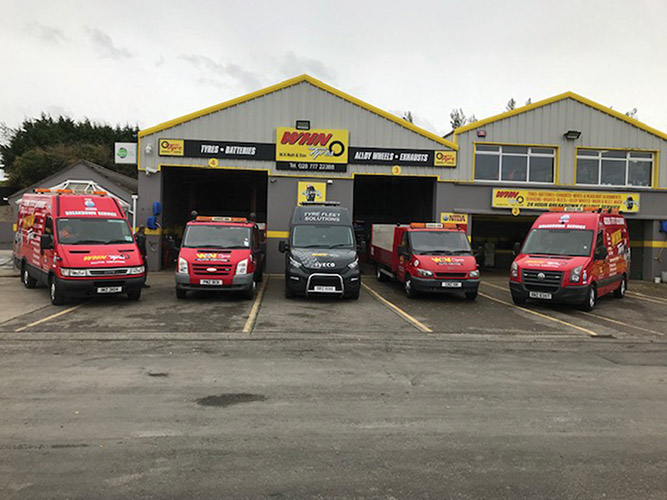 WH Nutt & Son was established in 1970 by William Nutt and his wife Bea. Having worked in the tyre industry before this, William took the chance to set up his own business and today the company is one of the leading tyre retailers in Nothern Ireland.
From humble beginnings, William has grown the business and is still actively involved even though his son Roy runs the operation now.
Located in Limavady Co Londonderry, this family run business has certainly moved with the times and they now provide an array of services from their state of the art workshop.
Roy explained to us that it was also an ethos of the company to move with the times and technology plays a part in the day to day running of the business.
"When my father set up the business, he sold tyres and batteries," said Roy. "These days our services include retail & wholesale business to a well equipped service & MOT centre, covering all aspects of vehicle maintenance.
"From the early years, we covered all areas of the tyre industry, supplying and fitting all sizes and makes of tyres, from the smallest implement to the largest truck and earthmover tyre, we continue to do this to date, incorporating a 24hr 365 day breakdown callout service nationally and internationally and also offer a full fleet management system for small and large companies."
With seven bays to work from in the workshop, WH Nutt & Son can cater for multiple vehicles at any given time, meaning that turnaround time is very short indeed.
Roy stressed that it was important to give the client the right tyre to suit their needs and he added that their reputation has been built on providing quality and not quantity.
"Our aim is not to be the biggest provider, but the one that provides the best service. Our reputation exceeds us. We have shipped tyres to Canada, U.S.A, U.K and Saudi Arabia. We stock all the leading brands and cater for everyone's needs."
Five mobile units are on the road looking after their customers wherever they may have an issue, while they also have an agreement with other companies to cater for their customers needs.
"We have five vans on the road, while we would have about 20 sub-contractors across Ireland and the U.K. So, if you of our customers are in bother, we will get someone to them very quickly."
Roy admits that people's attitude towards tyres have changed and gone are the days that cheaper is the way to go as quality takes over.
"People want a tyre that will last and that is why we talk to our customers. We offer a professional service and to do that we have to ensure that the customer gets the tyre that best suits their needs."
There are 12 people employed by the Nutt family, many of who have been there a number of years now. At their premises in Limavady, they also run a petrol station where a fuel attendant looks after their older customers. A personal touch that is appreciated by those customers.
For the last 18 years, commercial sales been a part of the business and this is an area that Roy is keen to push in the future.
"We can show the figures to the hauliers as to which tyres would suit their line of work. Like a guy that would be hauling milk from farms would need a different tyre to a haulier that would be travelling hundreds of miles every day. Safety is a key aspect when choosing a tyre and we can talk to the customer about all of this."
One company that WH Nutt & Son have been working with in this regard is Dale Farm Ltd and they contributed a testimonial for the feature.
"Dale Farm Ltd operates approximately 73 LGV vehicles, 31 trailers and 53 vans in Nothern and southern Ireland. We operate most of our vehicles 365 days per year and our vehicles are on the road 24hrs per day.
"Dale Farm Ltd has been working with WH Nutt & Son for over 18 years. WH Nutt & Son have been supplying a tyre fitting and repair service to the Dale Farm Fleet during this time.
"They also provide/organise 24hr tyre breakdown cover for the fleet of Dale Farm fleet of vehicles on the island of Ireland. In addition to these services WH Nutt & Son carry our regular fleet inspections of our vehicle fleet to help insure that tyres on the Dale Farm fleet are safe and legal and to also identify any potential problems before they become a breakdown on the side of the road.
"WH Nutt & Son are a key supplier to Dale Farm, I find them a first class professional company to deal with. They provide a first class service; are always contactable and over the years that Dale Farm have been dealing with them, have never let us/me down in a breakdown situation which given the number of years Dale Farm have been dealing with them and giving our type of operation is I think a testament to the type of service they provide," Dale Farm Transport/Fleet Manager Dan Carey.
WH Nutt and Son
68 Ballkelly Road,
Tullyhoe,
Limavady
Tel: (028) 7772 2388
Taken from Irish Trucker & Light Commercials magazine, Jan/Feb 2019, Vol 22 No 1