Another major award for Beatties as ace driver Martin scoops gold
26/06/2019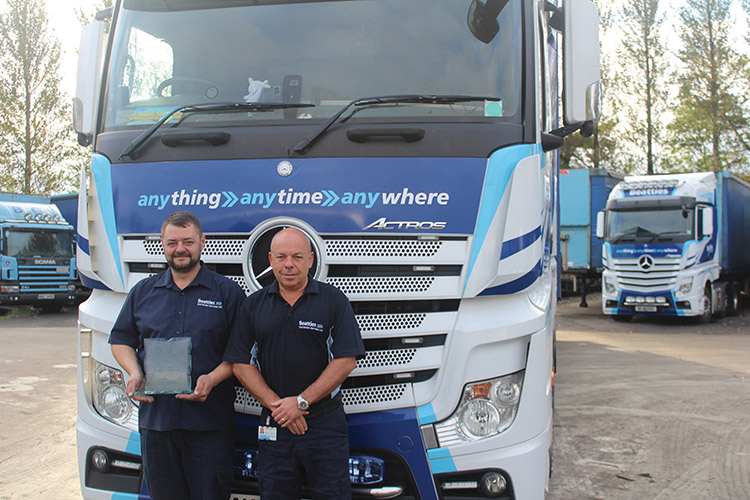 Since the company's inception more than three decades ago, next-day parcel and pallet delivery specialists Beatties Distribution Services Ltd. have been synonymous with the highest quality. Thus, it was fitting that their very own Martin Cooper was named Driver of the Year at the 2018 Export & Freight Transport & Logistics Awards.
Beatties Distribution Services Ltd. are no strangers to receiving major industry awards and the Northern Ireland based pallet shipping and courier service provider came up trumps again in October, 2018 when Martin Cooper was selected as Driver of the Year at the annual Export & Freight Transport & Logistics Awards.
Over the past 34 years and counting, Beatties Distribution Services Ltd. – with 70 vehicles on the road and 80 employees – have established themselves as a premier, multi-award-winning next-day parcel and pallet delivery company. They have won numerous APC Best Offshore Depot awards and last year became the first parcel delivery organisation in Northern Ireland to receive Van Excellence Operator Accreditation from the Freight Transport Association. Adding the Driver of the Year 2018 accolade represents another notable feather in their collective cap!
For the Export & Freight Transport & Logistics Driver of the Year Award, each driver was put through a series of tests and manoeuvres to determine their skills, with Chief Testing Instructors Colin Hamill and Colin Skelton from Transport Training Services (TTS) eventually determining that Martin Cooper was the best from a very strong group of contenders.
A highly skilled, passionate and committed driver who takes great pride in his role with Beatties Distribution Services, immaculately presenting both himself and his vehicle at all times, Marty was a very popular winner on the night and was the toast of all at Beatties when he reported for work the following morning.
"It's a huge prize within the transport industry and to have one of our drivers pick it up was absolutely fantastic. Needless to say, we are all very proud of Marty," comments Operations Manager Mark Laughlin. "He had been with us for four or five years now and I have to say he really is a Class One driver.
"He covers multi-drop groupage across Northern Ireland in his Mercedes Actros. He's very much our go-to man and has an excellent can-do attitude. Nothing is ever a problem for Marty and we are delighted to have him on our team. We were all thrilled when we heard he'd earned the Driver of the Year Award.
"We knew he was an excellent driver and that he had a great chance of winning it. We would actively encourage our drivers to enter these competitions because they're a very good initiative. We ran it by him and he was very happy to put his name forward and the rest is history now."
As it happens, Beatties Distribution Services are currently on the look-out for additional drivers to join their team: "The groupage world is quite difficult and it's not 9-5, so you'd be looking for somebody who is flexible," says Mark. "We place a massive emphasis on training and compliance and we're upgrading our fleet on an ongoing basis.
"All our drivers are driving fairly new Mercedes trucks and we let each of them keep their own. So they each have a good truck and all we ask in return is that they drive them professionally, look after them and keep them clean and looking nice."
Beatties Distribution Services started as a small, family-run operation in 1985. The company was founded by Stephen (MD), Walter and Andrew Beattie and has organically grown bigger and better over the years, focusing on their primary goal of providing a unique and premium service to all clients. This was the vision the founders (who remain actively involved today as hands-on directors) had and one which has given rise to the company motto: Anything, 'Anytime, Anywhere.'
Providing a fast and dependable service, Beatties Distribution Services regard customer care as an absolute prerequisite and can be contacted 24 hours a day, seven days a week, 365 days a year, every client and item afforded the utmost respect, care and attention to detail, from one small envelope or parcel to multiple pallets.
Fully regulated, insured, certified and licensed, Beatties Distribution Services operate a fresh and modern fleet of vans, which are replenished on a three-year cycle, using the most modern fleet management system, with telematics and dash cams on board all vehicles. Wherever necessary, a same-day delivery service can be provided, all as part of a fast, friendly and reliable service.
The stunning fleet of vehicles is at the heart of the business. "In total, between trucks and vans, we have 70 vehicles on the road at the moment. The older trucks are Scania but all of the new additions are Mercedes," the Operations Manager points out. "We use the trucks to deliver pallets to anywhere in Northern Ireland, the UK and the Republic of Ireland, whilst providing a next-day parcel delivery service across Northern Ireland using the vans."
Regarding the key to the company's enduring success and popularity amongst a vast range of repeat clients, Mark states: "Delivering on time, when you say you are going to deliver, is vitally important. Especially in the parcel business, people are generally waiting for their deliveries and some are taking time out of their schedules to receive them – they expect you to be there on time. We run a fresh fleet and keep them in perfect condition to make sure there are no unnecessary delays.
"Business is on the up in recent years, so we're in a good position going forward. We relocated to new premises in 2014 and we actually had to purchase the adjoining site to accommodate that growth."
Finally, what are the plans for the future of the workplace of Ireland's 2018 Export & Freight Transport & Logistics Driver of the Year? "We'd be hoping to retain the business we have whilst also growing the business further," Mark concludes. "We have a progressive sales team on hand to try to bring in new business for next year and we're constantly getting business through repeat custom and positive word of mouth, so things are looking up. We won't let our standards drop. If anything, we intend to improve even further, so we're optimistic about the future."
With drivers of the calibre of Martin Cooper on the payroll, they have every right to be!
Beatties Distribution
Services Ltd.,
Unit 6A,
Nutts Corner Business Park,
15 Dundrod Road,
Crumlin,
BT29 4SR.
Tel: 028 944 83100
Email: [email protected]
Taken from Irish Trucker & Light Commercials magazine, March/April 2019, Vol 22 No 2