The bulk animal feed haulage specialists
03/07/2019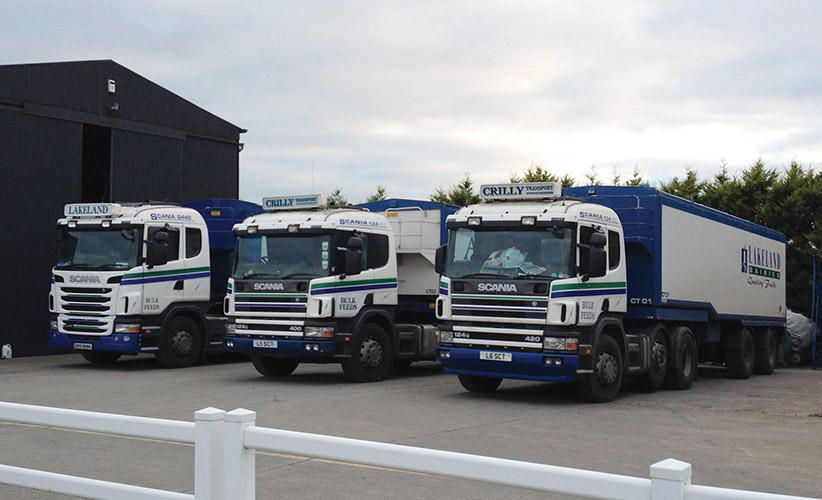 Established in 1990, Crilly Transport Ltd is a leading bulk animal feed transport specialist which provides daily deliveries to Lakeland Dairies Agribusiness customers across Leinster and Ulster.
Based in Belleeks, Co. Armagh, the family-owned and operated haulage and logistics company collects the feedstuff from Lakeland's state-of-the-art mill in nearby Lough Egish, Co. Monaghan and delivers on their behalf to farms and co-op stores in counties Monaghan, Cavan, Louth, Meath, Westmeath, Offaly, Dublin, Kildare, Wicklow, Armagh, Down, Tyrone, Fermanagh and Derry. Crilly Transport has been working exclusively for Lakeland since 1996 and has forged an excellent relationship with them and their customers in that time.
Lakeland's Lough Egish mill is approved by the Department of Agriculture, Food and the Marine and is also accredited to the UFAS quality standard. As part of their commitment to quality, Lakeland's on-site laboratory tests all raw materials and finished feed to ensure their customers are supplied with a product of the highest quality and one which guarantees full traceability.
Lakeland Dairies Agribusiness take a long-term and structured approach to feed production and ruminant nutrition. As their primary objective is to meet the specific requirements of their customers, all products in the Lakeland range are supported by a professional sales team and a nutrition department that is driven by technical excellence. Lakeland RumiSmart Sustain is a unique fully integrated feeding system that has been designed to assist customers to increase their production efficiencies and therefore their profitability.
"They're a great company to work for," Crilly Transport Ltd owner Sean Crilly says of Ireland's second largest dairy cooperative.
"We're proud to bear the Lakeland colours of blue, green and white on our fleet. We primarily deliver dairy feed along with beef and sheep feed. There has been a huge surge in the demand for dairy feed since the milk quota was lifted in the Republic in 2015.
"We also enjoy a great rapport with the customers. They're almost like family to us. Often times a customer will ring me directly rather than a sales representative because they know me so well at this stage. Other customers don't even need to ring us because we know exactly when they need a delivery. We're always there for them when they need us."
Peace of mind, trust and transparency are always assured with Crilly Transport Ltd which has been a member of TASCC (Trade Assurance Scheme for Combinable Crops) since 2014. The TASCC code of practice aims to combine food / feed safety legal requirements with recognised industry good practice and specific customer requirements to provide confidence in the food / feed chain. Crilly Transport Ltd's drivers are TASCC trained and up-to-speed with current legislation, while their trailers and high-spec blowers are also TASCC-compliant.
"By adhering to the TASCC code of practice, our customers can rest assured that every delivery we undertake is to the highest standard and is fully transparent. We comply with the strictest regulations and have built up a strong level of trust with our customers as a result.
"We use different trailers for the different feed stuffs, thus eliminating the risk of contamination. Our state-of-the-art trailers ensure the animal feed is of the highest quality," Sean explains.
Crilly Transport Ltd runs a fleet of five trucks and four bulk tipping trailers. There are three Scania 440 artics, one Scania 450 artic and a Volvo FM400 rigid. The four trailers are all Muldoon steer and axle, with the newest and biggest (a 44-tonne six-section trailer) arriving last July. Maintenance and repairs are carried out inhouse by Sean's son Laurence and by Toal Truck Services in Middletown, Co. Armagh.
"We pride ourselves on our professional, reliable, friendly service and our modern fleet of vehicles. We ensure that our customers' requirements are catered for to the highest standards of customer service."
Sean was a driver with Hughes Transport for 14 years before deciding to go out on his own. He is joined in the business by his wife Marie, who looks after the bookkeeping, and sons Shane and Laurence. Sean and Shane are the main drivers.
Through hard work and regular investment in its fleet, Crilly Transport Ltd continues to go from strength to strength. However, Brexit and the prospect of a return to hard border between Northern Ireland and the Republic of Ireland is understandably a major concern for the affable haulier.
"I'm dreading what might happen to be honest with you. I remember the bad old days when you had to go through customs checks along the border. You could never tell how long it would take. A hard border would be disastrous for us, but hopefully it won't materialise and common sense will prevail.
"No matter what happens, we'll be doing everything in our power to provide Lakeland Dairies and their customers with the same great level of service," he concludes.
Crilly Transport Ltd
10 Cavanakill Road,
Belleeks,
Newry,
Co. Armagh BT35 7PR
Telephone: +353 (0)87 2111732
Email: [email protected]
Taken from Irish Trucker & Light Commercials magazine, March/April 2019, Vol 22 No 2