Hire & Sales - the best of both worlds with Walker Vehicles Rentals & Sales
23/07/2019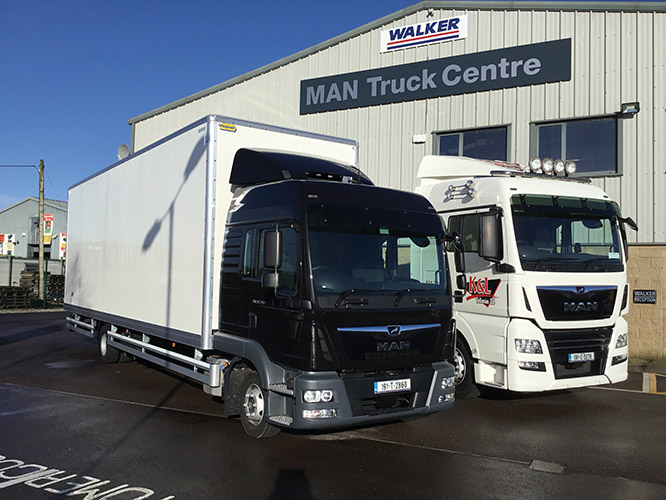 Walker Vehicle Rentals offer the widest range of commercial vehicles nationwide with over 20 years expertise in the Commercial Vehicle Hire and Sales market.
They pride themselves on being able to offer solutions to satisfy their customers' requirements across all industry sectors. Established in 1991, Walker Vehicle Rentals began by offering Van Rentals in the local Dublin Area and continued to go from strength to strength over the past 27 years now operating a fleet in excess of 1,400 vehicles from five depot locations throughout Ireland.
Walkers have a fleet of Municipal Hire vehicles to complement its already expansive fleet of Transport, Refrigerated and Utility Vehicles. These include Refuse Collection Vehicles, Skip Trucks, Hookloaders and Roadsweepers.
Walker Vehicle Rentals operates across a very wide customer base to include Logistics Companies, Local Authorities, and the Waste Industry. Their fleet consists of a Light Commercial Vehicle Range of vans, tippers, Luton boxes, and refrigerated Vans.
Their Heavy Commercial Vehicle Range consists of 7.5Ton – 18Ton Boxes and Curtainsiders, Tractor Units, and Refrigerated Units 7.5t – 18 t and tippers.
Walker Vehicle Rentals also act as agent and sole importer for a range of Municipal Equipment including Faun Municipal Vehicles, Scarab Roadsweepers, Hyva Hook & Skip Lift Equipment and Applied Sweepers.
In 2012 Walkers became main Franchise Dealer for MAN & Fuso Commercials for the Cork area under the Walker Commercial Vehicles banner and are the sole sales agent for MAN in Cork.
They have continued to invest in dealer facilities allowing them to build on their strong customer base. They currently employ 25 people in their Cork depot.
"We were primarily a rental company but both sides of company complement each other well," explained Walker Commercial Vehicles' Business Development Manager Michael O'Dwyer.
"A lot of our sales tend to generate from customers who are looking for a short-term rental and we offer them pricing on long term contract hire and purchase options along with finance packages. Fleet disposals make up a large number of sales each year too where we can offer the option of a used truck or van from our fleet with full service histories available on all our vehicles.
"Often people are caught between the two, hire and purchase and, whereas other sales dealers dabble in hire and when it comes down to don't have the expertise and backup when it comes to
replacement vehicles, we're unique in that we are strong on both sides.
"We offer nationwide support, maintenance packages and warranty and our customers can make their decision based on all that information."
So why would Walkers' customers choose a FUSO vehicle?
"The five-year warranty is a big thing but also the availability of stock," Michael answered. "We have factory built units here on site. If the truck is there, the customer can have it tomorrow with the 3.5 and 7.5 tonners being our biggest sellers.
"Since the introduction of the new MAN TGE LCV range last year the MAN range now covers the entire market from 3.5t up."
Walker Vehicle Rentals operates from five locations nationwide including Dublin, Cork, Limerick, and Wexford and Antrim. From each location, they offer a full range of Rental /Contract Hire and Sales vehicles. Each location operates a full service and parts department thus ensuring a first-class service at all times regardless of your location.
Walker Vehicle Rentals has grown substantially during this time and are absolutely committed to Customer Support at every Level and are fully supported by the manufacturers they represent with all diagnostic equipment and expertise on hand 24/7.
Their mobile workshops are professionally fitted out to a very high standard and carry a broad range of general spares as well as specific parts unique to their fleet. Each of their mobile units also carries diagnostic equipment that is multi-disciplined for both chassis and bodies.
All staff are time served and highly skilled with a full and comprehensive knowledge of all vehicles and equipment they offer.
In addition, Walkers offer and engage in a full fleet management service, vehicle maintenance and refurbishment, parts supply, and legal compliance. They also operate their own recovery service with units based at each location comprising of tilt and slide vehicles from 10 ton – 15 tons and a lowloader unit available nationwide.
"The objective is to blend seamlessly into our customer's business operation and take the responsibility and management away to allow their customers to concentrate on their core business," said Michael. "Often their customers find themselves running two business, a transport business and their core business."
Walker Vehicle Rentals continues to expand its fleet and invest in all their facilities and equipment to ensure they can offer the best service in their industry.
"I'm a big believer on always looking after the customer once they come through the gate. Repeat business is key so you have to look after the customer. John Barrett heads up our After Sales team and it's hugely important for the customer to know that they have the back-up if and when needed.
"Once you look after a customer, they can become a customer for life and word of mouth is often underestimated. Customers will tell ten other people if they have had a good or bad experience."
The customer-orientated approach outlined by Michael has worked well to date for the burgeoning sales side of the business.
"So far, we are busier than last year. We had a good start to year, with registrations, enquiries and sales up. We are pleased that we are heading in the right direction. When a customer calls into us they can see the vehicle, touch it and drive it. Again, that's a big thing," Michael concluded.
Walkers Vehicle Rentals
CORK DEPOT
Unit 1,
Mondaniel Business Park,
Mondaniel, Rathcormac, Co. Cork,
P61 AK77 Ireland
Tel: +353 25 87770
Taken from Irish Trucker & Light Commercials magazine, May/June 2019, Vol 22 No 3