Professional, modern freight forwarding, warehousing and haulage solutions
31/07/2019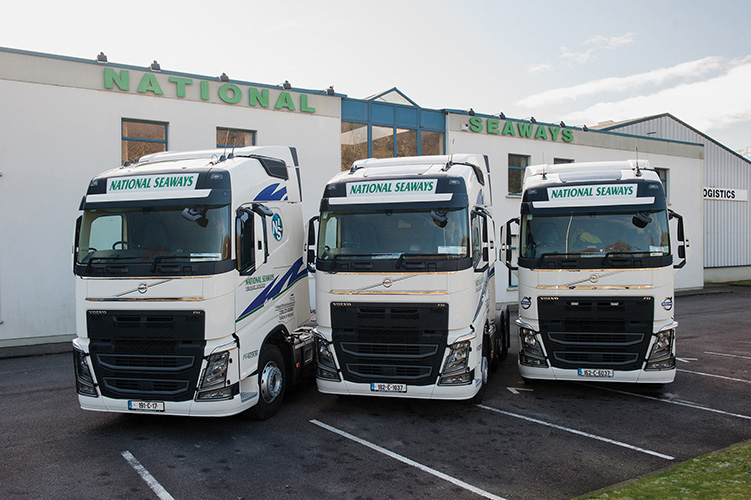 This year marks the 30th year in business for National Seaways Freight Ltd., one of the largest independent, Irish-owned freight forwarding companies in Ireland, who also provide unbeatable general haulage, warehousing and customs service. As they bolstered their in-house transportation fleet with the addition of a stunning new 191-reg Volvo FH13 500, Irish Trucker paid them a visit to find out more.
The 30th-year celebrations at National Seaways Freight Ltd. got off to a flying start when – in the first week of January – they took possession of a magnificent new Volvo FH13 500 from McCarthy Commercials. A real statement of intent! The 6 x 2 GT PA TU tractor unit (plated 46 tonne) is identical to the striking white-and-blue unit added to the fleet in July, 2018 .
"We took our first Volvo from McCarthys in August, 2016 - a 162 FH 500 - and subsequently added a 152 FM 460 before adding the 182 and 191 trucks. We're adding to the fleet as we go to offer the best possible transport service.
"Having worked on a total responsibility contract hire basis in the past, we decided that new trucks were the way forward. Once we opted to buy new, we looked at the market to weigh up our options and went with Volvo and partnered with McCarthy Commercials in Watergrasshill, Cork.
"From the very first day in March, 2016 when National Seaways Freight met with Michael and his team in McCarthy Commercials, we were confident that a great new business relationship was forming. Location-wise, they are close to us, offering us the opportunity to minimise downtime for our trucks - you couldn't ask for better products or better service. We're absolutely delighted with the Volvos and also with the service we have received from the dealer."
Providing logistics services to all industries, National Seaways Freight Ltd. – which has been delivering the goods for 30 years - is not only one of the largest independently-owned freight forwarding companies in Ireland, but also specialises in providing keen warehousing, transport and customs clearance solutions.
Strategically headquartered in Tivoli, in the Port of Cork, the company also boasts an operations hub in Santry, Dublin and a global network of partners offering a full range of shipping / transport services. National Seaways have built an unrivalled reputation in Ireland as a highly professional and progressive company with vast experience in all aspects of freight movements and logistics management.
Right across the industry spectrum, National Seaways Freight works for a vast range of importers and exporters, including largescale retailers and distributors, handling a wide array of products from stone and building materials to white goods, etc., etc.
On the import side of things, it's mostly East-West traffic, deep sea freight originating predominantly from China and South East Asia. A full consolidated service is offered from the factory floor worldwide to the front door. Meanwhile, exports – many of which are from the manufacturing sector – are destined for markets all over the world.
"For European short sea business, we import from and export to all over Europe - Belgium, Germany, Holland and Poland mainly as well as Italy, Spain and Portugal – and of course to and from the UK for now anyways. With Brexit looming and the uncertainty that brings, it will force customers moving goods to or from the UK to re-evaluate their entire supply chains."
The warehousing offering is based in the Port of Cork and consists of 52,000 sq ft of ambient storage, all computerised and delivering full traceability.
Significant investment in IT ensures the consistent delivery of the most efficient services possible. "We continue to invest heavily in IT so that we can maximise our efficiencies across all strands of the business. IT is becoming increasingly important and we're always striving to find the most efficient, digital way to work. We use Azyra software and it's certainly helping us to be more efficient.
"As well as IT, we're also investing in Communications, with a lot of work going on in the background to incorporate the most up to date, modern technology and communications into the business."
Customs clearance is another vital service provided – an important add-on when one is importing from all over the world. "This will take on growing importance with Brexit. We have in-house customs and tariffs expertise both in Dublin and Cork and we can provide professional, competitive customs clearance.
"All of our people are fully committed and vastly experienced and they know the industry and the business inside-out. National Seaways Freight have established excellent long-term relationships with the main shipping line carriers and logistics companies both in Ireland and worldwide, so we can offer our customers the best possible logistics service and value for money."
National Seaways Freight Ltd.,
Merchants House,
Tivoli Industrial Estate,
Tivoli, County Cork.
Tel: 021 4501888
Fax: 021 4501037
Email: [email protected]
Taken from Irish Trucker & Light Commercials magazine, May/June 2019, Vol 22 No 3