Proudfoot Motors set the standard for over 50 years
20/08/2019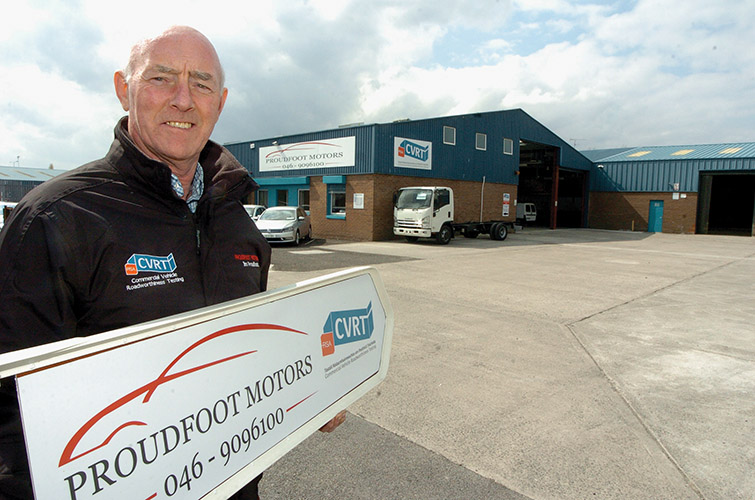 They say success in business can be gauged by longevity and to this end, Proudfoot Motors are certainly up there with the best when it comes to providing loyal and efficient service to their long standing customer base.
Established in 1969 as Nobber Motors, this family run business has never shirked a challenge and four years after undergoing a massive transformation by relocating the business from Nobber to Beechmount Home Park in Navan, the company is still going from the strength to strength as they celebrate their 50th anniversary.
The move and rebranding was always going to be a huge change for them and obviously there are calculated risks that go along with that but Thomas Proudfoot revealed to us that they haven't looked back since the move.
Their state of the art facilities include a showroom and waiting room that you are made feel at home in, as well as a modern workshop that stocks a wide range of parts and modern equipment used for repairs and service work.
As CVRT testers, they have three lanes, two for light commercials and one for heavy commercials, with four experienced testers carrying out the work.
"The business has gone from strength to strength since the move. We are still main Isuzu and Saab dealers and there is a great selection of models on the market at the moment," said Thomas.
"The main core of our work would be the in the workshop and the CVRT testing which is busy all the time. We would have a lot of repeat custom ranging from people bringing in their cars to haulage firms."
The CVRT Commercial Test Centre in Beechmount Home Park carries out annual inspections on behalf of the Road Safety Authority on all types of light and heavy commercial vehicles – vans, trucks, trailers, jeeps, minibuses, coaches, camper vans etc. Embracing state-of-the-art technology, the modern testing equipment used by professional, certified and experienced technicians is compatible with the latest EU regulations.
Proudfoot Motors provides sales, service and CVRT testing from 8:30am until 5pm Monday to Friday and on Wednesdays they stay open until 8pm to ensure more flexibility for their customers.
"We can also service vehicles on the same day as the test and carry out any repairs required to ensure that the vehicle passes. When a vehicle fails initially, it is possible to have the necessary repairs carried out on the same day."
Their parts department stock a comprehensive range of original Saab and Isuzu parts along with various other brands. Using their electronic parts catalogue, they can conveniently identify any part within a matter of seconds. From new and second-hand sales to servicing, repairs, parts and testing, a personal touch is provided at all times and excellent customer relations are guaranteed across all aspects of the business.
"This is a family run business, my father Jim set up the business 50 years ago and he is still involved today, while my sister Marie is the Accounts Manager."
Proudfoot Motors are a Stoneridge tachograph fitting centre, capable of fitting, repairs and calibration as well as vehicle dimension plates and speed limiter calibration.
When it comes to commercial vehicle testing, Proudfoot Motors puts their many years of experience to good use at its stunning facility.
"We started testing in Nobber, as Nobber Motors, in 1990 so we have gathered a lot of experience over the years. In conjunction with the RSA's overhaul of the testing network, we took the opportunity to relocate and reinvent our business. It is a decision we are delighted to say has gone very well."
As stated the CVRT testing lanes are always busy and this part of the business is located away from the workshop so that the work can be carried out in an efficient manner.
"The testing area is a stand-alone area and we also have extra workshop facilities to carry out any repairs or general servicing on any type of vehicle, from a car to a truck.
"We accept online bookings for CVRT Tests and have noticed a great increase in online bookings with 10% of all tests completed booked online and 50% of those paid online also."
You can book your CVRT online at https://www.proudfootmotors.ie/crvt-commercial-test.php.
Looking towards the future, Thomas is confident that they can build the business even more and increase their customer base.
"We would like to sustain what we have and also to increase our business as we are centrally located now in the county town. We are the only commercial test centre in either Navan, Kells or Trim.
"Commercial vehicle testing has always been busy here and it feeds work into your garage as well. One complements the other and we are a one-stop shop providing the full solution, including new and used vehicle sales.
"Many customers are leaving vehicles in for test without appointments and we try and fit them in, if others cancel at short notice. Customers should also be aware that they do not need to wait with their vehicle, so they can drop off and collect later if desired."
The location of Proudfoot Motors makes it easy for their customers to access the premises without any great delays.
"The real beauty of this test centre is its accessibility. We are close to the town centre yet there won't be any issues with HGVs getting in an out as we are in an industrial estate with total ease of access."
Contact Details:
Proudfoot Motors
Beechmount Home Park
Navan, County Meath
Phone: 046 9096100
Email: [email protected]
Web: www.proudfootmotors.ie
Taken from Irish Trucker & Light Commercials magazine, July/August 2019, Vol 22 No 4