Loughran Commercials: The Adblue specialists
27/08/2019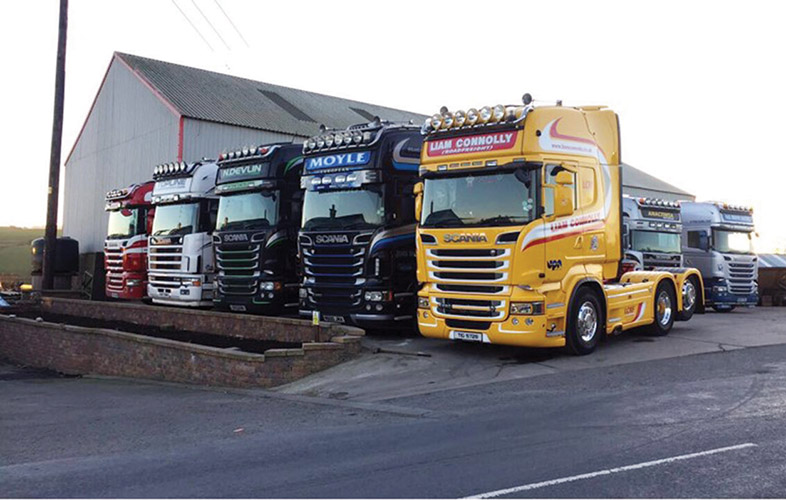 Diesel engines are now required to meet tough NOx standards to help control air pollution. The preferred method involves injecting a high purity fluid called Diesel Exhaust Fluid (AdBlue) into the exhaust system. AdBlue works seamlessly with absolutely no effect on the performance of the engine - the driving experience will remain as enjoyable and as efficient as ever.
Trucks have had systems in place to allow their engines run AdBlue for many years. However, these systems have not been used for many years, but a change in the law sees them being reintroduced.
Many have ceased or are just not working over time and it costs money to replace them or get them working again, but Tyrone based Loughran Commercials Ltd offer a service that is unrivalled on the island of Ireland.
Particulate filters can get blocked up with soot, oil and other deposits that are created when diesel is burnt. This will result in poor engine performance, higher fuel consumption and ultimately pricey repairs.
You can avoid this happening to your vehicle by having your particulate filter cleaned and regenerated by Loughran Commercials.
Working predominantly with Scania trucks, Patrick Loughran runs the business which sees them specialise in AdBlue and Diesel particulate filter (Dpf) cleaning services.
Established in 2003, Loughran Commercials has really focused on those two services over the course of the last eight years and Patrick revealed that they have invested heavily in the business to make it the success it is today.
So what does AdBlue do? "When your vehicle is utilising AdBlue, the Nitrogen Oxide produced by your diesel engine will be converted into nitrogen and steam. This considerably reduces the emissions of harmful Nitrogen Oxides, a considerable source of atmospheric pollution," said Patrick.
"AdBlue is a harmless substance, and very easy to use. It is not a fuel, nor a fuel additive - it is a simple but effective high purity urea solution. It must be used in a dedicated tank on your vehicle, and refilled when required. It is essential that you refill prior to depletion, as your vehicle will not run without it."
AdBlue is needed for any commercial vehicle equipped with selective catalytic reduction (SCR) technology to comply with emission standards Euro IV, V and VI in Europe.
"A lot of the systems on trucks have not worked for many years and that is where we come in. To replace them with main dealers costs a lot of money, but for a fraction of the price, we will get you up and running again."
Using the most up-to-date cleaning technology Loughran Commercials have been at the forefront in the DPF Cleaning industry for over eight years.
"I've invested heavily in the business. We brought in advanced diagnostics, which helps us find the problems a lot easier and this helps us get through our work load quicker and more efficiently."
In the U.K, VOSA are clamping down on those not using AdBlue and Patrick advised any Irish haulier operating in the U.K to ensure that they have their vehicles running properly.
Patrick added that his services are being used all over the country as their reputation for providing quality work now precedes them.
"We would have customers all over Ireland. The systems shut down around 2008 and they have been derelict since, but now they are needed again and there is a huge demand for our services.
"Scania is what we look after all the time. It is a complex system and to be honest it is a miracle it works at all, but we have the experience to sort out any issue."
Loughran Commercials are trusted by leading fleet and leasing companies to keep their vehicles on the road. They have the solutions for their customers at the right price.
"We are confident that we can get you going again. I was called over to a breakdown on the Edinburgh bypass one time, where the pistons were gone in the engine of a truck. I had to basically strip the engine and at one stage the police pulled up and had to step over the sump to ask me would I be long. I told them no, but little did they realise that half the engine was lying on the road, but we managed to get the truck going again."
From their purpose-built facility in Cookstown, Loughran Commercials have a state of the workshop that Patrick has been a lot of time and investment into.
"We have diagnostics to cater for Scania and DAF trucks. I saw a niche in the market a few years back to focus on this service and we are the only garage in Northern Ireland that does this type of work."
Patrick has James Magennis working alongside him and he has an endless knowledge of trucks, while apprentice James Quinn is getting the best of training.
Loughran commercials have two breakdown vans on the road and if they need a complex vehicle recovery they turn to the experience of Armagh based Corr Brothers.
Business is good at the moment as Patrick stated that last Christmas saw them get through 26 trucks in a short period.
"Every truck that comes in has a different issue, very rarely that two jobs are the same. You could be 20 minutes at a job or 20hrs, but we will get the vehicle back on the road, that we can guarantee."
Contact Details:
Loughran Commercials Ltd
18 Dunnamore Road,
Cookstown
Co Tyrone
BT80 9NR
Tel: +44 7786 710268
Taken from Irish Trucker & Light Commercials magazine, July/August 2019, Vol 22 No 4