Specto forge new partnership with Houghton Parkhouse
03/09/2019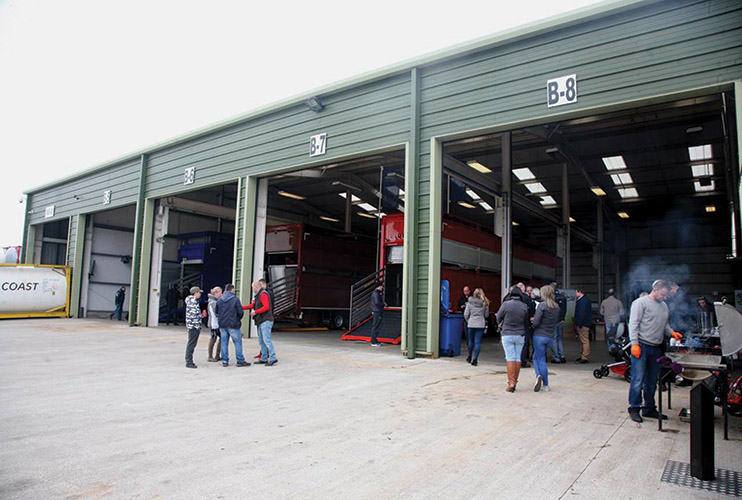 Specto are the new sole agents for Houghton Parkhouse in the Republic of Ireland, having held a successful Open Day at their impressive facility near Fermoy, Co. Cork on Saturday, March 9 last.
Based in Cumbria, Houghton Parkhouse are an international leader in the manufacture and sale of livestock transporters and will make use of the state-of-the-art vehicle maintenance workshop provided by Specto, which was founded 2013 and provide complete repair services for commercial vehicle operators.
"We're delighted to be the sole agents for Houghton Parkhouse in the Republic of Ireland. This will involve the sale, service, distribution and maintenance of Houghton Parkhouse livestock transporters," Specto Managing Director Damien Healy explains.
"Last year, we implemented an internationally recognised Quality Management System, ISO 9001:2015 in Specto and achieved formal certification in April 2018. The ISO Management System aims to ensure that our customers consistently receive the services they expect. By implementing this system, we are implementing the necessary controls and monitoring to ensure this happens. ISO 900:2015 is internationally recognised and shows existing and potential customers how serious we are about quality and also the products that Houghton Parkhouse produce fits in with our ethos."
Specto's workshop manager Irek Szpin has also welcomed the new partnership which will establish and enhance the Houghton Parkhouse brand in this country. The Open Day was an opportunity for those associated with the livestock transport industry to take a close look at some of Houghton Parkhouse's award-winning livestock transporters, many of which were visiting the Republic of Ireland for the first time. These included the 43'6" Professional Two-Deck Cow Livestock Transporter Tri-Axle Ladder Step Frame Semi-Trailer, the 44' Professional Two-Deck Cow Livestock Transporter Tri-Axle Monocoque Step Frame Semi-Trailer, the 28' Platinum Three-Deck Livestock Transporter & Hydraulic Lifting Roof on Steel Platform fitted to a new Scania V8 R580 8x2 and the 14' 4x4 Platinum T35 Lifting Deck with Tandem Axle chassis to suit.
Specto are also authorised agents for DEZIDATA tanker measuring equipment, service agents for Rolfo car transporters and supplying fleet management and repair maintenance services to numerous commercial vehicle operators, Specto operates from a purpose-built 13,000 sq ft facility just off the M8 Motorway (Junction 15) near Fermoy. The site is served by four full length drive-through maintenance bays, each complete with 20 tonne pit jacks, tyre changing machine, five-tonne overhead crane, heavy duty truck / bus wheel alignment system, heavy duty roller brake testing machine, Texa / Knorr Bremse diagnostics, two fleet maintenance breakdown service vans and tank testing equipment.
Founded to provide much-needed services as required under the 2012 Road Transport Bill, Specto has grown to employ a team of 24 people, including 14 technicians, who operate two daily shifts from 8am until 2am. The main services provided are: Breakdown service, vehicle maintenance / service of all makes and models, periodic roadworthiness (six-week / 12-week safety and service) inspections, computerised roller brake testing, CVRT preparation, bodywork repairs / body building / fabrication, tyre service and repair, ADR maintenance, wheel alignment truck / trailer and tank / tanker repairs / servicing / testing. Specto also has a fully-manned stores which sells spare parts from 8am to 12am Monday-Friday and deals with callouts on weekends. The company's strategic location ensures easy access to Cork, Limerick, Dublin, Waterford and to the rest of the country.
"We recognise the importance of providing our customers with a very high level of exclusive service and knowledge," Damien says.
"We are proving ourselves to be an efficient and transparent service provider, enabling our customers to reduce their total cost of vehicle ownership whilst maintaining the highest standard of workmanship and full compliance with RSA enforcement commercial vehicle regulations. We are committed to keeping you and your fleet on the move."
Whether dealing with individual HGV owners or large fleets, the core principles of exceptional service and competitive rates always apply. 'Specto Witness' is an innovation that provides every client with an audio / visual account of all repairs / modifications carried out. It's upfront, transparent and customer-friendly. With Specto, there are never any nasty surprises. They do what needs to be done and it's all recorded for the benefit of the customer.
"The affable managing director would like to take this opportunity to thank Specto's customers for their continued support.
Specto
Corrin,
Fermoy,
Co. Cork.
Telephone: 025 45601
Fax: 025 45626
Email: [email protected]
Web: www.specto.ie
Taken from Irish Trucker & Light Commercials magazine, July/August 2019, Vol 22 No 4