Catch of the day
07/10/2019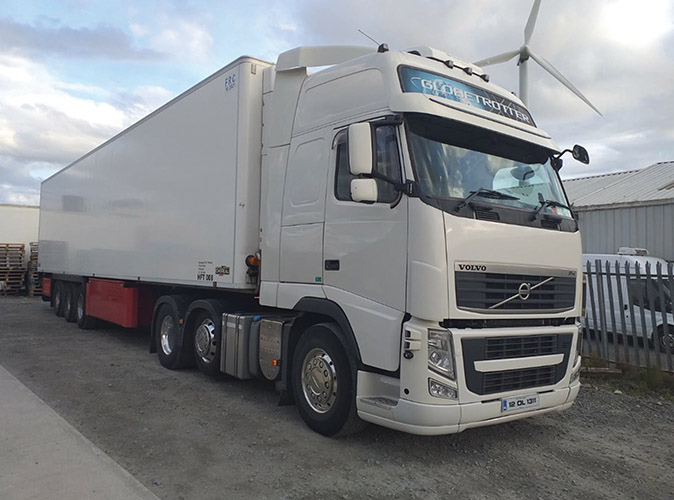 Established in 2001 by Eugene Hannigan and owned and operated by Hannigan Fish Trading, Hannigan Live Irish Shellfish has grown to become one of the largest exporters of live Irish shellfish.
Located in Donegal, on the shores of the rugged North Atlantic coastline, its supply network of fisherman and boats across the north coast provides the company with a broad range of shellfish for live export. Hannigan Live Irish Shellfish exports brown crab, lobster, shrimp, velvet crab, crayfish and spider crab by road to Europe, while airfreighting live brown crab and live blue lobster to China, Hong Kong, South Korea, USA and Canada.
Transport is a key element of the business and this is overseen by Eddie Ward who is based in Killybegs. Live Irish Shellfish also has a depot 40 miles up the Donegal coast in Burtonport and currently has two supplier boats certified to Bord Iascaigh Mhara's Responsibility Sourced Sea (RSS) standard operating out of Rathmullan, which is situated on the western shore of Lough Swilly.
As for its fleet on dry land, Hannigan Live Irish Shellfish runs four articulated trucks, three rigids and five refrigerated trailers. The artics are split evenly between Scania and Volvo, while the rigids comprise two MAN and a new Renault, which the company took delivery of from McMenamin Commercials in Bonagee, Letterkenny at the start of the year.
"It's the first Renault we've had and it's going great for us," Eddie explains.
"Price, warranty, fuel efficiency and comfort were all factors in our decision to go with Renault. The new truck has been put to work bringing live shellfish to Dublin Airport for airfreighting through Jenkins Shipping to Beijing and Shanghai. We also do one run a week by artic to France with live shellfish."
The affable transport manager continues: "Our fleet is maintained and upgraded regularly to ensure that are no breakdowns or downtime. Cawley Commercials in Sligo maintain the two Scanias, Dennison Commercials in Coleraine maintain the two Volvos, WH McCormack in Strabane maintains the two MANs and McMenamin Commercials is our local Renault dealer. We have a very good relationship with all of those garages."
Employing 24 full-time and part-time staff, including 18 who man the boats, Hannigan Live Irish Shellfish have been proud suppliers to wholesalers, retailers and restaurants across the world for almost two decades. The company can supply a full range of live shellfish, 12 months of the year, sourced from the wild and pure waters around Ireland. Coming from a fishing background, managing director and founder Eugene Hannigan recognises the importance and role that his suppliers and fisherman have in making the business a success. As well as having his own vivier fishing vessels, Eugene has a large network of long-established inshore fishermen and suppliers all around the Irish coast.
Live Irish Shellfish has total control of its supply chain thanks to it operating its own fishing boats and its long-term supply / quality agreements with other fishing boats. The company's holding facilities have state-of-the-art chilling systems which enable it to chill down the core temperature of its brown crab and lobster to between 4 degrees Celsius and 6 degrees Celsius prior to airfreight and vivier transport. It has a vivier storage capacity capable of holding over 16 tonnes of live product.
In addition, Live Irish Shellfish has an ethos of sustainability and is an accredited member of Bord Bia's sustainability charter, Origin Green. As well as meeting Bord Iascraigh Mhara's Responsibility Sourced Seafood standard, the company has completed a successful audit of transport by Sustainable Energy Ireland.
"We pride ourselves on delivering a full range of live shellfish, specialising in European Blue Lobster and Brown Crab all year round," Eddie says.
"Along with our own purpose-built fishing boats, we have a supply base of between 20 and 30 fishermen dotted along the Irish coast. Our core product is the Brown Crab which we supply to various customers worldwide. We supply the freshest and tastiest Brown Crab on the market. Our products are fished daily off the North Atlantic coastline."
The live shellfish are transferred from the boats to specially built vivier trucks. These trucks contain water tanks that keep the shellfish alive and in excellent condition until they reach customers.
"The shellfish are transferred from the boat to the lorry by the crew where they are placed in aerated tanks. The trucks can hold up to 10 tonnes of shellfish and the average transport time to mainland Europe is 36 hours. The shellfish are packed in 17kg polystyrene boxes which have two sheets of ice placed over them."
Eddie explains how China has become Live Irish Shellfish's biggest market since the airline Emirates launched its Dublin-Dubai route in 2016.
"China has overtaken France as our largest market. Last year, we exported 500,000kg of live shellfish to China and 400,000kg to France," he says.
"From the time of our inception in 2001, the goal was to broaden our markets. We began airfreighting to China in 2012 through Heathrow in London and continued using this route until 2015. However, it wasn't a total success, being costly and time-consuming. But since Emirates started their Dublin-Dubai route, it has become much more practical and cost-effective. Emirates have connecting flights from Dubai to Beijing, Shanghai, Hong Kong and South Korea, which have become important markets for us.
"We have established ourselves as Ireland's leading exporter of live lobster and crab, and are focused on maintaining that position for many years to come."
Hannigan Live Irish Shellfish
Killybegs,
Co. Donegal.
Telephone: +353 (0)74 974 1590
Email: [email protected] / [email protected]
Web: www.liveirishshellfish.com
Taken from Irish Trucker & Light Commercials magazine, September 2019, Vol 22 No 5