James Foy Auto service celebrates 30 years in business
21/01/2020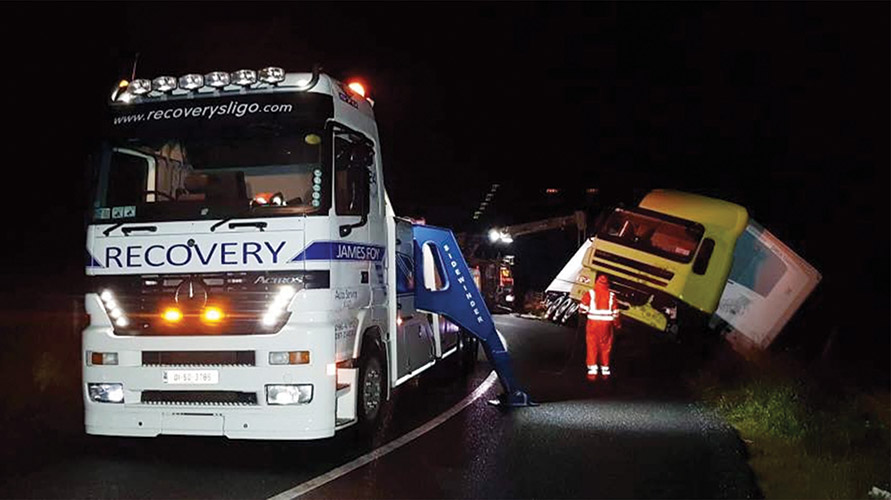 Celebrating 30 years in business, James Foy Auto Service has established itself as the leading vehicle breakdown / recovery specialist in the North-West. The award-winning Sligo-based operation also provides an exceptional repair and maintenance service.
James, whose stalwart Mercedes Actros was named Second Best Recovery Truck at this year's Full of the Pipe Truck Show in Punchestown, provides a professional, reliable and friendly roadside assistance service to the public. Since 1989, his company has earned an outstanding reputation throughout the surrounding area and beyond for its breakdown / recovery and garage services. It was honoured with the Aviva Contractor of the Year and Ireland Assist Regional Contractor of the Year Awards in 2009 and 2010 respectively.
"We have a fully-equipped and staffed garage at Dromore West, Co. Sligo which provides all in-house mechanical requirements. We also offer 24-hour recovery services seven days a week with a substantial fleet of vehicles suitable for all requirements," James explains.
"We can tow any vehicle, including motorbikes, cars, commercial vehicles and coaches. We are fully insured PAS43 certified and are agents for all major assistant companies and motoring clubs. We understand that being broken down can be stressful and dangerous, so we make it our business to get out to the customer as soon as we receive the call. If we can't carry out the repair there and then, we will tow the vehicle back to the garage and get it and its owner back on the road as quickly as possible."
He continues: "All of our drivers are IVR-trained and have a wealth of experience in vehicle recovery. We provide both a local and national service and have a specialised mobile fuel assist van to drain diesel mistakenly put into petrol cars and vice versa. We can also arrange for car hire / taxi and secure storage. We take great care with every vehicle we lift to ensure there is no damage caused.
"We are always striving for improvement and to be the best that we can possibly be. You're only as good as your last job. To succeed in this business, you have to be available 24/7. It's as simple as that."
James has seven vehicles dedicated to his breakdown and recovery service. The biggest is the aforementioned Mercedes Actros which is used for heavy vehicle recoveries. He also runs two Mercedes Sprinters (one tilt and slide and one lightweight beaver tail), two 12 and 15-tonne Mercedes Ategos (both tilt and slide), a DAF low loader for bus recovery and a Mercedes Vito service van.
"The Actros is nearly 20 years old, but it's still going strong. We brought it to Full of the Pipe and were delighted to bring home the prize for Second Best Recovery Truck. My son Brian, who is going into his final year, takes all the credit for that. He had it gleaming," the affable managing director says.
James Foy Auto Service can carry out all necessary repairs and maintenance to you truck or vehicle at its workshop which boasts a full range of diagnostics for all makes and models.
Preparing your vehicle for NCT and DOE testing is all part of the service provided by James and his team of highly-trained and experienced mechanics, who will answer any queries before and after the test. Their aim is to prepare the vehicle efficiently and assist the vehicle owner in getting a pass certificate. If a vehicle undergoing an NCT test is found to be in need of repair work, it can be carried out later."
James Foy Auto Service also helps customers with scheduling their 12-week vehicle inspections and carrying them out to the prescribed standard. In addition, the garage will provide the vehicle owner with instantly accessible maintenance records which fully comply to RSA standards. The garage also has a fully-certified bodyshop and offers a tyre fitting, puncture repair and wheel balancing service.
No job is too big or too small for James who deals with everyone from owner-drivers up to fleet operators, from cars to the largest HGVs.
"Our customer-base is growing all the time. We have a lot of local customers who have been with us for years. We maintain Munster Joinery's fleet of vans which operate out of their Sligo depot and have a contract with Bus Eireann for the North-West. We also carry out recovery work for a number of other garages and main dealers, including the Connolly Motor Group which is based here in the west of Ireland."
James runs the business along with his wife Geraldine and five staff, who are all fully-trained mechanics and who he is full of praise for.
"It's a real team effort here. Everyone knows their job and gets on with it. Brian (James' son) is also showing a lot of interest and helps out when he's off school. We have great staff, some of who have been with us for years. We provide a top-class, cost-effective and friendly breakdown, repair and maintenance service," he concludes.
Here's to the next 30 years of this successful family business!
James Foy Auto Service
Leharrow,
Dromore West,
Sligo.
Telephone: 096 47052 / 087 2541243
Taken from Irish Trucker & Light Commercials magazine, Nov/Dec 2019, Vol 22 No 7