Mercedes-Benz extends support to Sneem Digital Hub
05/03/2020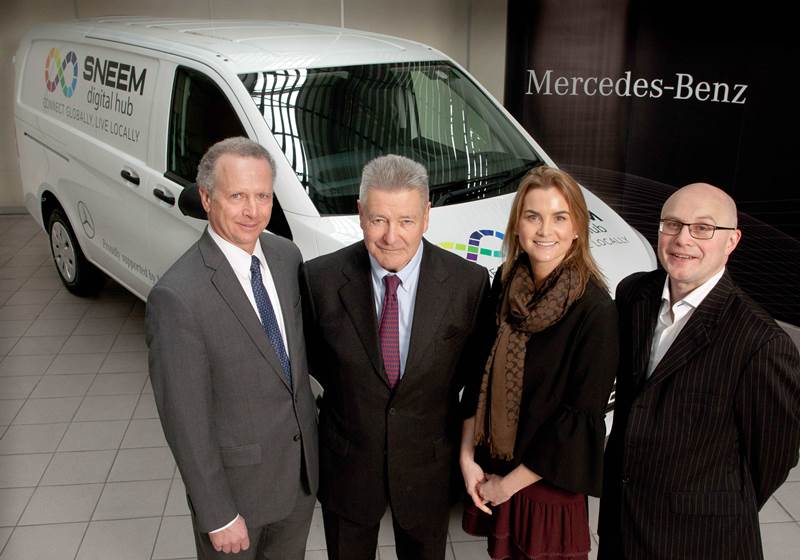 Mercedes-Benz Commercial Vehicles sales manager, Fergus Conheady, has announced continued support for Sneem Digital Hub.
Building on their success in their first full year, one in which demand for the Hub's facilities far exceeded expectations, Mercedes-Benz will continue to support Sneem Digital Hub's work by providing them with the use of a Mercedes-Benz Vito van for a further year.
Noting the essential support that the Vito has already provided, Mr. Conheady said: "branded with the Sneem Digital Hub logo, its use as a promotional unit to transport equipment, distribute materials and convey display items to events and exhibitions has made it a familiar sight around the Ring of Kerry and surrounding area".
The Vito model 111L is equipped with all 'mod con's including colour coded bumpers, leatherette seats, multifunction steering wheel, reverse camera and air-conditioning. It has been described by Sneem Digital Hub manager, Aidan Murray as "creating a visual presence and shop window for the Hub as it travels throughout Kerry, the south-west and beyond".
Created with the help of a dedicated group of community volunteers, Sneem Digital Hub is a modern, stylish facility situated on the edge of Sneem village. Fully equipped, it provides a reliable digital infrastructure that includes high-speed broadband, hot-desking for remote workers, meeting rooms, a low-cost base for business start-ups and options for companies seeking to expand remotely.