A dedicated service
27/08/2020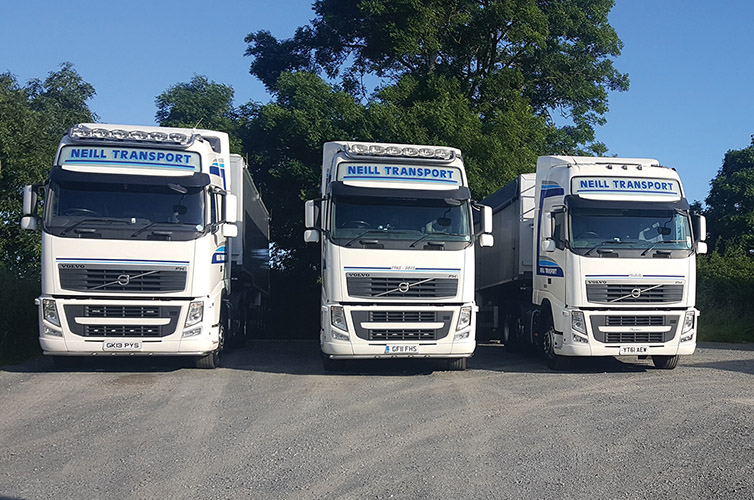 With its head office in Banbridge Down-based Neill Transport Ltd is one of Ireland's leading transporters of animal feeds, combinable crops and other agriculture produce. We caught up with managing director Gordon Neill to take a closer look at the full range of services provided by this long-running family business.
For nigh on seven decades, Neill Transport Ltd has been providing excellent general haulage solutions to a growing number of satisfied clients in across Northern Ireland and parts of the south. Over the years, the family-run operation has developed a multifaceted fleet of vehicles to provide a full range of haulage services, with all drivers fully-trained, vastly experienced and licensed for the transportation of all materials.
The colours of Neill Transport Ltd have become a familiar sight on the roads not just of Down but all over the country and the ports in Belfast, Greenore and Dublin. The fleet of five Volvo lorries and bulk trailers provides a varied and flexible service to customers large and small, with a substantial percentage the majority of the work carried out pertaining to the agricultural sector.
As members of the Trade Assurance Scheme for Combinable Crops (TASCC), Neill's can – from their well-appointed base at Banbridge, arrange collection and delivery from farms, mills, docks, ships and stores locally and both north and south of the border.
Operating within the codes of practice set out by TASCC is vitally important and customers can rest assured that they are getting a fully-compliant and dependable service that's properly regulated and 100% 'by the book'. "We've been members of TASCC since it was first set up," said Gordon. "It's important to the farmers because they can rest assured that everything is regulated and monitored and checked on a regular basis.
"For example, you have to keep full records of everything that your trailer carries from Day One and this is how it should be – the farmers have total peace of mind because they know exactly what is being delivered to them and that there is no chance whatsoever of any sort of contamination. All the trailers are also regularly washed and disinfected."
The company was established in 1965 by Gordon's father George. Since 1996, Gordon has been involved in the business on a full time basis, although his involvement dates back to his teenage years. "I was always around the business for as long as I can remember. I suppose its in the blood, we are dedicated to it. I have my licence since I was 21, but at the time, I couldn't drive because it was just too dear to insure me on the trucks.
"My late father started out by transporting pigs and kept that going until the mid-eighties. A few years before that he had ten trucks on the road as he started doing bullk tipper work around then, but the 1980s were a tough time for everyone and he had to scale back the fleet.
These days, we have five trucks on the road, all doing tipper work. We collect from the docks and deliver to customers all over Northern Ireland, we wouldn't really deliver to farmers direct, but many of our customers would be with us since when my father first started doing this type of work."
Gordon is pleased to report that there's enough work on the horizon to keep things ticking over nicely: "It's keeping us going anyway," he states. "We keep things tight as possible and have no plans to expand too much. As I said earlier, we are TASCC approved and once you have that system in place, it is easy to follow, we are audited once a year and the simple fact is that many of the mills will not deal with you unless you are TASCC approved."
To help with all the paperwork that needs to be done, Gordon's wife Michelle looks after the administration and a dedicated team of three full time drivers ensure that the customers receive their goods on time in an efficient manner.
Gordon takes great pride in the fleet, which is upgraded on a regular basis and while Gordon and his brother John look after a lot of the maintenance themselves, anything that is under warranty goes back to the main dealer.
Of course, there are numerous overheads to contend with on a daily basis and Gordon revealed that the biggest issue in the industry at the moment is the price of diesel.
"Diesel would be out biggest outlay, there is no doubt about that. Insurance costs have remained roughly the same for the past few years, but the price of diesel is on the rise once again and it is an issue within the industry."
Looking to the future, Gordon is confident that the business will continue moving in the right direction: "Things are picking up and we have experienced an increase in work. Hopefully that will continue.
Contact Details:
Neill Transport Ltd
Banbridge,
Co Down
Published in Irish Trucker & Light Commercials magazine, March/April 2020, Vol 23 No 2