More success for Blackwater Motors!
09/09/2020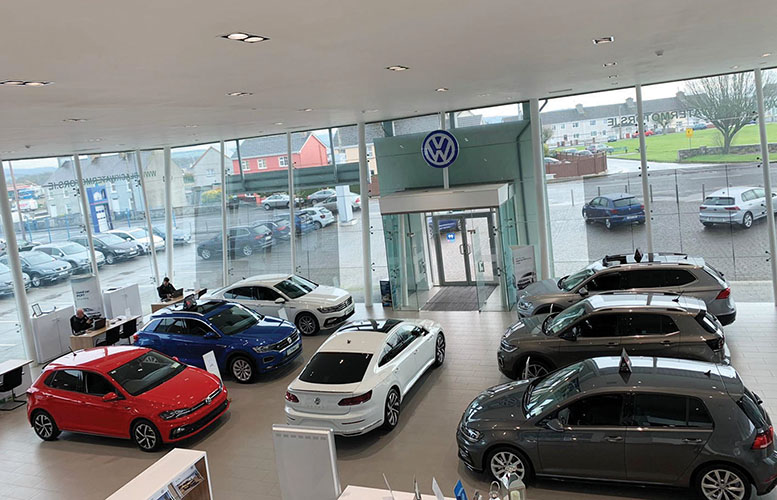 In September, Blackwater Motors in won Trade Parts Main Dealer of the Year at the annual Irish Auto Trade Awards. Irish Trucker heard all about the company's most recent success from its Group Trade Parts Manager, Tom Browne.
Success breeds success. Those at Blackwater Motors know it as well as any after they scored a fifth win in six years at this year's Irish Auto Trade Awards.
The Co Cork dealership reigned supreme in the Trade Parts Main Dealer of the Year category at the annual awards in September, adding a bit more gloss to what has already been a stellar year business-wise.
Tom Browne is the Trade Parts Manager at Blackwater Motors and told Irish Trucker what the latest success means to the business.
"It's nice to win it and good honour for the company," said Tom. "We missed out in 2017, so this is our fifth win in six years.
"It kind of adds to the company's reputation. We've stickers on our vans that show the years we won it, so it adds to it as well."
Blackwater Motors' Trade Link department in Fermoy has been serving customers for the past seven years and offers a full range of parts and accessories for Volkswagen, Skoda, SEAT, Audi and Volkswagen Commercial vehicles. Parts ordered before 12 noon on any day will be delivered the following day.
It's a company which has built a significant trade parts business on its ability to get the right part at the right time which gives its trade customers certainty in dealing with their customer.
Blackwater Motors augments this service with a daily delivery service.
They became a Trade Link partner in 2010. This appointment was an important progression in the company's trade strategy as Trade Link is backed by, and is a very big part of the VWG Ireland Group which covers the VW, VW commercial, Audi, Skoda and SEAT franchises.
Today's trade customers demand higher levels of service and better value-for-money than ever before.
Through the Trade Link programme, Blackwater Motors has implemented several new initiatives to attract trade customers. It can offer clear and consistent pricing, high levels of service and, most importantly, excellent on-hand availability.
With the introduction of the Volkswagen ECONOMY parts range, Blackwater Motors can offer better prices on the range of brake pads, discs, batteries, shocks, etc. Quantum products and consumables for professional automotive workshops such as valeting rags, sprays and sponges are also available from Blackwater Motors.
First set-up back in 1991 in Fermoy, Blackwater Motors has grown to become one of the biggest car dealerships in the Munster region.
Today it operates out of four locations – Fermoy, Forge Hill (Cork), Model Farm Road (Cork) and Skibbereen, and employs 150 people in total.
The Fermoy branch is a main dealer for Volkswagen, Volkswagen commercial vehicles and SEAT, while its aftersales department is an authorised repairer of VW, SEAT, Audi, Skoda and VW commercials.
Following its appointment as main Audi dealer for Cork city and the Rebel County itself in 2010, Blackwater Motors relocated its Audi dealership from Fermoy to the Bandon Road Roundabout in Cork city.
Two years later saw the opening of the Skibbereen branch, which offers VW and VW commercials sales and aftersales.
Blackwater Motors was appointed VW car and commercial vehicle dealer for Cork city in '09.
Its main sales premises were located at Turner's Cross, while the aftersales department was in Victoria Cross.
Last year the sales and aftersales departments were brought together under the same roof at a new state-of-the-art location in Forge Hill, which is just off the Airport Road.
This fantastic premises boasts a 20-bay workshop and space for 17 cars in the showroom.
In more recent times, the award-winning dealership has opened a new Van Centre on the Model Farm Road, which is the only dedicated VW Van Centre in Ireland and has a range of new and used VW commercial vehicles.
Business at the moment, according to Tom, is thriving well and looking even more promising heading into 2020.
"It has been good this year and we've been holding our own," said Tom, who is based in Fermoy with the company.
"In general, business is good. We have a lot of competition with Eurocar out there and that's what you're up against.
"The biggest thing for us with our customers is the expertise that we provide them. That's never changed and when you get used to dealing with people, they grow to trust you.
"We've built up a strong customer base here and we're intent on keeping it."
This most recent award success is only set to serve to strengthen Blackwater Motors' brand all the more.
For Tom though, it's all about meeting the customers' expectations.
"Motor trade is probably going to change over the next decade-and-a-half with electric cars, so hopefully we can pick up.
"We'll keep going and hopefully keep our customers satisfied. They keep us in a job, so it's important for them to keep us happy," he concluded.
Blackwater Motors' after sales, service, parts and car / van hire departments are open from 7.30am to 6pm Monday-Friday and from 8.30am to 3.30pm on Saturdays. The sales department is open from 8.30am to 6pm Monday-Friday and from 9.30am to 5pm on Saturdays.
Blackwater Motors
Dublin Road (Off Exit 14),
Fermoy,
Co. Cork.
Telephone: 025 49500
Fax: 025 49555
Email: [email protected]
Published in Irish Trucker & Light Commercials magazine, March/April 2020, Vol 23 No 2