IVECO cuts lead times for specialist body-built conversions
10/09/2020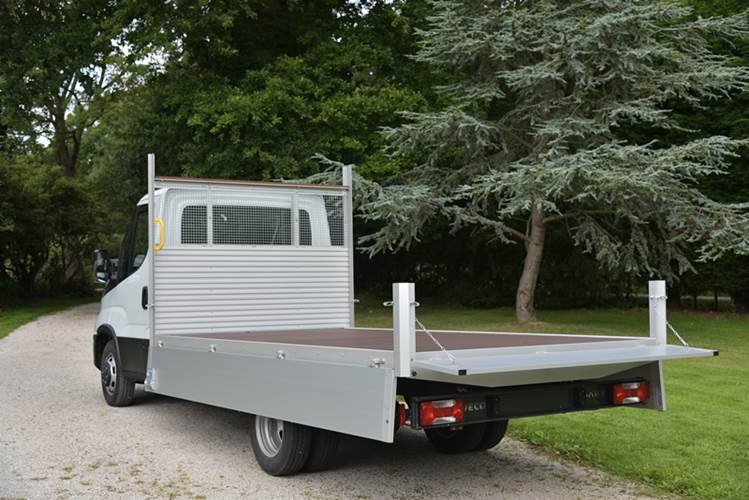 From September, IVECO will further enhance the appeal of its Daily range while simultaneously cutting lead times by re-launching an improved DRIVEAWAY bodybuilder programme.
As the country moves beyond the turbulence of 2020 so far, some businesses are having to adapt and react quickly to business demands. IVECO has made steps to help facilitate this by creating a diverse range of immediately available vehicles.
Examples of vehicles offered through the DRIVEAWAY scheme include 3.5t twin-wheeled Drop-sides and Tippers, 3.5t single rear-wheeled Luton vans, and 7.2 tonne Box and Curtain-side vehicles. Vehicles can be specified with other auxiliary equipment such as column or tuck-away tail-lifts and gross vehicle weight-dependent, are available on a range of wheelbases from 3,450 to 5,100mm.
IVECO has forged partnerships with a number of specialist vehicle bodybuilders to supply its UK dealerships with these ready-for-delivery solutions, catering for a wide-range of missions. All models will be priced as complete vehicles to simplify the buying process and come with IVECO's comprehensive unlimited mileage 3-year warranty.
Customers will be able to buy their new Daily outright or on contract hire through IVECO Capital in partnership with BNP Paribas. To support accessibility, attractive contract hire offers will be available with just one month paid upfront.
All DRIVEAWAY vehicles are based upon the new Daily 'Business' trimline, which includes manual air conditioning, cruise control, front fog lights, as well as electrically heated & adjustable door mirrors.
In addition, Crosswind Assist will be offered as standard on high-sided Luton van, Box and Curtain-side DRIVEAWAY orders. Crosswind Assist protects against unexpected lane-changes due to strong gusts of wind, for example upon exiting a road tunnel or passing a large truck on the motorway. When activated, the vehicle will automatically apply the brakes to the relevant side of the vehicle in order to keep it heading straight, within its lane without the driver having to make corrective steering efforts.
"Relaunching this comprehensive turnkey solution allows operators to react quickly to changing demand. By working closely with bodybuilders to enrich our stock, operators can effectively walk into an IVECO dealer and drive out in a new pre-built, specialist vehicle", added Mike Cutts, IVECO UK Light Business-line Director.
Built on a C-shaped, high-strength steel chassis with gross vehicle weights (GVW) ranging from 3.5 tonnes, to a class-exclusive 7.2 tonnes, the IVECO Daily is the most versatile vehicle in its segment.
Developed with Fiat Powertrain Technologies (FPT) and built to meet stringent WLTP & RDE Euro VI D emissions standards, the IVECO Daily can be specified to run on diesel fuel or Compressed Natural Gas (CNG).
Diesel power comes from either a 2.3-litre F1A producing 120hp with 320Nm of torque to 160hp with 380Nm, or a 3.0-litre F1C producing 160hp & 380Nm to 210hp & 470Nm. The 3.0-litre can also run on CNG, producing 136-hp, 350-Nm, 4dB less noise than its diesel counterparts and 95% less CO2 when running on biomethane.
Both diesel and gas variants are available with either a 6-speed manual or an 8-speed, self-shifting HI-MATIC gearbox, capable of near-seamlessly swapping ratios in under 200 milliseconds.