Busy times at Ger Devlin Haulage & Plant Hire Ltd
14/10/2020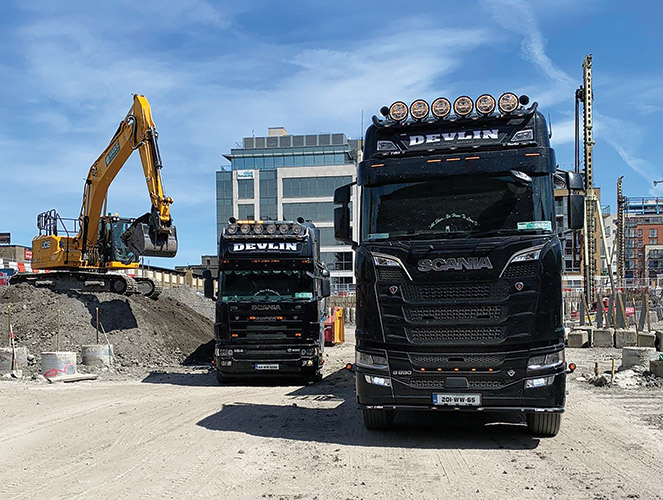 Established in 1993, Ger Devlin Haulage & Plant Hire Ltd is a family-run concern operating out of Knockfadda in Roundwood, Co Wicklow. Irish Trucker caught up with Sean Devlin to learn all about the business which has earned a glowing reputation for itself down in the Garden County.
These are busy times at Ger Devlin Haulage & Plant Hire Ltd and the plan for the Devlin clan down in Knockfadda is to keep things that way as they edge closer and closer to 30 years in business.
Set-up by Ger Devlin back in 1993, the Wicklow-based company has grown to the point where it now employs 15 staff and has customers from all over the south east of the country.
Ger's oldest son Sean runs the company's fleet of 19 trucks, while his middle son Conor is a driver and the youngest Ciaran is an up and comer in the business.
Marie Devlin is Ger's wife and looks after the accounts of a company which is very much family-run, as Sean explained to Irish Trucker when we spoke with him recently.
"My father runs the business and my mother looks after the accounts and then I've two younger brothers there as well that are involved," he explained.
"I run the lorries here and altogether there are 19 in the fleet, including six second hand Renaults which arrived for us earlier in the year.
"We've been busy lately and hopefully things stay that way for the couple of months."
Needless to say, the company has come a long way from the days when Ger Devlin first set-up shop down in Knockfadda, as he now has close to 20 trucks in his fleet.
Things were certainly different back in '93 and he started with just one truck, building the business up from there and earning an excellent reputation for his company's work along the way.
A mechanic by trade, Ger has come quite a long way and it looks as though his children are following firmly in his footsteps by delving into the business he first set-up 27 years ago.
"He started off as a mechanic and eventually took the decision then to set-up his own haulage and plant hire business," Sean outlined.
"He started off doing deliveries all over Ireland and even went over to England – all with one truck!
"Things grew from there, he kept at it and now there are 19 trucks altogether in the yard."
Those 19 trucks are a mixture of Renault (7), Scania (5), DAF (4) and Man (3) brands, with six of the Renaults having been purchased second hand in the last 12 months or so.
On that evidence alone, it seems that business is indeed thriving at Ger Devlin Haulage & Plant Hire Ltd in spite of the challenging times in the industry at the present.
"We've got in six second hand Renaults in the last year and we also bought a brand new DAF at the start of this year," said Sean.
"We've a brand new Scania arctic as well from Delaneys in Naas and Scania a brand that I've always preferred, but I really don't mind what brand we bring in here as long as it gets the job done."
Add to that the Devlins have also recently invested in another Schmitz tipping trailer from Casey Trailers, as well as new dozer, and you get the idea.
Business is good at Ger Devlin Haulage & Plant Hire Ltd and, as Sean puts it, they have "the same sort of clients from all over Ireland" coming to them for the best part of two decades now.
Repeat business has been integral to the success of this family concern and will no doubt continue to be going forward.
Sean doesn't mince his words when asked what he feels the secret to success has been thus far.
"I think the reason our customers continue to come back to us is because of the service that we provide," he said.
"You get what you ask for with us here. That's the way it has always been and the ones that have been with us for years now know that they 100 per cent can depend on us."
Since construction sites all over Ireland opened back up on May 18th following the government lockdown as a result of the Covid-19 pandemic, customers haven't hesitated giving Ger Devlin a call in order to their machinery moved and back on site. To put it plainly, they know they can rely on him.
The pace has been understandably hectic since getting back into the swing of things in the early part of the summer and the hope is for thing to continue that way.
As far as Sean's concerned, he'll be content with more of the same going forward.
"We'll just try and keep continuing to providing the service that we provide and maybe expand a little if we can down the road," he concluded.
Ger Devlin Haulage & Plant Hire Ltd
Knockfadda,
Roundwood,
Co Wicklow
Mobile: 087 051 7983

Published in Irish Trucker & Light Commercials magazine, Summer 2020, Vol 23 No 3