Diamond Trucks shines brightest at Renault awards
27/11/2020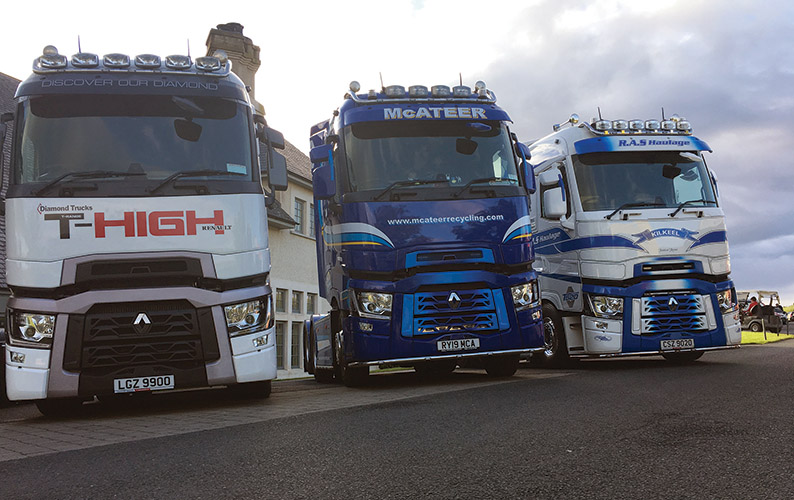 Diamond Trucks was the big winner at the UK Renault Trucks Dealer Conference Awards in Birmingham earlier this year when it scooped four awards, including the Brand Ambassador accolade for commercial sales executive Matthew Keys.
The Mallusk-based dealership brought home the prestigious Dealer of the Year and Service Market awards, and also won first prize on the Dealer Quality Programme which is marked on key service KPI indicators. To cap off a memorable night, Matthew Keys received the Brand Ambassador award which was fitting recognition for his hard work over the past few years.
"To win four awards was a fantastic achievement," the affable sales executive enthuses.
"It was a proud night for Diamond Trucks, there is a lot more positivity about the brand now and we strive to look after our customers
"On a personal level, I was humbled to receive the Brand Ambassador award. I wouldn't have won it without the great support I get every day from my colleagues in servicing, accounts and administration. It's a real team effort here."
Only in his late twenties, Matthew hasn't looked back since joining Diamond Trucks three years ago. He has earned the nickname 'T High' by virtue of the fact that he has sold so many of the same models. Hailing from a farming background in Clogher, Co. Tyrone, Matthew holds an HGV licence and can often be found behind the wheel of a truck enabling him to give first hand experience to his customers
His first introduction to Renault Trucks was through his time at, Toal Truck Services in Middletown, Co. Armagh where he was employed as operations manager for two-and-a-half years.
"I wouldn't be where I am today without John Toal who gave me the opportunity to really develop my skill set within the transport industry," he says.
Matthew spends much of his working day meeting new and established customers around Northern Ireland. He has learned that ICT and especially the ability to learn new systems quickly while maintaining face-to-face communications skills is essential.
"Renault Trucks have a fantastic product portfolio," he continues.
"Having been brought up on a busy family farm and having worked within the industry, I know operators have certain requirements, and with Renault we at Diamond Trucks are well-placed to meet those requirements, with a vehicle range from 3.5 tonnes to 44 tonnes.
I realise there is more to just selling a truck – there needs to be strong and dependable after sales support, and we are here to serve the best interests of our customers. There is no such thing as 'nine to five' in the haulage industry, so if a customer needs to contact me at any time of the day or night, I'm always available.
"I appreciate customers and their business and treat them as a friend. Integrity is a big thing with me. I always have a smile on my face and a positive outlook."
A religious man, Matthew is grateful for the support he continues to receive from Diamond Trucks' dealer principal Iain Latimer, Richard Voight, Renault regional sales manager for Ireland and Scotland and Harry Nash, director and owner of the Setanta Group in Dublin
Diamond Trucks' custom-built facility is ideally located on the outskirts of Belfast, just five minutes from the M2 Mallusk Exit 4 which provides easy access to and from all major road routes across Northern Ireland. The company is one of nine authorised Renault Truck dealers throughout Ireland and is proud to be supported by Renault Trucks. Diamond Trucks has a lot to offer operators in its area, with both quality vehicles and excellent customer service at cost-effective prices.
Whether it's new or used truck van and truck sales, operating packages, approved parts, vehicle repairs or servicing, Diamond Trucks is fully committed and prepared to meet your requirements.
Opening hours are 8am-8pm Monday to Thursday, 8am-5pm on Fridays and 8am-12pm on Saturdays.
For your next Renault commercial or truck, be sure to give Diamond Trucks a call.
Diamond Trucks
Commercial Way,
Mallusk,
Newtownabbey, BT36 4UB
Telephone: +44 (0) 2890 837171
Email: [email protected]
Published in Irish Trucker & Light Commercials magazine, Sept/Oct 2020, Vol 23 No 4