BCL Commercials - Driving your business forward
19/01/2021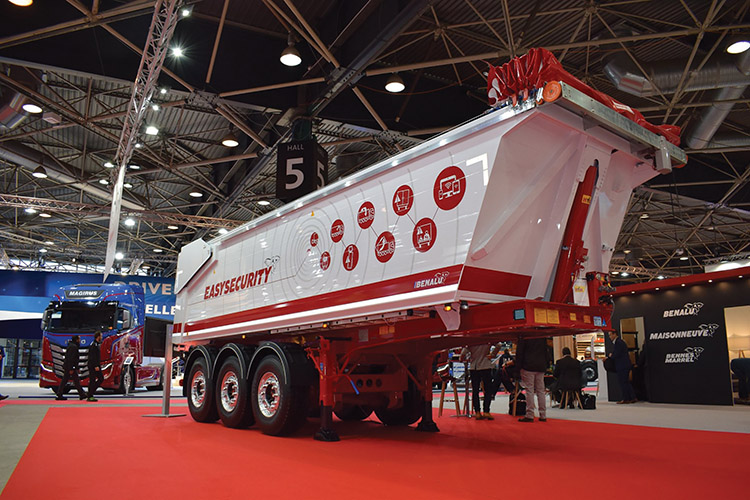 BCL Commercials Ltd may only be established four years, but during that time, the Co Wexford based company has gone from strength to strength as its customer base increases annually.
Owner Derwin Hayes took time out of his busy schedule to speak to Irish Trucker about what the business has to offer its ever-increasing customer base.
Having spent six years in Australia, Derwin returned to Ireland in 2010 and in 2016 started to bring in second hand small, medium and HGV commercial vehicles.
"My father drove lorries and I grew up around them as I come from a farming background which I was involved in before I went to Australia. I would have been familiar with using trucks and trailers for transport, and was driving heavy goods vehicles and trailers, so there was always and interest there," stated Derwin as to his reason for getting into this line of work.
"I started off small and to be honest I was learning as I was going on. There were a lot of trials and tribulations to address along the way, but I think I've learned more because of that. I bought ten trucks and from there we built the business."
Through a network of contacts that has been built up in the last few years, if BCL don't have the truck you are looking for, they can generally source it in little or no time at all.
These days, from their base in New Ross and second location just off junction 4 on the M9 in Knocknagee, Co. Kildare (eircode R93 PD78), BCL Commercials offer a wide range of services and they are now a main dealer for Benalu Trailers.
The Kildare location is Deovils yard where parts are available and warranty work is carried out, offering customer nationwide an easily accessible full back up for trailers for parts and warranty cover.
Benalu was created in 1967 by Hubert Pora and Dominique Bonduelle in order to produce aluminium tippers, a concept that they invented and developed.
Nowadays, a subsidiary of the holding Arcole Industries (www.arcole-industries.com), with a turnover of more than 140M€, the BENALU group (companies Benalu, Bennes Marrel, Maisonneuve and Mega) is a European leader in design and manufacture of industrial vehicles for bulk transport.
"I was on holidays in France where I first came across Benalu trailers. They have an aluminium chassis which I was intrigued by and I did some research on them and found that they were a very practical and durable trailer.
"From there I looked into the dealership and looked at this as a way of moving the business forward. The low weight of the trailer due to the aluminium chassis is a major selling point.
"We now stock a full range of Benalu trailers and they are proving very popular amongst our customers as our first orders have come in and we are hoping to push it more throughout the remainder of the year."
BCL Commercials also offer steel chassis trailers as they carry a range of MEGA trailers, a brand that is also part of the Benalu Group. That means all customers have a choice of aluminium or steel chassis trailers.
BCL Commercials still trades in LGV and HGV vehicles, but the main focus is now on trailers and Derwin has the dealership for both north and south of the border.
"We are the only main dealer for Benalu trailers on the Island of Island and we are excited to bring this new product to the Irish market, even though the company has been in existence for many years.
"The feedback that we have had has been very good and once you have a good product that is half the battle. I can really see these trailers taking off over here."
BCL Commercials as main agents in the UK and Ireland for the Benalu group are also dealers in the UK and as such can take orders from overseas and they are accustomed to shipping vehicles abroad on occasion.
"We have many years of experience in shipping vehicles throughout the world. Whatever your requirements we will be happy to provide you with a shipping quotation to your required port anywhere in the world. All documentation can be prepared and arranged including all shipping and delivery notes."
BCL Commercials are also now agents for the RTB trailer weighing system.
Investment is key to the success of any business and Derwin revealed that they are continuously investing to ensure that the business keeps going in the direction that they want it to go.
"It is essential to re-invest into the business and that is what I have been doing. I like to keep things tight in that we are a small operation, but that is not to say that we want to grow. We do, and will do at our own pace."
The Benalu brand practically sells itself as the product is renowned for reliability, strength and durability as Derwin revealed that the technology of the products was advancing all the time.
"There is a massive interest in our products, especially this time of year as hauliers upgrade before the season really begins."
Derwin stressed that it is not just about the sales at BCL Commercials Ltd as he knows the importance of customer satisfaction.
"Quality is the key word when it comes to sales, but we place as much of an emphasis on our aftersales as we do sales. There is a big repeat customer base here and it is our job to ensure that they are satisfied with the service we provide both before and after a sale."
Maintaining that high level of customer service has seen BCL Commercials link up with Paul Doyle of Deoval Limited, Knocknagee, Co. Carlow.
"Paul already does all of our servicing and maintenance for all our vehicles so it was the natural decision to appoint Deoval to handle our Parts, Warranty and Servicing departments," explained Derwin.
When it comes to business, there is also a greater sense of trust when dealing with a family run business. Usually these are companies that have been established for a number of generations and their customer list is based on trust and dedication to providing a loyal and quality service.
BCL Commercials Ltd class itself as a family run business and Derwin is keen to continue providing a level of service that his customers have become used too.
"Like I said, the aim going forward is to focus more on the trailers. We are confident that we have a very good product and we will be providing our customers with the best service possible."
Contact Details
BCL Commercials Ltd
Bealiestown,
Ballycullane,
New Ross,
Co. Wexford
Tel:086 3144700
email: [email protected]
Published in Irish Trucker & Light Commercials magazine, Janaury 2021, Vol 24 No 1