The MAN for the job!
26/01/2021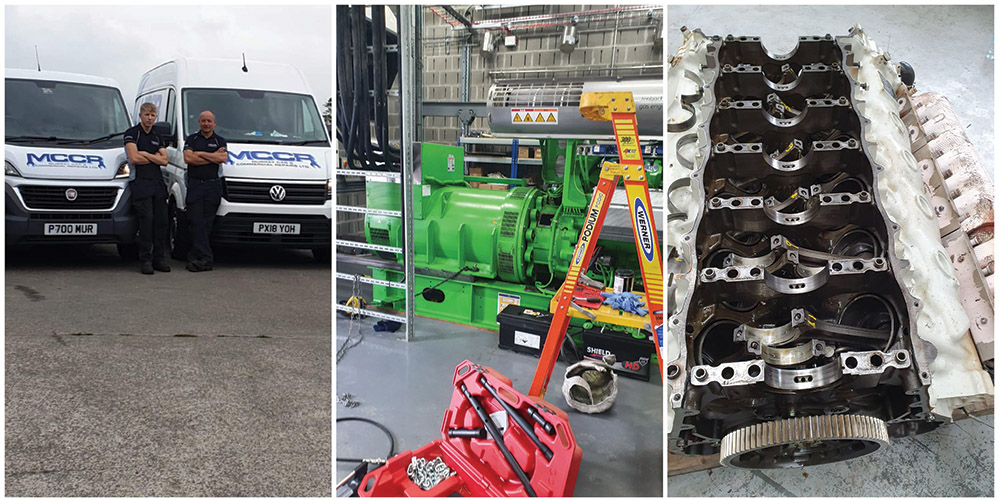 Murray Car & Commercial Repairs (MCCR) Ltd is a multi-faceted business which specialises in automotive repairs, supplying and fitting tyres, and also has the distinction of being the sole service partner for MAN Rollo diesel and gas engines in Ireland.
Based outside Newry, MCCR Ltd was set up in 1998 by Jeremy Murray who is joined in the company by his wife Paula, son Dean, daughter Shannen and a team of highly-trained technicians who can carry out all necessary maintenance and repairs to your car or commercial at Jeremy's purpose-built workshop, which was opened in 2000 and boasts a full range of diagnostics for all makes and models. The workshop also includes a tyre centre and offers a 24-hour breakdown and recovery service.
"We aim to service and repair your vehicle to a standard that will exceed your expectations. No job is too big or too small," the affable managing director says.
"Our skilled team of mechanics are here to keep your vehicle safe and reliable with routine maintenance, service and repairs. We do computer diagnostics, computer remapping and engine servicing. We also carry out pre-MOT / PSV checks, provide a 24-hour breakdown service and supply and fit a wide range of tyres.
"The workshop consists of a 40ft pit, a pair of four-tonne ramps, a tyre-fitting bay and a waiting area. Opening hours are from 8am to 6pm Monday to Friday and from 8am to 1pm on Saturdays. We have many regular clients, including Bayview Contracts, who fit-out heating and renewable energy systems across Ireland. Customer satisfaction, excellence and value-for-money is always assured."
In addition, MCCR Ltd has a generator and CHP division which repairs generator and industrial engines throughout Ireland and the UK. The family-run business became a service partner for MAN Rollo two years ago which was the realisation of a long-held ambition for Jeremy.
"I served my time with another MAN service agent for 10 years, having worked all over Ireland, and am proud to be a service agent for the same company myself now. I've been working with MAN industrial engines since I was 16, so I know them inside out at this stage," he explains.
MAN Rollo have been supplying diesel and gas engines to the industrial and maritime sectors for over 100 years. The Dutch company is the international importer of the MAN brand in nine European countries and are your guarantee when it comes to knowledge, quality and reliability, from heat and power supply, agricultural machines, cranes and trains to yachts, utility vessels, coastal and inland waterway vessels. MAN Rollo is also a dealer for parts, filters and filtration systems from Parker Racor and Hengst, among others, and also has Europe's largest dealer stock of original MAN parts.
Since 1988, MAN Rollo has been part of Pon, one of the largest family businesses in The Netherlands in the field of international trade and service. Pon employs almost 13,000 people in 32 countries.
As a MAN Rollo service partner, MCCR Ltd's ambition is all about customer focus, knowledge and fast delivery.
"We have two teams of two who are dedicated to carrying out generator and CHP repairs, servicing and rebuilds. While most of the work is carried out onsite, we do occasionally have to bring generators / industrial engines back to the workshop to be rebuilt. This is usually a last resort because the engines are so big. The alternators alone can weigh up to five tonnes," Jeremy continues.
"I started working on generators in leisure centres and grew from there. Most of our work is now concentrated in the landfill and biogas sectors. Anaerobic digestion is a fast-growing area for us, accounting for about 80% of our business. We have contracts maintaining Jenbacher, MWM, Liebherr and MTU engines for some of the largest anaerobic digester manufacturers and operators in Ireland and the UK.
"We have five vans on the road and service biogas engines with 450-600 hours for smaller ones to 1,000 hours for bigger ones."
The Co. Down man is full of praise for his staff who have played a key role in his company's success
"I'm very proud to have such an amazing bunch of men to work with. I cannot praise them enough. They work long hours and never complain. They take great pride in what they do. Their dedication is such that if we're boarding a ferry at 4am for a job in the UK at 9am, they're in the yard at 12.30am – 30 minutes before we leave. They would never let you down."
When he's not working, Jeremy – who turns 50 in January – takes a keen interest in sport. He was Kilkeel Golf Club captain in 2016 and used to coach in his local GAA club, Glasdrumman, who famously won the RTÉ show, 'Celebrity Bainisteoir', under the guidance of the late broadcaster Derek Davis in 2009.
Jeremy would like to take this opportunity to thank his customers for their loyalty and support.
"We have the same customers coming to us for the last 22 years which is very gratifying and shows that they're happy with the service they're getting," he concludes.
Murray Car & Commercial Repairs (MCCR) Ltd
30 Moneydarragh Road BT34 4TY
Newry.
Telephone: +44 7753570899
Email: [email protected]
Published in Irish Trucker & Light Commercials magazine, Nov/Dec 2020, Vol 23 No 5