Celebrating 30 years… with two new fleet additions
26/03/2021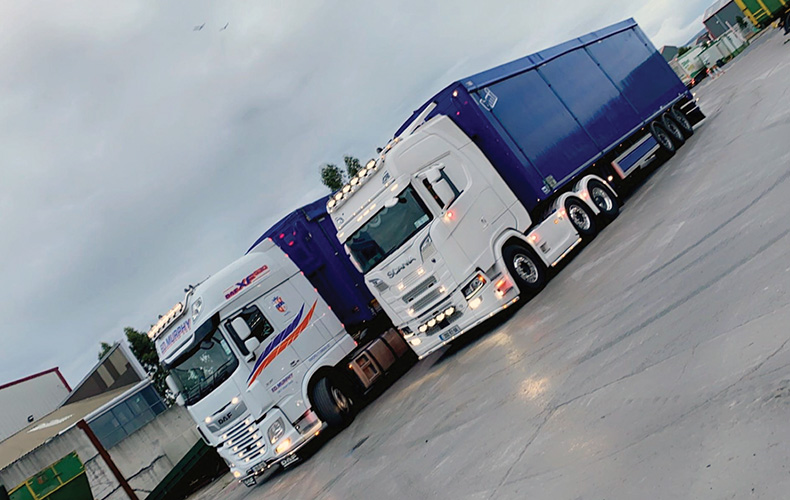 Celebrating 30 years in business, Ed Murphy Plant Hire & Haulage Ltd in Killarney, Co. Kerry recently took delivery of two stunning new trucks which have been put to work transporting waste and recycled goods across Ireland.
The new additions to the nine-strong fleet are a Scania 650 6x2/2 and a Volvo FH13 540. Purchased from AOC Commercials, the Scania comes with the very popular and efficient 650hp engine and an S-Cab High. It also comes with some nice exterior features such as Colour Coder Front Grille, Colour Coded Kelsa Light Bars, Dura-Bright Alloys and some driver comforts inside like V8 leather package, Dual Coil speakers and custom-made internal signage.
Built for productivity and power, the new Volvo tractor unit arrived from McCarthy Commercials at the end of September and like the Scania, is a real head-turner with its all-white livery. The new additions represent a significant investment by Ed Murphy Plant Hire & Haulage Ltd which is committed to replenishing and upgrading its fleet on a regular basis.
"We're very pleased with the new Scania and Volvo," enthuses Conor Murphy, whose father Ed established the company in 1990.
"I'm driving the Volvo and my brother Mark is driving the Scania. They're a pleasure to drive and join our existing fleet of Volvos and DAFs. We like to keep our trucks fresh as it allows us to deliver a top-class service to our customers, and also to keep our drivers happy! We also bought two new DAF 530s and another Volvo 540 last year."
The Murphy trailer fleet includes walking floors, tippers and packers. The walking floors are a mix of Legras and BMI, while the tippers are Fruehauf. Legras is recognised worldwide for its innovative moving floor trailers. Although the moving floor technology is ideal for a multitude of uses, in the transport of waste it really comes into its own. Throughout Europe, the Legras Transfer model is being used in the transportation of household, commercial and trade waste. The moving floor mechanism is hydraulically driven and provides a conveyance system for moving bulky produce. This facilitates easy and quick unloading, thus saving time, reducing costs and increasing safety for operators.
BMI Trailers is the longest established manufacturer and supplier in the UK and Ireland for waste ejector trailers. Like Legras, it is a leading supplier of walking floor trailers and also manufacturers tipper trailers.
"Legras and BMI are the market-leaders when it comes to walking floor trailers, which is our main line of work. We collect and transport waste and recycled goods nationwide and also do odd loads of timber," Conor explains.
Local mechanic Niall Fleming looks after the maintenance and repair of the trucks and trailers which aren't under warranty, while Roadside Tyres is the company's main tyre supplier.
As a licensed waste carrier, Ed Murphy Plant Hire & Haulage Ltd is able to undertake the safe transportation of a wide range of waste and recyclable products. The family-run business works mostly for KWD Recycling, who are also based in Killarney and have been servicing Kerry households and businesses for over 30 years, as well as West Cork and West Limerick households and businesses for the last 10 years.
The Murphys also enjoy an excellent working relationship with Mallow-based Country Clean Recycling who provide domestic waste collection, domestic refuse collection and waste management services in Cork.
"We haul household waste for KWD Recycling and Country Clean Recycling to Covanta's 'waste to energy' plant in Poolbeg, Dublin. We have trucks based in both Killarney and Cork to do this work. We also draw to Cashel for KWD Recycling. The trucks bring back dry recyclables to Forge Hill Recycling, which is a household and commercial waste recovery facility based in Cork City," Conor says.
"We collect recyclables from lots of places around Ireland, including Dublin, Waterford, Clare, Galway and Donegal. We provide a nationwide service."
Ed, Conor and Mark are joined in the business by seven other drivers who are professional, reliable and deliver on time, every time.
"We have a great crew of drivers who have a good work ethic and take tremendous pride in their work. They mind and look after the trucks as if they were their own. They have played a big role in our growth and success to date. It's a real team effort."
Explaining the background to the company, Conor reveals: "My father initially specialised in plant hire and ran a number of diggers and excavators before branching into roll-on / roll-off skips for KWD Recycling and then artics. We don't do plant hire anyone, even though it's in the company name. It's all haulage now."
Ed Murphy Plant Hire & Haulage Ltd would like to take this opportunity to thank its customers and suppliers for their continued support. The company would like to say a big thank you to John Liston for organising loads and keeping everything running smoothly. Here's to the next 30 years of this successful Kerry operation!
Ed Murphy Plant Hire & Haulage Ltd
Aghadoe,
Killarney,
Co. Kerry.
Telephone: 087 2641966 (Ed) / 086 1972563 (Conor) / 085 8664453 (Mark) / 087 6898530 (John Liston)
Published in Irish Trucker & Light Commercials magazine, Jan 2021, Vol 24 No 1