JMS Haulage marks a decade 
01/04/2021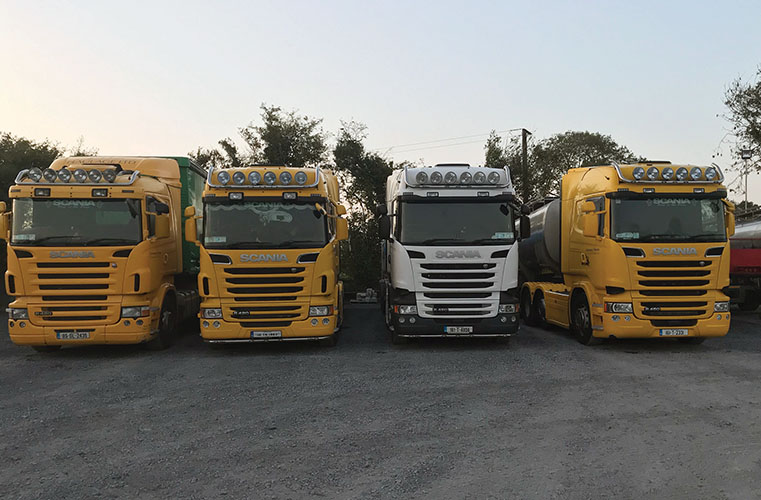 Based just outside Roscrea, Co Tipperary, JMS Haulage Ltd provides its customers with a 'farm to factory' milk haulage service. Irish Trucker learned all about the business after touching base with its founder, John Monahan recently.
JMS Haulage Ltd is a family operated business which today has four trucks on the road from its base in Shanakill, Roscrea, Co Tipperary.
2020 marks a decade since the company first became Limited, having originally been set-up by its current Managing Director John Monahan in 2009 before he incorporated the business a year later.
John's wife Noeleen and their sons Ian and Shane are all involved in the business, while further down the line their younger children Emma and Darragh are set to be part of it in the coming years.
Irish Trucker found out more about the ins and outs of the company from John Monahan himself recently.
"I started it in 2009 and then we became a Limited company in 2010," he outlined.
"Right now, we have four full-time working here and I have my wife and sons involved in the business with me.
"We provide a service from farm to factory in milk haulage and all of our work would be for Centenary Thurles Co-operative Society."
Centenary Thurles Co-operative Society Ltd is run by the local farming community in Thurles for the mutual benefit of its members and the society.
As a former employee with the co-op for more than half a decade, John took the decision back in 2009 to set-up his own milk haulage company and hasn't looked back since.
At the moment, he has four trucks in his fleet, including a superb 181 Scania which he added this year and remains in fantastic condition.
Two of the trucks in the company's fleet draw meal and also do fertilizer deliveries for Centenary Thurles Co-operative Society Ltd.
As John himself will tell you, he has "a fairly simple story" and it's one that has seen him running his own business for over a decade now and providing for his family.
"I was driving for Centenary Thurles Co-operative from 2003 to 2009 and, in the end, I decided to go out on my own," he said.
"It was something I'd have always wanted to do I suppose and I started off with one Scania in '09. I bought my own truck then later that year and just grew things from there."
Starting off with just one truck is so often the way for many when they step foot into the haulage game and it seems John has played his cards right up until now, after waiting a decent spell of time before expanding the fleet.
He added a second Scania to the fleet in 2016, having started his business venture during a time when the Irish economy was at its lowest ebb.
All industries were hit hard by the economic recession, including transport, but John pulled through and now business looks to be thriving down in Shanakill with a fourth Scania added earlier this year.
"I've always went for Scania because I suppose I like the truck and find them reliable," he said.
"I've dealt with Westward Scania in Strokestown over the last couple of years and the one I bought recently was off Freshford Garage in Kilkenny."
JMS Haulage's Scanias bring milk from Centenary Thurles Co-operative Society Ltd to Glanbia Ireland Ballyragget and to Tipperary Co-Operative Creamery on nearly a daily basis, and John is certainly keen for that to continue as his company enters into a second decade.
John himself has been in the milk haulage business for close to two decades now in total and knows what is needed to ensure running a successful company in that particular area.
"I suppose it's because we supply and excellent service and the fact that we're honest goes a long way too," said the JMS Haulage founder.
Earlier this year did see a bump in the road when the Covid-19 pandemic forced the Irish government to lockdown the country in the spring, shutting down non-essential businesses from March until mid-May.
JMS Haulage certainly felt the effects of the lockdown, however since May 18th business has recovered and John's trucks are back on the road six days a week.
The addition of a 181 Scania to his fleet has paid massive dividends so far and he's hopeful that 2021 can bring more busy times for the business.
"I suppose we just have to hope that everything will stay going the same way as it has been recently and that we don't get locked down again.
"If we could avoid that then we'd be happy enough."
He concluded: " As I said, I was an employee of Centenary Thurles Co-operative for six years. I started up this business in 2009 and we're still here and busy enough thankfully. I've a fairly simple story."
JMS Haulage
Shanakill,
Roscrea,
Co Tipperary
Mobile: 087 912 7883
Published in Irish Trucker & Light Commercials magazine, February/March 2021, Vol 24 No 2