Ryan Tyres celebrates 30 years
22/04/2021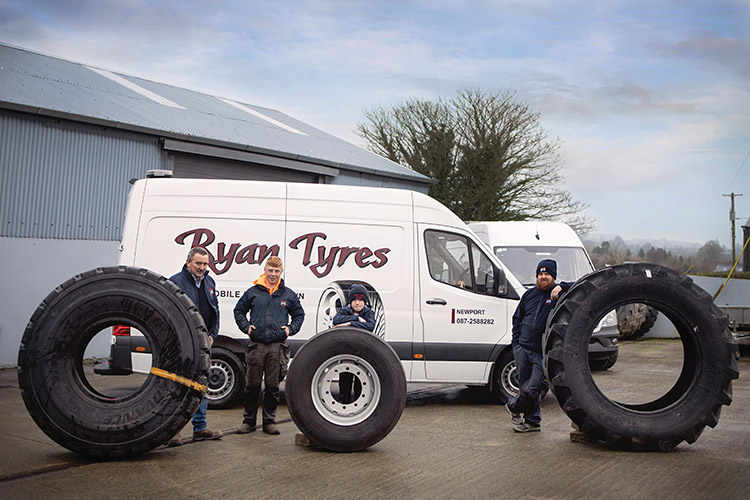 Celebrating 30 years in business, Ryan Tyres provides an unrivalled tyre fitting and 24-hour tyre breakdown service in the Mid-West region. Proprietor JJ Ryan explains more.
These are exciting times for the mobile tyre fitting and repair expert which offers a rapid and reliable service to a wide range of clients within a 40-mile radius of its Newport, Co. Tipperary base. Ryan Tyres has many customers in the quarry, haulage, forestry and agricultural sectors, and has earned an outstanding reputation for quality, excellence and value-for-money.
"We supply and repair all sizes of tyres, from a car to a loading shovel," JJ says.
"We are the only company in our area that specialises in tyres for quarry and forestry machinery. We get a lot of calls to go out to quarries and forests to repair and replace tyres on big machines like loading shovels and forwarders. The tyre sizes would typically be 29.5x25, 2100x35 and 26.5x25. We only supply the best tyres which for me are Bridgestone, Double Coin and Goodyear.
"We have two Mercedes Sprinter vans on the road and all the relevant equipment for getting your vehicle up-and-running again. With time being money, the importance of fixing tyres quickly cannot be stressed enough. That's why we offer a rapid response service 24-7. We are courteous, efficient and professional. Our location between Limerick and Nenagh, and close to the M7, means that we are within easy reach of our customers. And no job is too big or too small."
Ward & Ward Ltd in Birdhill, Kelly's of Fantane in Borrisoleigh, O'Connell Quarries in Ardnacrusha, Rarecross Quarries in Newport, Seamus Ryan Sand & Gravel in Toomevara, Bolton Sand & Gravel in Fahy More North, Co. Clare, Dan O'Connor Feeds, Collins Haulage, Murphy International in Foynes, Goulding Chemicals in Askeaton and CJ Sheerin in Mountrath are just some of Ryan Tyres' regular customers. Local farmers, agri contractors and motorists also avail of the company's exceptional range of services.
"We're lucky to have so many loyal customers," JJ continues.
"We'll go wherever we have to, to fix their tyres. It doesn't matter if it's the middle of a quarry or by the roadside, we'll carry out the repair there and then. When it comes to car tyres, we fit a lot of Goodyear, Dunlop and Barum. We buy our tyres from wholesalers such as Wicklow Tyres, Advance Tyres in Limerick, Rathcormac Tyres and Nenagh Tyres."
Open from 8am to 7pm daily, Ryan Tyres' workshop boosts state-of-the-art equipment, including hydraulic lifts, tracking / alignment and two tyre removal and fitting machines. The mobile units, meanwhile, are equipped with air jacks, air tools and Ingersoll Rand air compressors which are used for removing and replacing tyres on heavy machinery such as loading shovels.
JJ has a wealth of experience in the tyre fitting business, having worked for both Motorway Tyres and TBA Tyres in Limerick before going out on his own in 1990. "I've been in the trade since I was 18 and I'm 63 now," he points out.
JJ built the workshop beside his house in Newport. Helping him to run the business are Stephen Carroll, his nephew Shane Murray and his partner Catherine Burke. Catherine's nine-year-old grandson Hughie Duggan also gives a hand from time to time! "We've always had great people working here – it's a real team effort," he explains.
Ryan Tyres played its part in the construction of the Birdhill to Nenagh section of the M7 Dublin-Limerick Motorway between 2006 and '09 by providing an emergency breakdown service to Coffey Construction's fleet of dump trucks and 4x4s. The company continues to go from strength to strength and, as an essential service, was unaffected by the lockdown caused by the coronavirus outbreak earlier this year.
"Business is good. COVID-19 hasn't really affected us, thank God."
The affable Tipperary man loves his job, so much so that he rarely takes a break from it.
"I'm on call 24 hours a day. I know that wouldn't be for most people, but I wouldn't have it any other way. It's just the way I am. I'm not one for going on holidays or taking time off. I've gone on work holidays, though. I went to South Africa two years in-a-row as part of the Niall Mellon Township Trust. I enjoyed that and getting to see a different part of the world."
JJ would like to take this opportunity to thank his customers and suppliers for their continued support, and his staff for their hard work, dedication and expertise.
Here's to the next 30 years of Ryan Tyres!
Ryan Tyres
New Ross,
Newport,
Co. Tipperary.
Telephone: 087 2588282
Email: [email protected]
Published in Irish Trucker & Light Commercials magazine, February/March 2021, Vol 24 No 2