MB Transport - reliable and prompt 
29/04/2021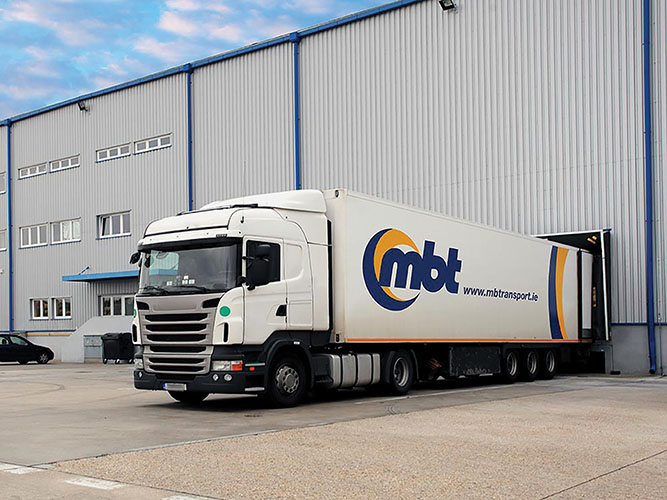 Based in Tivoli Docks, Co Cork, MB Transport Ltd specialises in the haulage of manufacturing goods while also offering services in sea freight, air freight and just in time deliveries. Irish Trucker touched base with company co-director Niall Bowen recently to learn all about what is a thriving business.
They've "never been busier" at MB Transport Ltd and the plan down in Tivoli Docks is to try and keep things that way right through 2021.
Set-up by John McCarthy and Niall Bowen in 1993, the Co Cork-based company employs 30 staff today and is equipped to deal with many specialised cargo requests.
MB Transport Ltd presently operates with 28 vehicles on the road and the fleet number is set to increase again next year.
Irish Trucker caught up with Niall Bowen to learn about the ins and outs of the company – from its origins to the state of business today.
"We're established 27 years and right now we have 30 full-time staff," outlined Niall, whose son Brian is also part of the team at MB Transport Ltd.
"Mainly, we would be sea freight contractors mostly for the manufacturing sector and operate with temperature-controlled vehicles that range from articulated trucks to van."
Since its inception, MB Transport Ltd has aimed to provide a service to its customers which is both reliable and prompt.
Using their accumulated knowledge of the industry, they have expanded from a small business to a growing prominent member of the logistics industry.
John McCarthy and Niall Bowen spent years working in the industry before taking the decision in 1993 to go out on their own and set-up their own business venture.
Niall explained that it wasn't all that easy at the start.
"John and I had actually been in school together and when we finished, we both started working in the transport industry," said Niall.
"We both had lorries and when we decided to set-up MB Transport it was certainly a challenge getting off the ground.
"John was well established in Cork though and that helped us a lot in the first couple of years."
The rest, as they say, is history.
Today, MB Transport's fleet stands at 28 vehicles and that number is growing.
Despite the unprecedented challenges that 2020 has brought with the Covid-19 pandemic, business is currently booming for the Cork company and the signs are good heading into a 28th year.
"It's exceptionally busy. In fact, we've never been busier," said Niall.
"If anything, we got busier when the lockdown and all this hit, so hopefully we can stay like this next year."
While the majority of its work focuses on the haulage of manufacturing goods, MB Transport Ltd also provide services in sea freight, air freight and just in time deliveries.
The company works nationwide and, on special request, can accommodate international collections and deliveries.
They also have a fleet hire to TNT in Cork Airport with drivers included, the hired vehicles are painted in TNT colour, and they also have a hired rigid with driver for Schenker logistics and warehouse support staff.
The fleet which the company operates with is made up of articulated trucks, box body rigid's and vans.
MB Transport Ltd also has temperature-controlled and tails lifts vehicles.
"Altogether we have 28 vehicles on the road and we're in the process of adding to that number," Niall explained.
"We're waiting on two Transit vans and we're in the process of ordering two new Dafs, so we should be at over 30 vehicles for the start of next year."
Of course, the vehicles are only as good as the drivers operating them and MB Transport ensures to employ the best in this regard.
All of the company's drivers hold GDP (Good Distribution Practice) and air freight security cards for known consigners.
The company also has hazardous good ADR trained drivers within its team and each driver has more than 10 years plus experience in the haulage industry.
It all helps to ensure that MB Transport Ltd is equipped to handle daily shipments, special same day collection/delivery shipments nationwide
They can accommodate import and export containers and can also provide temperature monitored journey tickets that are given with the shipment upon delivery, so customers can be certain the cargo was handled and maintained at the necessary temperature range.
If your cargo is being to a facility without heavy lifting equipment, MB Transport Ltd has vehicles equipped with tail lifts that are operated by trained and experienced drivers if needed.
Each one of their drivers are ASA Competency 11.2.3.9 trained and all vehicles can be sealed with serialised and quantified seals so your cargo remains known.
All of the vehicles at the company's base in Tivoli Industrial Estate are GPS tracked so that the customer can know where their cargo is at any time.
That considered, it's not hard to see why MB Transport has evolved into the success story it is today.
The company has been built from the ground up to the point now where it boasts a glowing reputation for its service.
"I suppose we would have a good reputation here and a lot of it for us down through the years has been from word of mouth," Niall put in plainly.
Looking at 2021, the MB Transport Ltd's co-director is thinking very positively as the business gets set to face more challenges.
"I'd be optimistic," he said.
"We do a lot of work with bigger clients here and I am confident they'll help see us through the worst of it"
"We don't move across the Channel all that much but I do expect to see a slowdown regardless. I'm hopeful that it won't affect us too badly."
MB Transport Ltd
Tivoli Ind. Estate,
Tivoli Docks,
Cork
Tel: (021) 455 9078
E-mail: [email protected]
Published in Irish Trucker & Light Commercials magazine, February/March 2021, Vol 24 No 2