Truckcar Sales – your one-stop shop
02/07/2021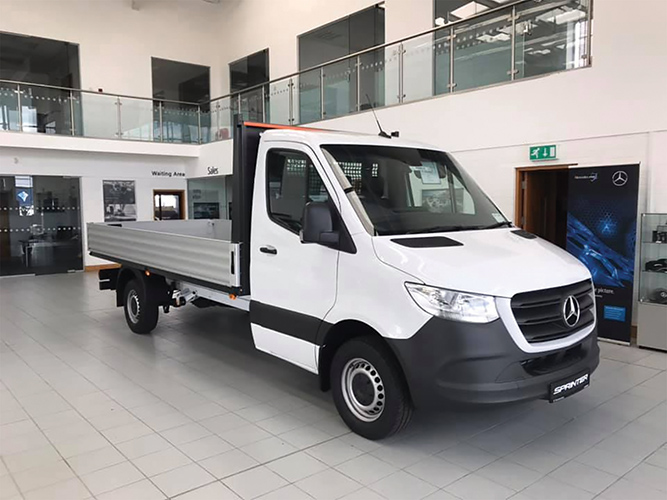 Established in 1988, Truckcar Sales Ltd in Limerick is a one-stop shop for all your truck and commercial vehicle needs. Main Mercedes-Benz and Mitsubishi Fuso commercial dealers, the family-run business also specialises in sales, service, aftersales and parts, and is an approved HGV and LGV vehicle test centre.
Having originally operated from the Dock Road, Truckcar Sales Ltd relocated to a new purpose-built facility on the N20 Limerick-Cork Road just outside Patrickswell in 2005. The company was set up by John Naughton, who also owns the Dock Road-based general motor factor, Auto Diesel Services. John's daughter Clare is financial controller of Truckcar Sales, while his son-in-law Pat O'Brien is general manager. There are 28 people employed in the business, including service manager Jack Chaplin and sales manager Denis O'Brien, who have been with the company for 32 and 29 years' respectively.
Truckcar Sales has been providing sales and service for the complete range of Mercedes-Benz trucks and commercials since 1990. It has also been a Mitsubishi Fuso commercial dealer for the same length of time and a CVRT test centre since 2005. In addition, the garage is an authorised dealer for Mercedes-Benz cars service and parts.
"We have everything under one roof," Denis O'Brien points out.
"We provide the full range of services required by both heavy and light goods commercial vehicle owners. Sales, service, parts, CVRT heavy and light goods vehicle testing as well as 24-hour breakdown assistance / recovery are just a taste of what we can offer.
"Our Mercedes-Benz qualified service team can perform the maintenance requirements on Mercedes-Benz passenger vehicles also. We were main Citroen dealers up until 2012, hence the reason why the word 'car' is in our name. But since then, our focus has been almost exclusively on trucks and vans."
Truckcar Sales knows that keeping your Mercedes-Benz truck or commercial on the road is of the utmost importance to you and your business. To this end, the Truckcar team are always available to assist you when you need them. The dealership's fully-equipped authorised Mercedes-Benz workshop supports all of your vehicle requirements. From routine service intervals and warranty repairs to specialist requirements, its trained Mercedes-Benz technicians are on hand to get you back on the road as quickly as possible.
Mercedes-Benz has a superb range of trucks, commercials and buses to choose from, and Denis is very pleased with how sales have held up in the face of COVID-19.
"We had a fantastic third quarter to 2020 which made up for a poor second quarter," he explains.
"The impact of COVID has had an impact on sales, but things are looking up with a vaccine on the way, and a lot of businesses are in a strong position to get back to where they were before the pandemic hit. Couriers have had a great year and many tradesmen have been extremely busy too. The transport sector has also been largely unaffected.
"In terms of commercial vehicles, the Mercedes Sprinter is our number one seller. The Sprinter's many vehicle variants, equipment options, reliability and fuel-efficiency have made it a market leader, especially in the small bus sector. Market sales were up 17-18% in Ireland this year, which is extraordinary given the times we're in.
"The Mercedes Vito van is a solid workhorse. A recent change to its design and spec' has increased its price slightly, but it remains bulletproof. Mitsubishi also have two fine products in the Fuso Euro 6 and the Canter pick-up truck, which we sell a lot of.
"When it comes to trucks, the Actros and Atego are best sellers. Contract hire is very popular with the hauliers and transport operators we deal with in the Limerick and Shannon region. Most of our customers are individuals as opposed to fleets. Our only real dealings with fleets are those which we service. The HSE and G4S Secure Solutions (Brinks) are our two biggest customers in that regard. We service the ambulance fleet for the HSE.
"We also have a large selection of quality used trucks and commercials for sale at all times. We have something to suit every budget."
Sales and servicing are complemented by Truckcar Sales' CVRT test centre. LGV testing, HGV testing, speed limiter calibration, HGV and LGV servicing and repairs, tachograph calibration, EU plating, voluntary testing, 12-week and full inspections are carried out at its state-of-the-art Patrickswell premises.
Truckcar Sales is part of a network of independently-owned CVRT test centres dotted throughout the country which carry out inspections on behalf of the RSA on all commercial vehicles. The CVRT inspection includes checking brakes, lights, markings, wheels and tyres, steering and suspension, chassis and underbody, tachograph, speed limiter, exhaust emissions, electrical systems, glass, mirrors and more. The company has invested heavily in the latest equipment for testing all LGV and HGV commercial vehicles. The purpose of the test is to ensure that these vehicles are in good condition throughout their entire life.
"The test centre brings in a lot of customers. It's a huge part of the business," the affable sales manager continues.
Business opening hours are 8am to 5.30pm Monday-Friday and 7am to 12pm on Saturdays. Truckcar Sales would like to take this opportunity to thank its customers for their continued support as well as its staff for their dedication, hard work and skill. Call the number below for all your truck and commercial vehicle requirements.
Truckcar Sales
Fanningstown,
Patrickswell,
Co. Limerick
V94 CX67.
Telephone: 061 600 720
Web: www.truckcarmercedes-benz.ie
Published in Irish Trucker & Light Commercials magazine, April/May 2021, Vol 24 No 3