Reliability and professionalism guaranteed with Talbot Plant & Truck Hire
08/07/2021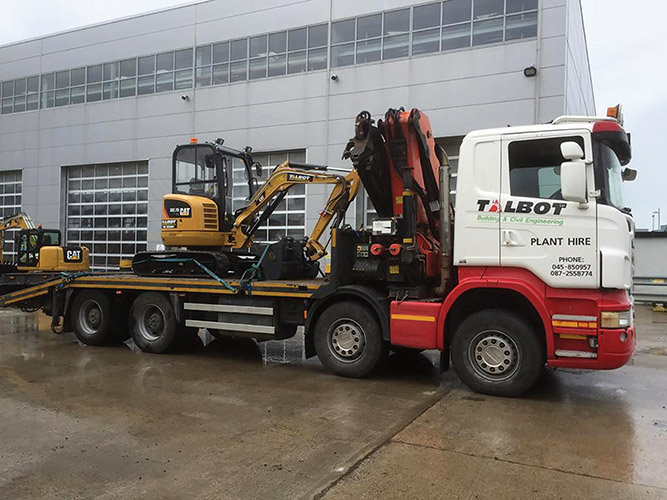 Need a cost-effective Grab Hire & Plant Hire Service in Leinster? Get in touch with Talbot Plant & Truck Hire of County Kildare.
"If you want something done, ask a busy person" – a quote by one of the USA's founding fathers, Benjamin Franklin, that springs to mind in the context of Vincent Talbot and his ever-burgeoning company, Talbot Building & Civil Engineering.
Along with his wife Kay, Vincent combines running the multi-faceted business with rearing six children, all under the age of 8!
"Our eldest is eight and our youngest is a year and a half so you could say we lead very hectic lives," he quipped. "Day and night, it never stops but we count ourselves very fortunate to have a great team working with us.
"We couldn't do what we do without them. It's a team effort and, in fairness to all of our employees, they often go above and beyond the call of duty. It's very much a family run and orientated business."
Originally established in 2003, Talbot Building & Civil Engineering became a limited company in 2007 following steady growth and expansion due mainly to repeat business and past client recommendations.
Fast forward 14 years and, today, the Kill, Co Kildare headquartered operation has 16 employees on its payroll and specialises in Civil Engineering & Groundworks, Sports Ground Development, Demolition and Grab Hire & Plant Hire with or without operators.
The Grab Hire & Plant Hire section of the company was the focus of Vincent's conversation with Irish Trucker & Light Commercials and he outlined: "We would have been involved in that type of work in a small way from 2007/2008 but it has really grown since, say, 2013 with more machinery, more trucks, more business and more people. We're very happy with how it has evolved in recent years.
"We cover all of Leinster and our customers would typically include the likes of building contractors, big and small, landscapers, paving and driveway contractors and DIY enthusiasts. We also hold a valid waste permit for all materials we remove."
Talbot Grab Hire & Plant Hire realise the importance of reliability and flexibility when it comes to dealing with the logistics of removing waste and delivery of stone especially in tight urban areas where storage space may be as little as a front driveway or garden.
Recognising this, they have combined a fleet of small diggers and dumpers to complement their Grab hire service which can be supplied with an experienced licensed operator or on a self-drive hire basis making Talbot Grab Hire and Plant hire a one stop shop for the excavation and disposal in tight access and urban sites.
Vincent and his team can provide the following equipment: Micro diggers and breakers (doorway digger 800mm wide), 3 ton to 14 ton excavators and breakers, Tracked high tip dumpers (1m wide) and 1 ton to 9 ton dumpers. They also have a mobile deck screener for tight areas which they can hire or run on a contract job.
A policy of continuous investment in the company's machinery means that their customers are spoilt for choice.
"We recently took delivery of a new 3 ton Caterpillar and that was the fifth Caterpillar machine that we have bought inside the last two years," Vincent revealed. "Anything from micro up to 14 ton, we can provide. We've also a fleet of grab trucks and a 42 ton crane, truck for lifting and moving containers or machinery."
Talbot Building & Civil Engineering Ltd's mission statement is: "Attention to detail on all contracts with a main focus on customer satisfaction."
Both the company and its employees pride themselves on their work and customer satisfaction and always try to understand and adhere to all of their customers' needs on every contract undertaken.
"We always try to be very professional in everything we do," Vincent explained. "We ensure that our plant and equipment is kept in good condition to save down time. We listen to our customers and give them what they want. I believe we provide a friendly and professional service that works with people."
Despite the challenges presented by the Covid-19 pandemic, business was brisk for Talbot Building & Civil Engineering Ltd in 2020 and Vincent is hopeful for more of the same in this year.
"Business was good. It was, of course, a little bit of a strange year with Covid and what not and that is still very much a concern. But, we always look on the bright side, we always try to see the positive in everything even when things are going bad. You have the pessimists saying you don't know what 2021 will bring but I think it will be okay," he concluded.
Contact Talbot Truck & Plant Hire to discuss any queries and book a day and time for collection/delivery of Grab Hire or Plant Hire.
Talbot Building & Civil Engineering Ltd
Alasty
Kill
Co. Kildare
Office: 045 850 957
Mobile: 087 255 8774
Email: [email protected]
Website: www.talgroup.ie
Published in Irish Trucker & Light Commercials magazine, April/May 2021, Vol 24 No 3