The bulk excavation and plant hire specialist
27/07/2021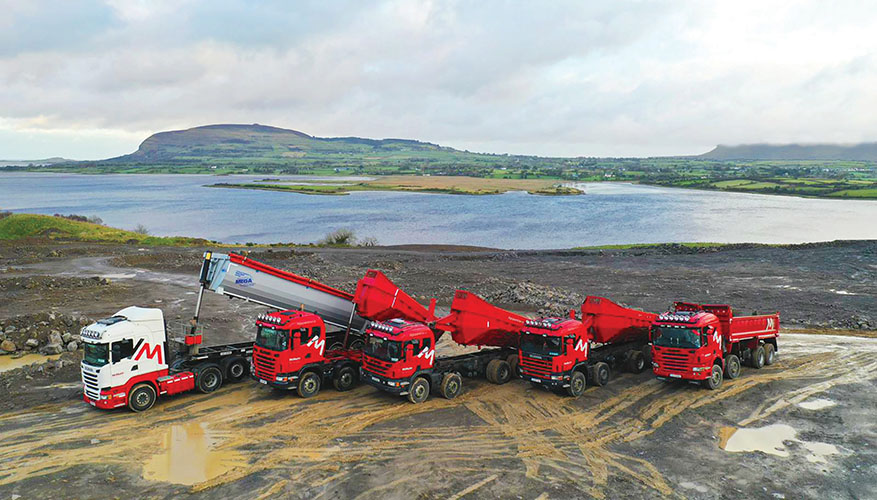 Sligo Plant Hire & Haulage Ltd is a leading bulk excavation and plant hire haulage operator based in Beltra, Co. Sligo and within a stone's throw of the Wild Atlantic Way. Established in 2005 by David McMunn, the company continues to go from strength to strength by providing an unrivalled service to customers across the North-West of Ireland and beyond.
David was only 19 when he took the plunge to set up the business which has since grown to employ 10 local people and runs a large fleet of tipper trucks, excavators, dumpers and mini-diggers. "I obtained a loan from Bank of Ireland and went out and bought myself a 2004-reg Scania 114 380 tipper which I am proud to say I still have today. That's how it all started and has grown steadily ever since," he recalls. "We now have a fleet of Scania trucks which are continually maintained by our inhouse mechanic.
"I originally traded as David McMunn Plant & Haulage before renaming and rebranding the company in 2017. This has been a great success, resulting in increased work and is a better resemblance of our offering. We're now busier than ever."
With a proven track record in delivering several successful projects in the North-West and a service that offers quality, reliability and value-for-money, Sligo Plant Hire & Haulage continues to grow at a substantial rate. The company delivers works to an exceptionally high standard and boasts an impressive client-base which includes Sligo County Council, KDM Civil Building Property, Abbott Laboratories, Knoxpark Developments, Boyle Construction, RPC Construction, Gannon & McNamara, O'Connor Cabins and Rosses Point Golf Club.
"Our customer-base is ever-expanding and we have conducted work on many private and public work contracts," David explains. "We can cater for a range of customers' needs from one-off houses to large civil projects."
Sligo Plant Hire & Haulage offers an array of services, including demolition, bulk excavation, drainage, site clearance, shuttering, civil works and site development. The company hauls sand, gravel, rock and rock armour, and is available for contract at an hourly, daily, weekly or monthly rate as required. The business is fully compliant with all current Health & Safety regulations, and ever more so than in this COVID-19 age. To this end, it continues to develop good working relationships with stakeholders and regulatory bodies, including local authorities and the EPA (Environmental Protection Agency). David pays credit staff member Philip who is regularly the "driving force on the ground. Philip has a keen eye for quality works and takes great pride in what he does."
The company has extensive knowledge and experience in all types of groundworks, having worked on a number of private dwellings, residential developments and commercial sites. Services offered in this area include drainage and percolation, septic and environmental tanks, foundations – pad and strip, formwork and steel-fixing, driveways, footpaths, gardens, boundary walls and landscaping and fencing.
When it comes to plant hire, Sligo Plant Hire & Haulage has an extensive fleet of mini diggers, excavators (3 to 50 tonne), dumpers, rollers and rock breakers at its disposal to meet the needs of small, medium and large-scale clients. Other plant can also be sourced at the client's request.
With its fleet of five Scania 8-wheelers, the company can handle all construction haulage requirements and can also arrange delivery of topsoil, broken stone, graded stone, building sand, equestrian sand, decorative stone and building stone. Most of the stone/sand comes from Harrington's Quarry in Ballisodare, which is a mere five-minute drive from Beltra. David's specially adapted truck bodies can cater for large rock amour projects and his 50 tonne New Holland Kebelco 485 is a key piece of kit for carefully extracting and placing of rock armour to achieve the best results.
David and his team have successfully completed numerous projects in recent years and have also managed to stay busy during the different lockdowns caused by the coronavirus pandemic. Last year, they worked on numerous equestrian centres in the Connacht area, while the previous year they drew 80,000 tons of muck from Sligo University Hospital on behalf of Boyle Construction who constructed a new 285 sq. m. single storey diabetic unit on the site.
Another recent contract involved drawing stone to the site of the new €150 million N4 Collooney to Castlebaldwin road project which is being constructed by Roadbridge on behalf of Sligo County Council. Essential works carried out during lockdown included muck shifting from the site of Drumcliffe Primary Care Centre and laying sea defence boulders along the beachfront at Rosses Point Golf Club.
David also has a DAF CF85 430 with a 32-tonne Palfinger crane which he uses for crane hire and transport throughout Ireland. The company also specialise in the transport of containers and portable cabins with O'Connor Cabins being a key client. O'Connor Cabins is a family-run business which has been in operation for over 70 years by the well-known local O'Connor family. Currently run by Cathal O'Connor, the business is a prime example of the development of good local working relationships.
Cathal and David, friends since childhood, have partnered up to deliver a mixed-use development of 75 houses, 16 apartments and a 93-bed nursing home on an 11-acre site beside the Ursuline College in Sligo. "We bought the site several years ago and intend to commence site development works this year. The aim is to deliver quality, A-rated houses and apartments and provide an additional service to Sligo environs with the nursing home."
The Sligo Plant Hire & Haulage fleet is maintained and upgraded regularly to eliminate downtime. Maintenance is carried out by an in-house mechanic, while David usually buys his machinery from Gaynor Plant in Roscommon and parts from Cawley Commercials in Knocknarea and Western Truck & Trailer in Claremorris.
David also pays homage to his wife Catherine: "Catherine has been with me since the inception of the business and continually supports in the background operations of the business. Her hard work hasn't gone unnoticed and she is vital in the weekly running of the company."
When asked about the future, David refers to his two wonderful daughters Sophie and Nicole who he hopes will follow in his boots in one way or another. "The construction sector is diversifying, and we need to see more women involved in the industry. Hopefully, the girls will find a calling in one form or another in construction and I would love to see them take over in the future."
The affable Sligo man would like to take this opportunity to thank his clients and suppliers for their continued support, and his staff for their hard work, dedication and skill. "My staff regularly go above and beyond in their roles which enables us to keep clients satisfied. This is vital for the continued growth and expansion of the business."
Sligo Plant Hire & Haulage Ltd
Beltra,
Co. Sligo.
Telephone: 087 6835636
Email: [email protected]
Published in Irish Trucker & Light Commercials magazine, April/May 2021, Vol 24 No 3