50 years and counting – Brian Grant Commercials is a one stop shop
05/08/2021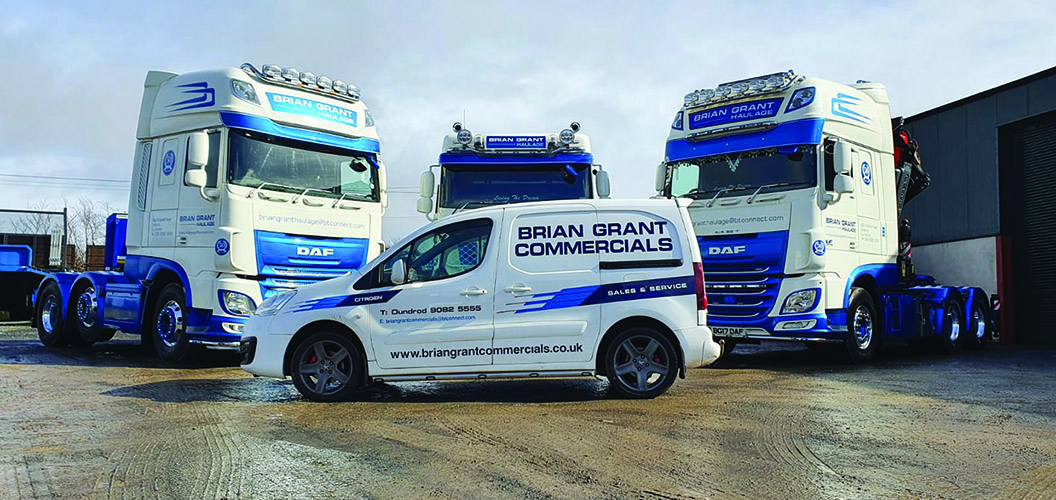 Sales, Service and Spray Painting – Brian Grant Commercials ticks all the boxes. The second-generation company has earned an enviable reputation for providing an exceptional service at a very competitive price while its sister company Brian Grant Haulage can cater for you transport needs. Gary Grant gave Irish Trucker & Light Commercials the lowdown on the well-established company which was set up by his father Brian.
From repairs, maintaining and servicing all commercial vehicles in its state-of-the-art workshop to scraps, full re-sprays, sandblasting and graphics in its equally well-equipped paint shop, the team at Brian Grant Commercials is renowned for the quality of its work.
The same applies to the new and used commercial vehicles they sell and they boast a lengthy list of loyal clients that can testify to this. Another key indicator to substantiate this point is the fact they have been a permanent fixture on the Belfast motor industry landscape for half a century - 2020 saw Brian Grant Commercials reach the significant milestone of 50 years in business.
Brian has a lifetime of experience in the industry having started a garage in Belfast for cabs and lorries in 1969. Four years later he bought a tipper truck working with Wimpy Asphalt Craigantlet and within four weeks Brian had bought a second tipper truck. In 1976 he won a contract with Antrim Asphalt before three years later he started doing cross channel haulage, hauling eggs and mushrooms into the North and East of England.
Brian stopped haulage in 1986 before starting back again in 1995 when Gavin got his licence but since 1980 Brian has been buying and selling lorries.
It is, therefore, safe to state that much of their business has been generated by word of mouth and satisfied repeat customers. Gary Grant took over the running of the business from his father Brian 12 years ago the transition has been seamless.
"Brian took a back seat but he is always available for advice and keeps us on our toes!" quipped Gary.
The Belfast-based operation has proactive workshops for all your commercial vehicle needs which include: mechanical repairs, servicing, PSV/MOT's, accident damage and much more. On the premises they also have a paintshop where they can do touch ups on any vehicle, sandblasting as well as full resprays and graphic design of your choice.
They pride themselves on providing excellent quality of work and outstanding customer satisfaction to all their valued clients. Their highly trained staff are totally customer focused and have built a reputation for their flexible, can-do attitude.
All of their work is carried out by fully experienced and qualified technicians. Their technicians aim to provide the highest of quality maintenance service within a timely manner, also at a competitive price to ensure complete customer satisfaction.
"We currently employ six in the workshop, five in the paintshop and two parts men," Gary revealed. "David Hickland, our workshop foreman, has been working with us for up to 30 years and a lot of our customers deal with him directly. Our paintshop manager is Michael Flynn and, like David, he has been working here for a long time, up to 35 years. We're lucky to have such experienced people working with us and our customers can be guaranteed a top class service when they get in touch.
"Everything is really busy and going well for us, thankfully," he added.
At their workshop Brian Grant Commercials offer a range of services including: repairs, servicing, maintenance, safety inspections and PSV/MOT's for all commercial vehicles. Not only this, but they also can provide full brake roller testing and vehicle diagnostics, as well as a full breakdown and recovery service.
Their bodyshop offers a range of paintshop services from scrapes to full re-sprays, sand blasting, custom colours and graphics. They also offer full vehicle refurbishments for their clients, meaning if you have an old rusting vehicle, they can bring it back to life.
They strive to offer top quality and professional service which they can support through their highly skilled paint technicians and a fully equipped workshop.
Through their top quality service and attention to detail they have attracted customers such as M.A.N UK who regularly avail of Brian Grant Commercials' services.
"We paint a lot of new vehicles for M.A.N UK," Gary explained. "We consider ourselves very fortunate to have a lot of loyal customers and a lot of repeat business. They've been very good to us and we are very grateful to them for their loyalty."
10 years ago the Grant's added another string to their bow with the setting up of Brian Grant Haulage, which is operated by Gary's brother, Gavin.
"My father was involved in haulage at the start before moving into buying and selling vehicles. About 10 years ago we started back into haulage, concentrating on specialised haulage across the UK and Ireland and, thankfully, that side of the business is going very well at the moment too."
Brian Grant Haulage Ltd's fleet consists of three lorry mounted cranes, two articulated HI-AB vehicles and one rigid HI-AB vehicle. They specialise in awkward, tricky or delicate loads. Their largest lorry mounted crane is a Foden Alpha with a Fassi 600 AXP24 Crane. Its lifting capabilities are 10,000kgs at a distance of 5m and alternatively 4,490kgs at a distance of 11.75m.
They can also supply articulated units, low loader for machine movement, 45ft trailer with Moffett Mounty, curtainside trailers and flat trailers. All their drivers are fully trained and hold all relevant licences to operate all equipment. Through their resources and hard workmanship, they aim to provide top quality, reliable service at a competitive price. No job is too little or too large for Brian Grant Haulage.
For any questions on the services that they offer or to get a quotation, contact Gary and the Brian Grant Commercials team at the numbers below.
Brian Grant Commercials
42a Greenhill Road
Ligoniel
Belfast
N. Ireland
BT14 8SH
Gary Grant (Director): 07793 979878
David Hickland (Foreman): 07519 521280
T: 028 9082 5488
T: 028 9082 5555
Brian Grant Haulage Ltd
Gavin Grant (Director): 07768 062042
T: 028 9082 5239
Published in Irish Trucker & Light Commercials magazine, June/July 2021, Vol 24 No 4