Maxus making a splash at Carland Dublin
10/08/2021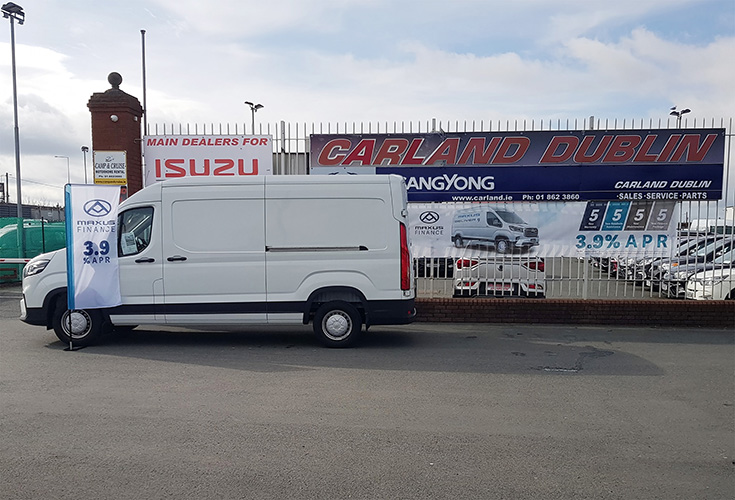 As well as being the Maxus van main dealer for North Dublin, Carland Dublin also operates excellent dealerships for both Isuzu and SsangYong. The all-new Maxus Deliver 9 van was launched during the summer of 2020 and is proving extremely popular at this busy and highly-regarded car and commercial vehicle dealership on Santry's Old Airport Road.
Carland Dublin has come a long way since proprietor Colin Hunt started the business in 2007. A limited company since 2008, Carland Dublin is one of the capital's most trusted suppliers of high-quality used cars and vans, whilst also holding a trio of prestigious dealerships – Maxus, Isuzu and SsangYong, offering unrivalled sales, service and parts solutions to an ever-growing client base.
The business model is based upon providing exceptional levels of customer service and Carland Dublin has grown steadily over the years to currently generate direct employment for a team of seven industry professionals. A comprehensive selection of new and used vehicles is always available, with something to suit every need and budget, while the back-up service provided in Carland Dublin's modern and professionally-manned workshop is simply second to none.
Due to the value, dependability and flexibility of their range, more and more fleet operators and owner-drivers in Ireland are opting for Maxus vans. Formerly LDV, Maxus continues to capture a growing portion of the Irish commercial vehicle market. Twenty-twenty was a landmark year for the rebranded marque as they not only officially changed their name from LDV to Maxus but also launched the stunning new Deliver 9 van alongside the innovative E Deliver 3 electric van.
Launched digitally in mid-June 2020, the all-new Maxus Deliver 9 range is a game changer for commercial fleet owners and operators, with extras such as cruise control, rear parking sensor and air conditioning all included as standard.
The LDV brand is now known as Maxus across the seven right-hand drive markets in Europe. The rebrand to Maxus brings back a badge name originally created by the then British founders and owners of the company more than a decade and a half ago and coincided with the launch of two new models - the all-new Deliver 9 and the newest electric vehicle in the brand's stable, the E Deliver 3.
All elements of the rebrand – which relates to all new platform vehicles from 2020 onwards - have been seamlessly completed and the new Maxus signage is now prominent across all dealerships in Ireland and the UK, with the two magnificent new Maxus models plus variants becoming a more common sight on the road.
Twenty-twenty was the brand's biggest year ever with the launch of their game-changing diesel panel van, the Deliver 9 and the arrival to market of Maxus' second EV model, the E Deliver 3. With cutting edge design, a brand-new platform and 2.0-litre engine, the Deliver 9 represents LDV / Maxus' most comprehensive and versatile offering to date. Available in a choice of three lengths, three heights and a choice of front or rear wheel drive, this van takes things to another level.
The Maxus Deliver 9 comes in seven standard variants which make it ideal for any business. The range spans from the low roof, short wheelbase L1 H1 (which still provides over 8 m3 of space), to the high roof, long wheelbase L3H3, which boasts an incredible 13 m3 of space. With so many different options, prospective owners are sure to find an affordable vehicle that perfectly suits their needs.
Pricing for the Deliver 9 starts from €26,999 excluding VAT. All Maxus vehicles come with five year or 200,000 km warranty and include five years of roadside assistance cover as standard. The all-new Deliver 9 is the first all-new platform vehicle under the Maxus moniker and is available in both a standard and luxury model, offering customers a pure driving experience at an incredibly competitive price.
Powered by a 2.0-litre turbodiesel engine and 163ps and 375nm of torque, the Deliver 9 provides outstanding performance, high efficiency and superb reliability in all conditions. All models include electric power steering and autonomous emergency braking, while fleet managers in particular will be reassured to learn that a manual DPF regeneration button in the diesel range ensures that the van always runs at optimal levels, even during heavy traffic congestion and daily city driving.
A touch-screen-enabled infotainment system (optional in conventional Deliver 9 models and standard in luxury models) means drivers can stay safely connected when on the road, while Apple Car Play and Android Auto ensure they have everything they need at their fingertips. Meanwhile, the high-spec 'Luxury' Deliver 9 model includes cutting-edge technology features such as mirror link, blind-spot monitors and keyless entry.
The Deliver 9 is available from Carland Dublin for delivery nationwide, with free road tax for the first twelve months, free first service, keen finance and a fleet discount for purchases of three or more vehicles. Great news recently announced for customers is that First Citizen Finance is now partnering with Maxus Ireland and the Harris Group to bring special low cost finance (3.9% APR) on vans across the all-new Maxus Deliver 9 range.
Meanwhile, the Maxus E Deliver 3 – the world's first ground-up electric van - is a major milestone for the eventual shift from combustion engines to full-electric. The Maxus E Deliver 3 is a fully electric small van of zero emissions with a remarkable range, clocking up to 320km (NEDC) / 240km combined WLTP on a single charge (52.5kWh battery).
It has been billed as the little brother to its predecessor, the EV80, but is the first vehicle by Maxus that is only available as a fully electric model with no other powertrain options. The Maxus E Deliver 3 is available in three variants with two wheelbase options: a short wheelbase panel van, a long wheelbase panel van and a long wheelbase platform chassis.
In addition to bringing these magnificent, progressive, value-for-money Maxus vans to the Irish market, alongside Isuzu (who have just launched a spectacular all-new D-Max) and SsangYong dealerships, Carland Dublin also stocks an extensive selection of pre-owned cars and vans and provides a first class vehicle repair and maintenance service. A full SIMI-approved workshop repair service is offered including servicing, clutch replacement, diagnostics and fault finding, timing belt replacement, tyres, headlamp alignment, shocks, brakes, NCT / CVRT checks and repairs, bodywork / crash repairs, etc.
As well as fronting Carland Dublin, Colin Hunt is also the MD of Compact Caravans Ireland (no towing licence required!) and Camp & Cruise Motorhomes, providing exceptional motorhome / camper van rental services, which are particularly attractive in the era of the staycation.
Carland Dublin,
Old Airport Road,
Santry,
Dublin 9
Tel: 01 8623860
Email: [email protected]
Web: carland.ie
Published in Irish Trucker & Light Commercials magazine, June/July 2021, Vol 24 No 4