Harpur Bros Plant Hire Ltd marks 15 years 
30/09/2021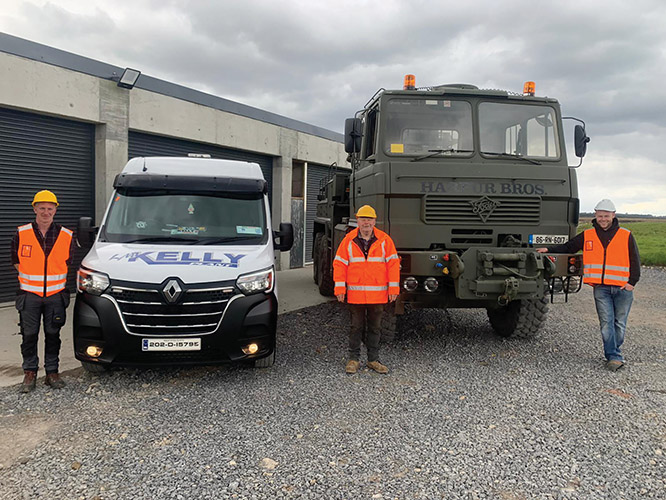 Based in Castlecole, Co Roscommon, Harpur Bros Plant Hire Ltd is a family-run business which specialises in plant hire, agri hire and recovery services for its customers. Irish Trucker touched base with director Owen Harpur to learn more about this thriving business located between the midlands and the west of Ireland.
These are busy times for Harpur Bros Plant Hire Ltd and the plan for Owen Harpur and the team over in Castlecole is to try and keep things that way right through to 2022.
Established in 2006, the company offers services in plant hire, agri hire and heavy truck recovery and operates with up to seven full-time staff depending on the time of year.
Owen and his wife Nadine are co-directors of the business, with Owen's father Liam and brother Benny also an integral part of the company.
Irish Trucker caught up with Owen recently to learn the ins and outs of Harpur Bros Plant Hire Ltd and how it has evolved over the past decade-and-a-half.
"We've been a sole trader since 2001 and became a limited company in 2006," he outlined.
"The company breaks down into three sections, plant hire, agri and recovery and in more recent times we've gotten into tree surgery as well.
"Business is good. In fact, we've never been busier here to be honest."
With so many different services on offer, one might not be surprised to see the Harpur clan so busy at the moment with their work.
The plant and agri hire end of the business also includes Crane Hire, Softground Recovery, Digger, Forestry Machinery etc, while the recovery end sees it specialising in Heavy Truck recovery and winching on a nationwide basis.
With Leo and Michael Kelly's years of expertise in civil engineering and the plant hire business, Harpur Bros Plant Hire Ltd joined forces with Leo Kelly Plant Hire to run the Recovery Services Business.

Harpur Bros specialises in helping customers recover machinery and its expert services include motorway assistance, clearance and removal on a 24-hour basis.
The company can recover both light and heavy vehicles, including digger and forestry machinery sunk in soft ground or tipped over.
Right now, the company has 10 Valtra tractors in its fleet in order to cope with the demand from customers which is currently out there.
It's all a far cry from where Owen started out in the business as a teenager with huge enthusiasm for the agri industry.
"When I was 16, I bought my first baler so baling and turf cutting was the start for me," he explained.
"I skipped the Junior Cert to go at round baling, worked away then and brought a John Deere baler – and I should also mention that year we've bought a brand-new John Deere baler recently.
"So, while all of that was going on, we got more invested in slurry spreading, maize and more and in 2003 then we bought a new under track machine."
"In later years, we got into recovery simply because we had lads ringing us up more and more often that were stuck in soft ground. So, after gaining enough experience in the recovery end of things, we decided to set-up it as well."
Today, business couldn't be better even with all the challenges out there at the moment.
The Covid-19 pandemic, and the government restrictions which have followed in an attempt to combat the spread of the virus, have impacted businesses nationwide.
Harpur Bros Plant Hire Ltd is glad to report that it's business as usual with them as its customers continue to put in a high demand for its excellent and wide-ranging services.
"To be honest, we've never been busier here," said Owen. "We're working on the N5 motorway beside us and, at the moment, the plant hire is very busy and the agri just never stops really.
"When we started off it was with a family tractor, so I bought a Valtra and have gone on and bought 10 of them since. We've diggers, five wide track machines, mostly soft ground stuff, and more recently we bought a new John Deere Combi baler.
"We also got a fresh set of mowers off McHales in Ballinrobe."
So, what has been the secret to success so far for Harpur Bros Plant Hire Ltd? How has a small start up grown into a company which now offers an array of different services and holds an excellent reputation amongst its clients?
According to Owen, assuring your customers of reliability and punctuality on top of a first-class service goes a long way in this line of work.
"I suppose you've got to be reliable in this line of work and I feel that we are here," he said.
"You've got to be reliable and time is precious as well for your customers. We would have a good name for being on time and our machinery is always there and in good condition.
"My father's a qualified mechanic, so myself and Benny would be mechanical-minded you could say."
The recovery end of the business continues to grow strong for the Harpur clan.
Looking towards the coming months, Owen says he is keen to continue that growth going forward and to also continue meeting the high demand from customers.
"We just want to keep doing what we're doing here and continue working hard," he said.
"We want to do a lot more recovery and get as much out of it as we put into it. We also started tree surgery a year ago and bought a new specialised machine for it this year, so hopefully that can take off for us as well."
Here's hoping.
Harpur Bros Plant Hire Ltd
Castlecole,
Castlerea,
Co Roscommon
F45 DX73
Mobile: 086 895 3884
Published in Irish Trucker & Light Commercials magazine, August/September 2021, Vol 24 No 5