Making a full recovery
18/11/2021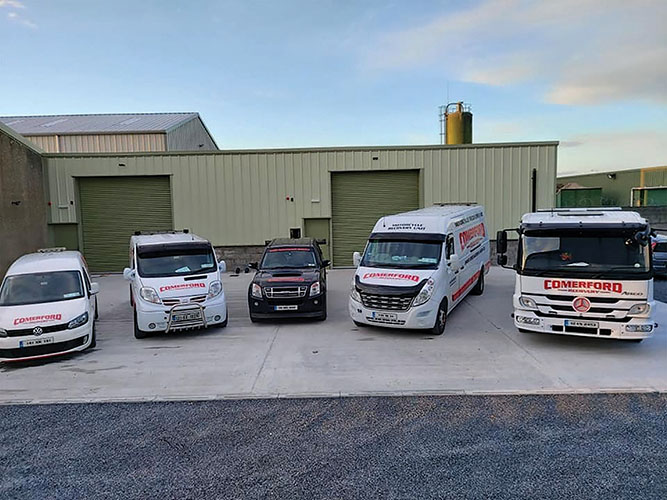 From humble beginnings, Comerford Recovery has quickly evolved into one of Kilkenny's premier breakdown / recovery service providers. With a wealth of specialist equipment at their disposal and vast experience of the transport sector, this exceptional family-run business has hit the ground running. We spoke to director Bernie Comerford to find out more.
Providing an unrivalled 24/47 breakdown / recovery service for cars and light commercial vehicles across County Kilkenny and sometimes beyond, Comerford Recovery has come a long way since its genesis just a couple of short years ago. Having invested in a comprehensive fleet of specialist recovery equipment, the Comerfords are ideally placed to deal with any eventuality.
"Even though it's a relatively new business it is going very well so far," notes director Bernie Comerford. "We offer full recovery services for cars, vans and motorbikes throughout Kilkenny. There are seven recovery vehicles in the fleet and we're very busy.
"We have a lot of specialist equipment including an electric car mobile charging unit, a car park unit and a motorcycle recovery unit as well as two tilt and slides and a beavertail Transit. We can cover everything when it comes to recovery and that's probably the main reason why we are so busy."
From lockouts and jump starts to vehicle recovery in even the tightest of spots at any time of day or night, Comerford Recovery also provide professional and affordable car and LGV collection, storage and delivery services. And Bernie expects the range of services to be increased sooner rather than later…
"We also have a haulage business and, as part of that, do low loader work and machinery transportation as well. The plan is to eventually expand into HGV recovery."
Like Comerford Transport & Plant Hire, Comerford Recovery is a family operation, generating employment for a team of five, including Bernie's brother Matthew and father Bernard. Meanwhile, the original haulage / plant hire business runs a fleet of seven trucks (predominantly Scania and one DAF) and 27 vans, with a crew of 23 employed. The Comerfords also run their own modern workshop, looking after all their own vehicles as well as providing truck, trailer, van, car and jeep repair, inspection and maintenance services to third parties.
In many respects, the haulage and recovery businesses complement one another perfectly. The success and growth of Comerford Recovery has been organic and natural rather than something that was carefully planned. On the back of providing exceptional services to a growing range of customers, word has spread and things have gone from strength to strength: "It just took on a life of its own," Bernie confirms. "I bought the first recovery vehicle two years ago to service our own fleet and started to get phone calls and it grew wings all on its own. There is big demand in the area for recovery services and we started to invest in better equipment in order to provide a better service.
"We have equipment here that nobody else in Kilkenny has, which gives us a bit of an advantage. The mobile charging unit, car park unit and motorcycle unit definitely bring in the work. Those were important investments and we are picking up new customers all the time due to the fact that we can provide such a wide range of solutions."
With exceptional equipment on hand and experienced, skilled and safety-conscious operatives, Comerford Recovery invariably provide customers with a professional and dependable service at a fair price. By its very nature, recovery is such that time is very much of the essence and motorists ideally do not want to be left stranded by the roadside for even a minute longer than is necessary. To this end, Bernie says providing a prompt response at all times is absolutely paramount:
"When the phone rings, no matter what the hour, you have to be ready to move. We are contactable 24/7 and there is always somebody on call. Our goal is to get to the customer within 30 minutes of receiving the call. We can get to anywhere in Kilkenny within half an hour and often we will be there even sooner."
While the specialist fleet gives Comerford Recovery the edge over the competition, Bernie is quick to stress that his ever-dependable staff are at the heart of the operation. Without good men, they simply would not be able to provide such outstanding service levels:
"The recovery is growing all the time and this certainly would not be possible without the input of our staff," the Kilkenny man concedes. "Our men are all vastly experienced and fully trained. They are regularly upskilled in all aspects of Health & Safety and re-trained every six months."
Meanwhile, with 34 vehicles on the road providing a dedicated nationwide haulage service, Comerford Transport & Plant Hire has also developed into an industry-leading operation. Offering unrivalled, client-focussed transportation and distribution services, Comerford Transport & Plant Hire was established in 2011 by Bernie and Matthew, following in the footsteps of their father, who had worked in haulage for many years prior to then.
Today, Bernard oversees the plant hire side of the business while his sons manage the haulage activities. "We had very good contacts starting out and I suppose you could say we were in the right place at the right time," Bernie concludes modestly. "In both haulage and recovery it's all about service and looking after your customers. Once you provide a good service, customers are more likely to continue doing business with you and they will also let others know."
Comerford Recovery,
Unit 24,
Hebron Industrial Estate,
Kilkenny,
County Kilkenny.
Tel: 085 2581980
Email: [email protected]
Published in Irish Trucker & Light Commercials magazine, August/September 2021, Vol 24 No 5