Aaron Dunne Tyre Service moves to new premises
20/12/2021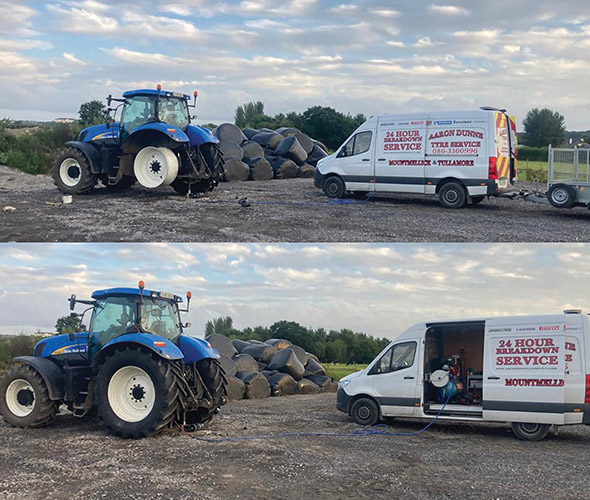 These are exciting times for Aaron Dunne Tyre Service Ltd which has opened a new depot in Clonaghadoo, Geashill, Co. Offaly.
The company has relocated from nearby Mountmellick to the new state-of-the-art premises which is bigger and better, and is kitted out with a Corghi four-wheel laser alignment system for tracking among other things. Proprietor Aaron Dunne has also taken delivery of new Ford Transit Connect and Mercedes Sprinter vans from Downey's of Portlaoise and Kinahan Commercials in Moate respectively.
The new premises and vehicles reflect Aaron's ambition to be the best in the business. Since 2009, his company has earned an outstanding reputation for providing a fast, reliable, convenient and value-for-money 24-hour mobile tyre repair and replacement service to a wide range of customers across the midlands and beyond.
"We moved into the new premises in May and have settled in very quickly," says Aaron, who hails from a family of tyre fitters.
"It has everything we need, including the Corghi wheel alignment machine and hydraulic lifts that allow us to take off four wheels at the same time. We have all the equipment we need to repair or replace a tyre onsite or in the garage. Our new Mercedes Sprinter mobile tyre changing vehicle is fully stocked with a comprehensive range of tyre types and tyre sizes to quickly and effectively change everything from a car tyre to a tractor tyre.
"We also have two Ford Transit Connect vans which have strobe light beacons and are easy to get in and out of tight spaces. They don't take up as much road space as the Sprinter does."
Aaron is joined in the business by brothers Ger and Damien Daly, who are both knowledgeable and experienced tyre fitters. Their suite of 24-hour tyre changing services include car type changing, van type changing, 4x4 type changing and agricultural type changing. Day or night, they can respond to your tyre issue.
"We have been providing the best mobile tyre changing service in the midlands for over a decade and pride ourselves on our rapid response times, reliability and commitment to quality customer service. We never see anyone stuck," he continues.
Aaron Dunne Tyre Service Ltd's central location and close proximity to the M7, M8 and M6 Motorways allows it to cover a wide area which includes counties Laois, Offaly, Westmeath, Kildare, Kilkenny and Tipperary. "We can be in any of those counties within an hour. That's the beauty of being based in the middle of the country," he explains.
The company is available for puncture repairs and tyre replacements whenever necessary. From that initial phone call, the Dunne team will make every effort to respond to your tyre emergency as quickly as possible.
"We understand better than anyone the importance of minimising the delay to your journey. We'll repair the tyre on the spot and have you back on the road in no time at all."
Aaron's van and tyre holding area is fully stocked with both budget and premium lorry and bus tyres. The brands he usually recommends are Bridgestone, Hankook, Semperit and Uniroyal, with the latter being especially suited to cars, vans and jeeps. "Any of those brands wear well," he opines.
The company's services are availed of by a number of truck fleets, including those of JAD Transport, Brian Buggy & Son, Noone's Transport, CD Freight, Aidan Crowley Transport, Brophy Timber Services, Connolly Dairy Products, CJ Sheerin Ltd, Gearoid Kelly Transport and Longhaul Commercials.
The Co. Offaly-based tyre specialist is also available to come directly to your farm to repair or replace tyres on everything from a tractor to a combine harvester. Agricultural tyre vulcanising is an essential part of ensuring the continued performance of agricultural tyres and also helps increase their overall lifespan. It is suitable for all parts of a tyre, including its sidewall, shoulder and threads.
Aaron had spent four years in the US before returning to Ireland to work for his brother Ian, who also provides a mobile tyre fitting service from nearby Kilcavan, Co. Laois. He then decided to go out on his own and hasn't looked back since.
The growth of his company hasn't happened by chance with Aaron having invested long hours and a lot of money in making it the thriving business it is today.
"Tyres is a tough industry, so providing a top-class service is crucial. That's the key – providing a service that people can depend on. No matter what time of day or night it is when you get the call, you have to be ready to go. You offer that service and build up relationships with customers which earns you a good reputation and often leads to more tyre sales down to the line."
As truckers are understandably very particular and conscientious about every aspect of their vehicles, tyres included, only the very highest standard of service will suffice.
"Everything has to be 100%, especially with the RSA monitoring the haulage sector, and I wouldn't have it any other way," Aaron says.
"I understand that they want perfection and that's what I strive to deliver. You could have trucks that are doing continental work and you have to be cognizant of the fact that they might be going to a warmer climate –if there's any sort of gash on a tyre it will have to come off. At the end of the day, everything is geared toward safety and I won't take any chances with the welfare of my customers or their loads."
As well as providing a 24/7 breakdown service, Aaron's new depot is open from 8.30am to 6pm Monday-Friday and from 8.30am to 1pm on Saturdays. With his business continuing to go from strength to strength, he would like to take this opportunity to thank his customers and suppliers for their continued support.
Aaron Dunne Tyre Service Ltd
Clonaghadoo,
Geashill,
Co. Offaly,
R35 DT68
Telephone: 086 3360996
Email: [email protected]
Web: www.aarondunnetyreservice.ie
Published in Irish Trucker & Light Commercials magazine, October/November 2021, Vol 24 No 6