A world-class service every time
04/01/2022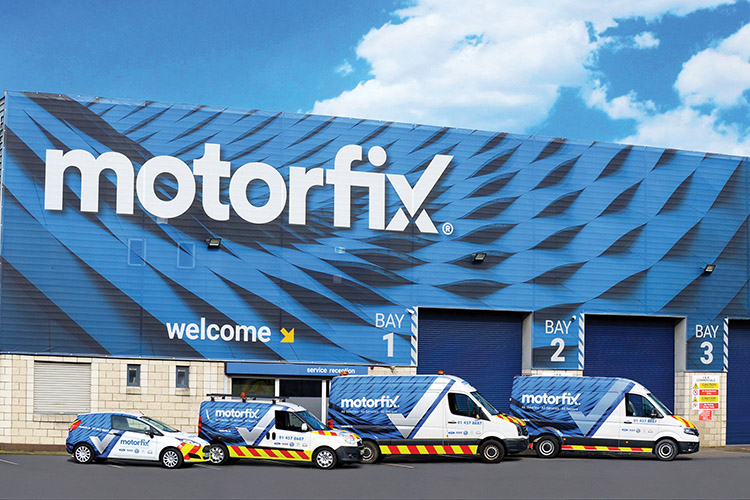 Based in Clondalkin Dublin 22, Motorfix repairs and services all manufacturer makes and models of private and commercial vehicles – from HGVs to SUVs. They fix anything with a Motor!
Irish Trucker touched base with Paul Glennon to learn all about this thriving venture in the capital – from its origins to the state of business today.
Formerly known as J&A Commercials and Auto Repairs now rebranded and trading as Motorfix.
"The reason behind this is to let customers know we cater for all types vehicles not just commercial vehicles," explained Paul. "We are a company which will offer you a world-class personal service each and every time you visit our establishment at Unit A Weatherwell Business Park, Clondalkin, Dublin 22. D22E519. You can't miss seeing this landmark building along ninth Lough Road."
The company was set up by Michael and Catherine Glennon in 2004 after they purchased long standing garage J & A Commercials and currently now employs 15 full-time staff. Their son Paul, who is also a mechanic, runs the busy Parts Department. The firm recently become a Dublin agent for Portlaoise Springs which supplies a full range of parabolic and multi-leaf springs for commercial vehicles.
As it stands, Motorfix is the largest Dealer alternative and independent workshop in Dublin with its owner Michael Glennon leading his team of mechanics that offers customers a professional and hands-on approach each and every time.
Irish Trucker spoke with Paul Glennon recently to find out more about this family business which has a reputation for producing the highest quality work when it comes to vehicle repairs.
"We cater for every vehicle type here, cover every aspect of any repair on all types from vintage cars to the larger HGV's and those with a specialised body like tankers, waste trucks etc ," he outlined.
"If it has an engine, electrical, or hydraulics we will have a look at solving the issue and I think that's something that our customers know and appreciate. We're not afraid of tackling and diagnosing the difficult issues our customers experience. Unlike many now only wanting to carry out basic servicing, we provide one stop shop range of services."
The company is aware of all the guidelines and specifications for every model and knows from experience how keeping a car in top shape will benefit the customer in the long run. Alan Rice, Head of the Service Department, accommodates customers busy schedules and ensures all Manufacturers guidelines are adhered to, also scheduling RSA routine inspections, CVRT & NCT pre-tests and repairs.
"We take away the hassle and arrange CVRT bookings locally, alongside carrying out the repairs required to ensure vehicles are off road as little as possible for all our customers, offering local delivery service when required," added Paul.
All of the staff at Motorfix are highly trained to fix any problems and get your car, van or truck back to running at its best possible performance. Paul himself completed his apprenticeship, started off working with his father, then went on to work in Ford garages before returning to the family business last year.
Paul couldn't have learned his trade in a better place, as Michael Glennon is highly regarded and respected as an expert in his field.
A qualified mechanic with over 30 years' experience, Michael is Motorfix's Head Mechanic and Commercial Sales Manager and brings vast knowledge, always obliging attitude and a problem-solving approach to ensure that all the vehicles which pass through the company's doors are serviced and repaired to high standards.
Michael's wife Catherine is General Manager and ensures along with accounts manager Lorraine Fitzgibbon the office runs smoothly organising bookings with the busy workshop
Catherine brings excellent business and financial management skills and, together with her husband, takes great pride in the work Motorfix does and the high level of service in which their teams offer customers on a consistent basis and both know their customers unique requirements.
It's very much a family-run outfit at Weatherwell Business Park, where business is on the up after a year like no other for companies nationwide as a result of the Covid-19 pandemic and the government lockdowns which followed to try and combat the spread of the virus.
Business is recovering after Covid-19 but, as Paul says they're also looking to build their team of Technicians in the coming months, to work in a modern kitted out workshop with plenty of ramps, tools and diagnostic computers to help make their jobs easier.
"We were closed in March last year for a period (with government lockdown) but opened up again in May and have stayed open since."
Operating with two fully equipped mobile breakdown vans on the road on a full-time basis, Motorfix can also assist your fleet on the road and its recovery truck service will take your vehicle back to the company's state-of-the-art workshop if the vehicle can't be repaired off site.
It's this range of services which sees Motorfix in contracts with companies such as Munster Joinery, SCS Haulage, PRL Sales & Logistics, Target Haulage, Richard Nolan Civil Engineering and Barry Group, Height Platforms, Clare Distributions, Loxam to name just a few, which shows the diverse range of industries they serve.
"We like to have first-hand experience with every customer that passes through our doors here," said Paul when asked about the secret to success for the company down through the years.
"When you deal with Motorfix, you're talking to the owner and also to the mechanic. We have always thrived on that aspect here and I think our customers appreciate that."
In May, Motorfix hosted a small 'Open Day' in which customers were allowed to explore the premises and see some of the excellent work for themselves. They are planning a bigger event later in the summer when restrictions lift.
In recent years, the Glennons took the decision to purchase their building and upgrade their workshop to a world-class standard. It meant purchasing top of the range flooring, ramps and mobile column lifts, four way wheel alignment , diagnostic tools etc and it has since made a massive difference to the quality of service and level of offering for customers.
Looking towards the coming months, Paul sees continuous expansion on the horizon for Motorfix as the company nears closer and closer to two decades in business.
"The hopes are to increase our car servicing, as has been overlooked by many thinking we were only a commercial garage. We're always looking forward and upwards at Motorfix, to see how we can best serve our customers," he said.
"That's what we should all be doing and I think we've now got through Covid, people will look at spending locally with Irish companies.
"We've a great team here who are really knowledgeable but we are trying to recruit more to service the demands of our customers and area we are located in. The new townland of Clonburris just across the road from our building is seeing many more houses. Our proximity to M50, M7 and M4 makes us an ideal choice, whilst also ensures a second to none parts delivery service."
So, if you're in need of vehicle repairs around the capital, why not drop into Dublin's largest independent workshop based in Clondalkin, D22 E519. They are always ready to discuss your transport needs just off the M50 between the M4 and M7. You can look them up at motorfix.ie
Motorfix
Unit A Weatherwell Business Park,
9th Lough Road,
Clondalkin,
Dublin 22,
D22 E519
Tel: 01 457 8687
E-mail: [email protected]
Email CV to [email protected]
Published in Irish Trucker & Light Commercials magazine, October/November 2021, Vol 24 No 6