Heavy haulage, demolition and a whole lot more…
13/01/2022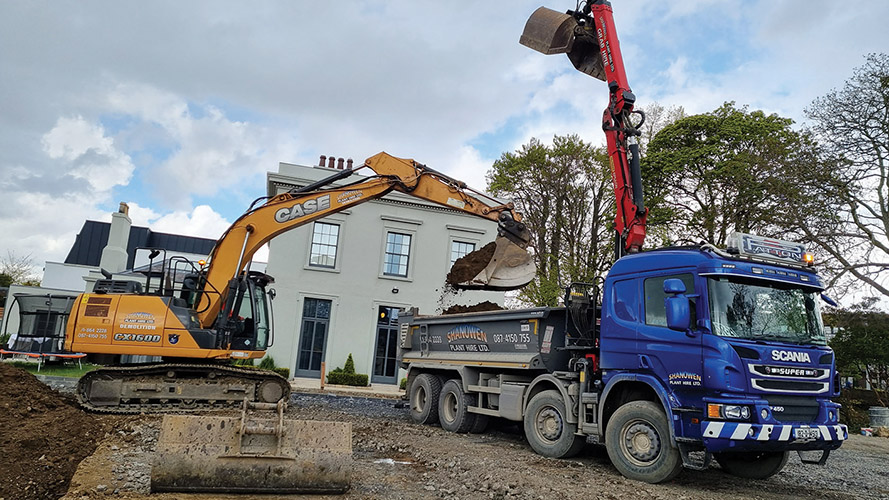 The vast range of specialist services provided by the skilled, experienced team at Shanowen Plant Hire Ltd. (Demolition) is such that they run one of the most diverse and immaculately-maintained fleets in the country. We interrupted director Paddy Patton's busy schedule to get an update on their exceptional, ever-expanding fleet of trucks and machinery.
As the amendment to the company name suggest, demolition has become an increasingly important aspect of day-to-day activities at Shanowen Plant Hire Ltd. (Demolition), who deliver a vital range of services to the transport and construction industries nationwide from their well-appointed Dublin 11 base.
Since its inception in 1984, when the family business was established by Joe and Julie Patton, Shanowen Plant Hire has forged a stellar reputation providing exceptional plant hire, site clearance, demolition, haulage and groundworks solutions. In recent years, they have become one of the go-to demolition contractors in the city, as their critical work carrying out essential demolition works at The Mater Hospital during lockdown testifies.
"We've invested substantially in the demolition and heavy haulage side of the business," confirms director Paddy Patton. "Traditionally, demolition was kind of in the background, but we came to the conclusion that we either had to drop it completely or go at it full tilt. We opted for the latter and it is now a major part of what we are doing on a daily basis, alongside haulage and heavy haulage."
Indeed, Shanowen Plant Hire's unrivalled expertise in demolition is such that they are regularly enlisted to work on prestigious sites across the capital, including the aforementioned project at The Mater and many other hospital jobs as well.
"Thankfully, we managed to remain busy all through the restrictions," says Paddy. "We didn't really stop at all, apart from during the very first lockdown early in 2020. And even then we were still ticking over at around 25% with a skeleton crew. Since then, it's been hell for leather, to be honest."
At the heart of the multifaceted business is a superb fleet of fresh, clean and fully-serviced trucks, trailers and heavy machinery. The ten-strong fleet of trucks includes a brand-new Volvo purchased last year, while the Pattons run up to 30 pieces of plant including crushers, screeners, excavators, dumpers, teleporters, etc. Shanowen Plant Hire Ltd. (Demolition) hold a waste collection permit for the whole of Ireland and currently generates full-time employment for a crew of 20 alongside seven agency personnel.
"We are constantly replenishing and upgrading the fleet to make sure they're efficient and that everybody is safe," Paddy confirms. "The trucks are mainly Scania and Volvo, with one DAF. We purchased new lorries in both 2018 and 2020.
"We've updated a lot of our machinery as well. We have 15 machines from 1.5 tonne up to 50 tonne and have been adding more and more machinery since deciding to go heavier into the demolition. For example, we bought another crusher last October and another screener. We've also recently brought in a new Faymonville low loader from the UK."
Between moving their own equipment and providing services to third parties, heavy haulage has also become an increasingly-busy part of the business. To this end, an additional new five-axle low loader is imminent as we speak… "We initially bought the trailers to move our own machinery but as word gets out that you have those trailers, the phone starts to ring with enquiries and we started to offer heavy haulage," Paddy explains.
Every day is different at Shanowen Plant Hire Ltd. (Demolition) and the specialist fleet could be in action on roads or sites literally anywhere within the capital and beyond. Last November, they were engaged in demolition work in an industrial estate at Park West on the M50 for the development of new data centres. "We did all the demolition work there and it was serious crushing," Paddy recalls. "We did 29,000 tonnes in four weeks and had seven machines on site, all 20-tonne-plus."
While the demolition work is generally closer to home, Shanowen Plant Hire (Demolition) provide haulage solutions island-wide. "We're nationwide in haulage and we currently do a lot of removal of contaminated waste and contaminated clay, soil and stone and asbestos removal. We have put together a specialist team for that work and all the waste is shipped off to Germany."
The pristine appearance of the Shanowen Plant Hire fleet has been a constant since the genesis of the business and is another factor which helps them to stand out from the crowd. Paddy is an authentic trucker at heart and, during normal times, he'd be painstakingly preparing some of the lorries to take part in the main events on the truck show circuit, most notably Full of the Pipe in Punchestown. Unfortunately, due to the pandemic, this annual ritual not been possible either last year or in 2021.
"A good truck show is long overdue – we could all do with one," he laments. "I saw a couple of truck runs staged recently, which was something at least. You'd really miss the shows but these are different times. Hopefully we'll be able to return to some normality soon enough; you have to try to stay positive.
"We still put a lot of time and effort into making sure the trucks look well. We have a couple of lads in every Saturday and they wash and polish them inside and out and we'd sanitise them as part of the routine now as well. We hoover them, too – anything to keep them looking shiny and new."
Keeping equipment clean and sanitised has never been more important than in the current environment. "We've invested a lot of money into it since the Covid situation arose," Paddy continues. "As well as the sanitiser for the trucks, we also set up a Covid station with hand sanitiser, masks, washing facilities and wipes for the lorries. It requires a lot of extra expense to be compliant but you don't mind doing it once you are keeping the lads safe and once the drivers have peace of mind knowing that they are getting into a lorry that is clean and fully sanitised. It's important to look after people and keep them safe."
As a family business first and foremost, Shanowen Plant Hire Ltd. (Demolition) has always treated people and relationships as a priority, which has resulted in strong levels of staff loyalty and excellent customer relations: "It all started in 1984 when my mother and father, who had been in the plant hire game before that, decided to branch out on their own. They've worked extremely hard and it has paid off. Myself and my sister Annita joined after that and have remained in the business since.
"Dad is still very active. He's out every day and is old school in his approach. It's a real breath of fresh air having him around the place. He has the mindset of a 21-year-old and there is no sign of him slowing down!"
Is the third generation showing any interest yet? "I think so," the amiable trucker concludes. "I have two young girls, who are aged one and three, and they are both lorry- and digger-mad. They love to go out in the lorry on a Sunday. Hopefully there will be some parades allowed next St Patrick's Day. We normally do Ratoath and Ashbourne and it would be nice to be able to bring them in one of the trucks for a day out."
The apple, as they say, never falls far from the tree.
Shanowen Plant Hire Ltd. (Demolition),
Bishopswood House,
The Ward,
Dublin 11.
Tel: 01 8642228
Mobile: 087 4150755
Email: [email protected]
Web: www.sph.ie
Published in Irish Trucker & Light Commercials magazine, October/November 2021, Vol 24 No 6