Keeping you on the road for less
10/02/2022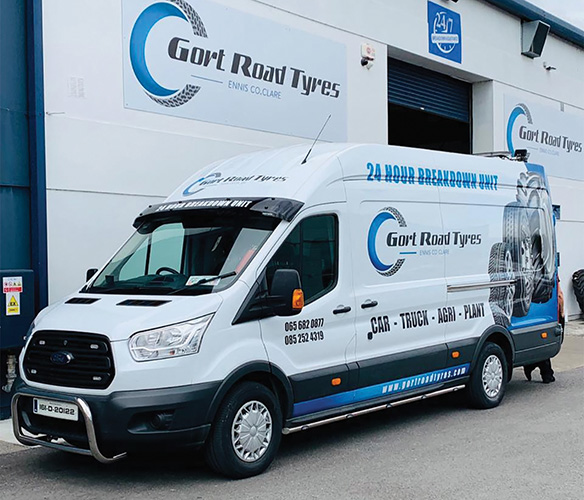 S&R Tyres, encompassing Gort Road Tyres (Ennis) and Ballysimon Tyres (Limerick), offers the best tyre services in the Mid-West, including repair and replacement of car, commercial, 4x4, truck and agricultural tyres, 24-hour breakdown service, 4-wheel laser alignment, truck alignment, wheel balancing, battery replacement, oil changes and lock nut removal.
Established eight years ago by brothers-in-law Shane O'Shea and Robert McDonagh, S&R Tyres delivers personalised care specialising in car, commercial, coach, agricultural and truck tyres. Stockists of a huge range of tyres to suit every pocket, the company boasts the latest tracking systems to ensure perfect tracking every time.
By taking the hassle and confusion out of buying tyres, customers who call in to their well-appointed depots usually have their problem fixed within minutes. Gort Road Tyres and Ballysimon Tyres strive to make it as easy as possible while providing great choice and value-for-money. They have also earned an outstanding reputation for providing a fast, reliable and convenient 24-hour mobile tyre repair and replacement service to a wide range of customers across the Mid-West and beyond.
"We offer the very best services in our field. We never settle for second best," Robert says.
"We provide an unrivalled mobile tyre changing service and pride ourselves on our rapid response times, reliability and commitment to complete customer satisfaction. We never see anyone stuck."
From humble beginnings, S&R Tyres has grown into the leading tyre specialist in its region. The company directors started out in Ballysimon in 2013 before opening a second depot in Ennis three years later.
"We were told we were mad to set up a business in the middle of a recession. I was fresh out of college and Shane, who is married to my sister Elaine, was only a few years older," Robert recalls.
"We started off in Ballysimon repairing car tyres before branching into trucks, buses and agricultural machinery. Bit by bit, the business grew which led to the opening of Gort Road Tyres in Ennis. We relocated to a larger premises in Ballysimon two years ago, which is across the road from our former premises and also provides vehicle repairs and servicing."
Speaking of which, two technicians are employed in Ballysimon to look after everything from pre-NCT checks to general repairs and servicing. Full diagnostics are available for all makes of vehicles. The state-of-the-art Ballysimon workshop has three service bays, including one for 4-wheel alignment. The Josam wheel alignment system provides fast, accurate and repeatable wheel alignment for heavy vehicles.
Furthermore, Robert and Shane – who hail from Gort, Co. Galway and Waterville, Co. Kerry respectively – are now offering a mobile wheel alignment service for trucks and buses that has been very well received.
"This service has really taken off since we launched it during the summer. It complements our mobile tyre fitting service. We have three mobile units which can repair or replace tyres on the side of the road or on-site. The units have everything we need, including jacks, air tools and air compressors."
Customers are able to choose from a wide range of tyres tailored to their needs and budget. Best-selling brands for trucks include Dunlop, Bridgestone, RoadX and Westlake.
"While we would always recommend the leading tyre brands as they are better value in the long run, RoadX and Westlake are two very good mid-range brands which we sell a lot of," Robert continues.
Open from 8.30am to 6pm Monday-Friday and from 8.30am to 4pm on Saturdays, the two branches provide tyre fleet maintenance for the likes of Clare Drains in Ennis, Kieran Kelly Haulage in Ennis, United Metal Recycling in Limerick and Eoin Gavin Transport in Bunratty, Co. Clare. Local bus operators, farmers, agri contractors and private car owners also avail of the company's exceptional range of services.
"We're lucky to have so many great customers. Their loyalty is much appreciated. We'll go wherever we have to, to fix their tyres. It doesn't matter if it's in a yard or by the roadside, we'll carry out the repair there and then."
Robert and Shane are also full of praise for their team of experienced tyre fitters, technicians and administration staff.
"Our staff are our greatest asset. We employ 10 people between Ennis and Limerick, and their competence has enabled us to grow quicker than we could have ever imagined. They're knowledgeable, dependable and hard-working."
With S&R Tyres Ltd, you are always guaranteed the best services and value. The company's aim is to keep you and your vehicle on the road for less. Robert and Shane are available around the clock, so feel free to ring them if you have an issue with your tyres.
They would like to take this opportunity to thank their customers and suppliers for their continued support, and staff for their hard work, dedication and expertise.
Ballysimon Tyres
Crossagala Industrial Estate,
Ballysimon Road,
Limerick,
V94 F6WN.
Telephone: 061 311726 / 085 7705281 (Shane)
Email: [email protected]
Gort Road Tyres
Unit 3,
Gort Road Industrial Estate,
Gort Road,
Ennis,
Co. Clare,
V95 FF9W.
Telephone: 065 6820877 / 085 2524319 (Robert)
Email: [email protected]
Published in Irish Trucker & Light Commercials magazine, October/November 2021, Vol 24 No 6