Leading the way for livestock transportation across Europe
07/04/2022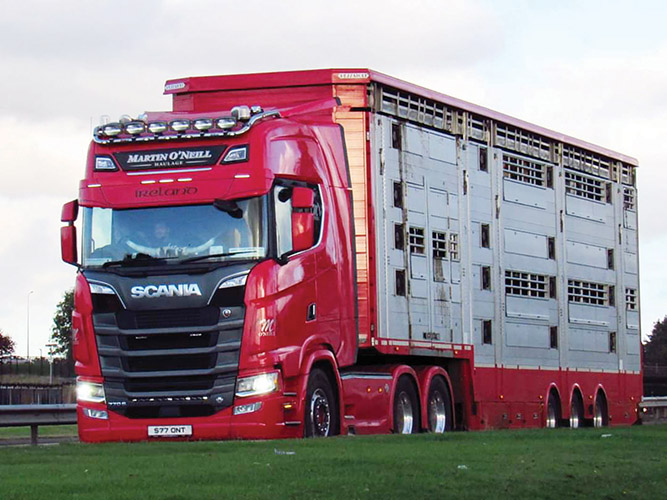 Exporting and importing livestock throughout Europe is a way of life for the team at Martin O'Neill Transport Ltd in Strabane, Co. Tyrone.
Since 2013, the family-run business has been delivering unrivalled livestock transportation solutions to customers in Ireland, the UK and mainland Europe. Boasting a wealth of experience in the industry, Martin O'Neill runs the company and employs three drivers who, like him, all come from farming backgrounds and are accomplished stockmen.
Fully-licensed to transport all livestock, Martin O'Neill Transport puts the comfort, safety and welfare of the animals first and leaves no stone unturned in guaranteeing optimal service levels tailored to the needs of clients and animals alike. The company specialises in the transportation of pedigree livestock to and from Ireland, the UK and Europe, and has built up a loyal customer-base of cattle and sheep breeders.
The Tyrone haulier prides itself on its exceptional service and modern fleet of trucks and trailers which ensure every load reaches its destination safely and on time. Martin runs four Scania tractor units and four Pezzaioli livestock trailers, including two lowriders which are the first of their kind in Ireland and the UK. The lowriders allow Martin to load two decks of cows and drive on the Continent where there is a four-metre rule with the roof closed.
Pulling one of the lowriders is a stunning Scania 770S which was bought new from McElvaney Motors in Monaghan in September. Decked out in the company's trademark red livery, it's a real head-turner which has been put to work on the Continent.
"We're very happy with the new truck. It has proven to be an excellent addition," says Martin's wife Kristina.
"It has spent most of its time doing runs back and forth to France, Germany and Austria. Our other Scania trucks are a S730, a 650S and a R560 and do this Continental work too, with Denmark also a regular pick-up point. They all have red livery except for the 650S which is white and pulls the other lowrider. We deal with McElvaney Motors and A&M Commercials, who are also in Monaghan, for all our truck and maintenance needs."
The Pezzaioli trailers meet all animal welfare guidelines. Furthermore, they are Red Tractor certified and have temperature monitoring systems to calculate each country's climate.
"It goes without saying that animal welfare is our number one priority. We follow all the guidelines and regulations in this regard," Kristina explains.
"Our trailers have automatic ventilation and watering systems. They're cleaned and disinfected after every trip. There is nothing spared in terms of fresh bedding or feeding. A lot of our consignments go through the UK and the route is planned based on the needs of the animals. For example, if you were to travel by boat from Rosslare to Cherbourg, it would take 18 hours so for milk cattle they need to go through the UK with further rest stops booked to allow for the cows to be milked. We submit a journey log for every trip over eight hours and sometimes need multiple logs even for one trip (Ireland, UK, France) based on the route of travel.
"Martin and the other drivers will always go out of their way to ensure each journey is as stress-free as possible for our livestock."
Whatever about Covid, Brexit has made things more challenging for haulage firms, with good planning being of the essence.
"A lot more planning now goes into the transportation of livestock. You have to be more prepared and plan more in advance. You have to take bookings one or two weeks in advance. You need a confirmation number, or Movement Reference Number, for every booking which has to be updated online.
"Post-Brexit, only approved livestock transport operators are allowed to bring cattle back from the UK. The days when a farmer used to be able to hop on a boat, buy a few cattle at a mart in England or Scotland, and bring them home, are gone.
"With most lorry drivers and farmers not having the time to deal with all the paperwork, we try to make things easier for them. It's tricky, however, because the rules are constantly changing."
Martin O'Neill Transport is predominantly involved in the transportation of specially-bred cattle and sheep between Ireland, the UK and Europe. The company exports a lot of breeding heifers from Ireland. Among the cattle breeds it transports are Holstein, Hereford, Angus, Fleckvieh and Brown Swiss. The pedigree sheep breeds include Dutch Spotted Sheep, Suffolk, Texel and Badger Face.
"We have loads coming back and forth from Europe and the UK all the time. We have a number of weekly contracts," Kristina continues.
"We've brought a lot of Fleckvieh cattle from Austria to Ireland recently. Our sheep numbers are increasing all the time. Every day is different. Martin drives himself and takes a lot of the bookings which he passes on to me. Most of the bookings are secured through word of mouth. Martin and the other drivers have worked hard to earn a good reputation in the industry.
"As a farmer himself, Martin loves being around the animals and takes great satisfaction from seeing how well they have travelled."
Martin O'Neill Transport has come a long way since the Strabane man started out with a single Scania R620 and trailer in 2013. He got the bug from working for his father, who had lorries when he was growing up. Martin completed a Level 5 Green Certificate and has attained two livestock handling certificates as well an equine handling certificate from Ballyhaise Agricultural College in Co. Cavan. He has transported livestock all over Europe and has even gone as far as North Africa. He is delighted to see his business going from strength to strength.
Martin and Kristina have three young children, Jason (eight), Matthew (three) and Leah (one). The boys are already showing an interest in the business and even have their own pedigree sheep! Despite his busy schedule, Martin still finds time to do a bit of farming at home and enjoys this time with his boys and watching them develop an interest too.
In summary, Martin O'Neill Transport is able to offer an exceptional service thanks to its years of knowledge and experience in the livestock transportation industry. And customers have the peace of mind of knowing that their animals are transported with great care, guaranteeing a safe and comfortable journey.
Martin would like to take this opportunity to thank his customers, suppliers and team of drivers for their continued support.
Martin O'Neill Transport Ltd
18a Killynaght Road,
Artigarvan,
Strabane,
Co. Tyrone,
BT82 0HT.
Telephone: +44 7717 006398 or +447515412931
Email: [email protected]
Published in Irish Trucker & Light Commercials magazine, April/May 2022, Vol 25 No 2