Making his Mark
20/05/2022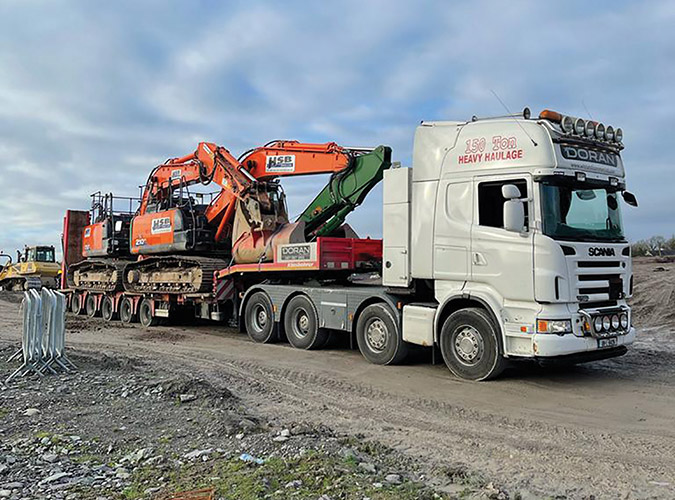 Mark Doran Plant & Commercials is a new kid on the block but the early signs are more than encouraging. Managing Director Mark Doran is putting the tricks of the trade he learned from working in the family business to good use. He looks back on a progressive first year in business with Irish Trucker & Light Commercials and outlines his plans for the future.
Most average 21-year-olds don't entertain thoughts of setting up a business but Mark Doran is cut from a different cloth. Back in March, 2021 he established Mark Doran Plant & Commercials and, as it approaches the end of its first year trading, he reveals that he has no regrets.
In fact, quite the opposite is the case as demand for the heavy haulage, plant sales and plant hire services that the County Roscommon based enterprise provides has, to date, surpassed his expectations. It is very much a case of so far, so good for the burgeoning business.
"Things are going really well," he revealed in conversation with Irish Trucker & Light Commercials. "There is plenty of work on at the moment and I'm buying and selling a good bit of machinery as well.
"To be honest, when starting out I didn't think it would be as busy as it has been but I think the whole country is busy at the moment."
It wasn't off the ground that Mark licked his passion for this line of work. His father, David, is Managing Director of engineering company, Acres Machinery, which specialises in the manufacture of agricultural crop conditioners including the new innovative Multi-con crop conditioner.
David and his late brother, Tommy, known as "Doran Bros", have been heavily involved in all types of machinery from very young ages through their hire, sales and contracting businesses in both the construction and agricultural sectors.
Mark has proven himself to be a chip of the old block and with the assistance of his mother, Elaine, who runs the office, Mark Doran Plant & Commercials has laid solid foundations for a profitable future.
"The family have been at it the last 30 years or so and I was born and reared in the family business. I've worked in this business since I left school and my father is helping me the whole time with bits of advice and so on but he has his own business to run as well."
Focused on delivering top quality new and second-hand machines and a level of customer service that is unrivalled, Mark is quickly earning himself a reputation for going the 'extra mile' to ensure his customers remain completely satisfied with the service he provides.
He hopes this commitment will lead to long-lasting mutually beneficial relationships with his customers.
"We have clients throughout the country and we export a lot of machinery as well," he pointed out. "A lot of business has been generated by word of mouth which is obviously a good indicator that we are doing something right. I'd sell a lot of stuff without even advertising it at the minute."
He continued: "We are selling anything from 1 ton to 50 ton diggers, site dumpers and new rock breakers as well, a lot of different stuff. I'd sell a lot of lorries as well. I source a lot of ex-fleet, they'd be well up on the years and the market is strong at the minute. It can be hard to get good machines but we pride ourselves in selling good quality machines.
"On the plant hire side, we hire out self-drive machines from diggers to dumpers to hoists and teleporters. We'd be dealing with a mix of construction companies and private people on the hire side of the business."
In addition, Mark Doran Plant & Commercials are trusted to deliver heavy haulage for their customers utilising their ever-expanding fleet. They have the flexibility to be able to transport heavy equipment or unusually large loads safely, easily and conveniently for their customers.
"In terms of the haulage, we get stuff moved for people very quickly. We do the best we can for everybody really.
"Looking ahead to the future, I'll be concentrating more on the haulage end of things. We're currently operating a fleet of three low loaders and we basically focus on transporting heavy machinery, anything from 20 ton upwards.
"It is my intention to expand the fleet, we're currently looking at a few new trailers to take things to a new level."
For more information about Mark Doran Plant & Commercial's heavy haulage, plant sales and plant hire services, call Mark today. You won't be disappointed!
Mark Doran Plant & Commercials Athlone Rd
Acres Roscommon
Tel: 087 387 1200
Email: [email protected]
Published in Irish Trucker & Light Commercials magazine, April/May 2022, Vol 25 No 2