The sky's the limit for Flynn Crane Hire
15/06/2022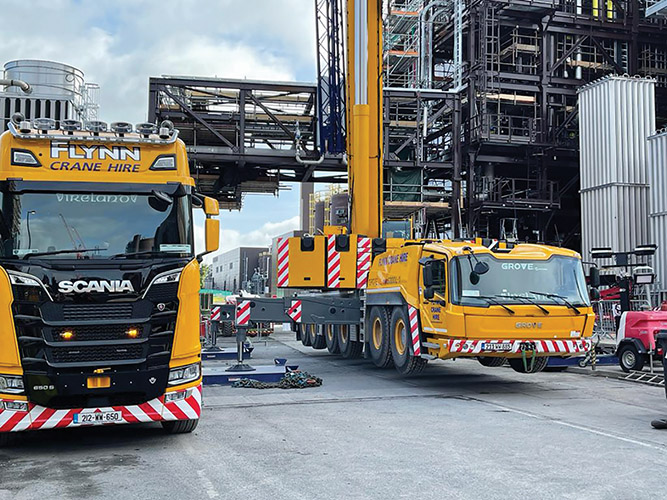 With 21 years of experience in the lifting industry, Flynn Crane Hire is one of the leading crane hire companies in Ireland.
Established by husband and wife duo, Colm and Joanne Flynn, in 2000, the Blessington, Co Wicklow-based operation provides full turnkey lifting solutions to the highest standards, using a modern fleet of equipment and certified CSCS/CPCS personnel.
Flynn Crane Hire operates a fleet of modern all terrain, city class and mobile self erecting tower cranes from 10 – 300 tonnes operating from their depots in Dublin and Wicklow.
All of their operators are highly qualified and hold current CSCS and safe pass cards. They provide a nationwide crane hire service 24 hours per day, 7 days a week, 365 days a year, with customer satisfaction their priority.
A policy of continuous investment in expanding their fleet of cranes, trucks and equipment enables them to supply their long list of valued clients across industries such as Construction, Pharmaceutical, Manufacturing and Marine.
For example, back in August, the progressive Garden County headquartered company took delivery of a Scania 6505 A6x4NA from Delaney Commercials which is a real head turner out on the road.
"We have a new 300 tonne Grove crane which the 6505 is for and we also bought a new 5 axle ballast trailer," revealed Office Manager Wayne Nolan who has been an ever present on the company's payroll since joining as a driver in 2006.
"We are currently operating a fleet of 15 cranes and are upgrading it with three new cranes.
"We are expecting delivery of a new 4 axle 100 tonne Demag at the end of the month as well as a 55 tonne Demag. We have also purchased a new 60 tonne Grove which we are expecting to arrive shortly.
"We were running a slightly older fleet up until last year and they were all very good but we are after upgrading a lot of the older stuff now as well.
"There has been significant expansion in recent times and business is going well. We are very busy at the minute now in fairness," he added.
"We're also after buying a couple of new power steer trailers which we use for one of our clients, The Pod factory, who have oversized loads. We had a new office installed by them here this year as well."
At Flynn Crane Hire they focus on delivering results with safety in mind. They offer free advice and provide fully customised quality services to meet their growing client base needs.
In addition to General Crane Hire, they provide the following services – Contract Hire, Heavy Haulage Transport Services, Lift and Shift and Plant and Equipment.
As part of their full Contract Hire service, they can plan and manage all your lifting requirements from initial site survey, preparation of detailed specific RAMS (Risk Assessment Method Statements) right through to execution of the lift and ensure compliance with BS 7121-1 2006 Safe use of cranes.
The Flynn name is also highly respected in the heavy haulage industry and they have a modern fleet of heavy transport equipment with an extensive range and capacity. They specialise in transporting tower cranes, plant and equipment, modular units, abnormal loads to name a few throughout Ireland and further afield.
Their fleet Includes Rigids, Artics, Hi Abs up to 100 tonne, Low loaders up to 70 tonne, Semi low loaders up to 100 tonne and Flat bed and extendable trailers.
Over the last number of years Flynn Crane Hire have become one of the leading companies specialising in machine moving and machinery installation in Ireland.
Offering full turnkey packages they can lift, shift, skate and jack literally any piece of plant or equipment from heavy duty air handling units, transformers/switchgear equipment to full factory relocations using the latest equipment and machinery. The ever-burgeoning company's professional and highly qualified personnel will get the move done safely on time and on budget.
Another string to Flynn Crane Hire's bow is the wide range of plant, equipment and lifting accessories for hire. The plant and equipment are fully certified and ready to use. Plant can be supplied on a hire basis with a certified operator or on a self-drive basis.
Included in their Plant and Equipment are Man baskets/Personnel baskets (2 or 4 persons), Block Grabs, Concrete Skips, Spreader beams up to 100 tonne, Jacking equipment up to 50 tonne, Skating equipment up to 220 tonne, Chain blocks, Timber bog mats, Two way radios, Fork lifts up to 20 tonne, Telehandlers up to 17m, MEWP's and Glass Vacuum lifts.
"Across the board everything is busy - the skating and jacking is busy, the cranes are busy," Wayne outlined. "Everything is out the door but manpower is the big challenge we are faced with today.
"We have 18 employees at the moment and they are all skilled operators but recruiting new staff is a big problem. There are no young lads coming into the industry and it's making life very hard."
That's an industry wide issue that requires urgent attention from the powers-that-be but, on a more positive note, Wayne was optimistic that Flynn Crane Hire's graph will continue on an upward trajectory as he switched his focus to the future.
"We are extremely grateful for the continued support of our many clients," he concluded.
Flynn Crane Hire
Ashleaf House
Crosschapel
Blessington
Co. Wicklow
W91 EY6
Tel: +353 (0) 45 900 709

24/7 Number: +353 (0) 45 900 709

Email: [email protected]

Website: www.flynncranehire.com
Published in Irish Trucker & Light Commercials magazine, April/May 2022, Vol 25 No 2