Feldbinder joins Ashbourne Truck Centre stable
20/07/2022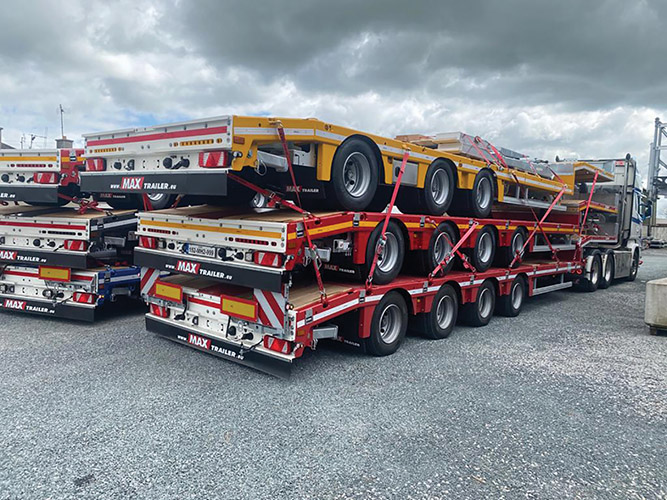 Ashbourne Truck Centre has most recently added Feldbinder to their wide range of products. Feldbinder are Europe's premier manufacturer of silos and liquid tanks for road, rail, and container transport.
The company hopes to expand the market share for Feldbinder throughout Ireland by offering a full after sales support service, including parts, service, maintenance, and repairs required. Ashbourne Truck Centre has a wide range of parts on the shelf and if they don't have them in stock, they can order from Germany on an express delivery service.
A year or more has passed since their first involvement with Feldbinder, all trailers are PDI'd in Ashbourne and the official handover of the vehicle takes place with Ashbourne Truck Centre.
"We are delighted to be part of the Feldbinder team and hope to strengthen and grow the network," Sarah Mooney says.
"As part of the after sales support we have recently installed the HATZ diagnostic equipment in the workshop. This goes hand-in-hand with the Feldbinder product as many of the silos are fitted with Hatz engines.
"They're a top brand which we're receiving many inquiries about".
Established in 1990, Ashbourne Truck Centre has long been synonymous with Faymonville, which is the leading manufacturer of trailers for the specialist transport industry. The family-run business, which is fronted by father-and-daughter Joe and Sarah Mooney, is the sole sales and service partner for the Faymonville Group which includes Faymonville, MAX Trailer and Cometto range.
Based in Ashbourne, Co. Meath, and only 15km from North Dublin and the M50, Ashbourne Truck Centre's state-of-the-art premises features a seven-bay workshop where its fully trained and specialised team carries out pre-delivery inspections. The company's large premises allows it to stock a huge variety of trailers.
Ashbourne Truck Centre is proud to fly the Faymonville flag in Ireland. The Belgium company is the world's leading manufacturer of vehicles for heavy load transport and specialized transport. Faymonville semi-trailers, lowbed trailers, modular vehicles, and self-propelled vehicles can be used to transport anything that is exceptionally heavy, long, wide or tall, with payloads from 15 to 15,000 tonnes.
Faymonville customers value their reliability and flexibility in offering tailored transport solutions, even in the face of difficult challenges. Faymonville vehicles excel with their technical quality and sustainable production methods. Faymonville is constantly investing in the future, working to improve and renew ideas of products and designs for an ever-changing market. Since the early 1960's to this day, Faymonville remains a family-owned and run business which boasts five production facilities with a capacity to build 3,000 vehicles per year.
Faymonville are the parent company of MAX Trailers, a range that consists of two- to six-axle vehicles, for the transport of more standardised loads. It comprises the MAX100 Semi-Trailer, the MAX200 Flatbed Trailer, the MAX300 Drawbar Trailer with Central Axles, the MAX410 Ballast Trailer, the MAX510 Lowbed Trailer and the MAX600 Turntable Trailer.
"Over the last few years, the Faymonville range has become a daily sight on the roads in Ireland, the market share has grown consistently. This we believe is down to our loyal customer network, a superb product in the Faymonville Group and a good after sales service," Sarah adds.
Ashbourne Truck Centre is also well known for the sales and service of Schmitz Cargobull trailers, especially the tipping trailer range. Lately they have expanded the range of stock to include a variety of bulk tipping trailers as well as the standard aggregate / muck size steel tipping trailers. These bulkers include 70 cube alu body, 60-65 cube alu body, also steel scrap transport bulkers. Also offered as an option is the plastic liner in-body factory fitted. This moves the load out of trailer a lot quicker whilst tipping, prevents the load sticking in trailer and offers more flexibility for the types of products transported.
As well as the trailers you will find a range of Sara Loading Ramps which consist of light weight, corrosion-free aluminium ramps in a number of standard sizes for easy handling.
A full range of parts are stocked to suit Faymonville, MAX Trailer, Schmitz & Feldbinder products, including a range of parts for Gigant, SAF, BPW & Rotos Axles. In addition, the Meath firm offers a full range of diagnostics for all trailer braking systems, including Knorr-Bremse, Wabco and Haldex.
Furthermore, Ashbourne Truck Centre has a wide range of second-hand trailers in stock, all sold fully serviced and CVRT'd. The service to customers also includes trailer hire, spare parts, servicing and after sales which the company places a strong emphasis on to build and maintain long-lasting relationships with their customers.
The family business has invested heavily in its trailer hire department which continues to go from strength to strength. The fact that they are willing to hire trailers for any length of time, long or short-term, is a major plus for the customer. Specialising in the hire of semi-low loaders and tipping trailers, Ashbourne Truck Centre can hire them out for a day, a week, a month, or a specific period the customer requires.
Ashbourne Truck Centre retains existing customers and attracts new ones by providing an unrivalled service. Joe and Sarah have worked hard on their aftersales service over the past three decades and feel this is a hugely important part of the business in ensuring complete customer satisfaction.
"Repeat business has been key to our success," Sarah explains.
"The same customers come back to us time and time again for sales, maintenance, parts and trailer hire. Our large and modern workshop is always busy servicing, repairing and doing CVRT preparation checks for owner-drivers and fleets alike.
"We also stock a massive range of trailer parts and ensure our customers don't have any waiting time for the part they need. We offer a nationwide delivery service on all parts and are available at all times to take calls regarding parts, dispatch or any other queries you may have or advice you may need.
"Our customers know that they can pick up the phone at any time and give us a call. Whether it be just for some advice or an interest in purchasing something, we will do our best to guide them in the right direction."
Boasting a nationwide customer-base, Joe and Sarah have no intention of resting on their laurels.
"We have customers from all over Ireland," Sarah continues.
"Our client-base has grown massively in the last couple of years, much quicker than we could ever have anticipated. Our customers include plant hire, haulage, civil engineering, agri dealerships and crane hire companies just to name a few. We have a fantastic team who can cater for all their needs."
Ashbourne Truck Centre would like to take this opportunity to thank their customers, supplies and staff for their continued support.
Ashbourne Truck Centre
Ballymadun,
Ashbourne,
Co. Meath,
A84 Y898.
Tel: +353-1-8350573
Mob: +353-87-2556677
Mob: +353-86-2556677
Email: [email protected]
Web: www.ashbournetruckcentre.com
Published in Irish Trucker & Light Commercials magazine, June/July 2022, Vol 25 No 3