Actros is just the catch for McElchar
09/08/2022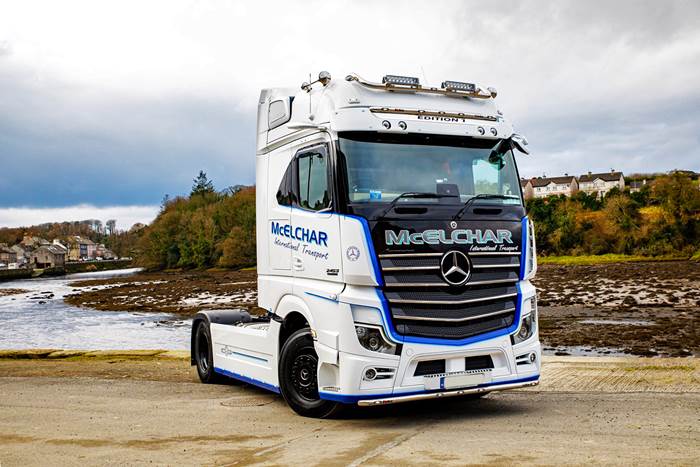 The Mercedes-Benz heavy-duty Actros truck has proven to be just the catch for seafood haulage specialist Mc Elchar International Transport Limited.
The Donegal-based haulier has enhanced its fleet of heavy commercial vehicles with the recent addition of two new Actros 2453LS 6x2 tractor units.
Supplied by Mercedes-Benz main dealer, Somers Commercials of Camolin, the new units bring to nine the number of vehicles now on the firm's fleet which carry the Mercedes-Benz three-pointed star.
Finished on the outside with Kelsa spotlight bars, top and bottom, both 2.5 metre Big Space cabs come with a host of interior driver comfort features ideal for long-haul journeys to and from their base in Castlefinn. Included are leather seat covering, climate control, night heater, microwave, TV and sliding fridge.
A Mercedes-Benz customer since 2013, McElchar's general manager, Barry McElchar puts his firm's band loyalty down to the backup service received from Somers Commercials which he says is 'second to none', coupled with the 'reliability, fuel economy and driver comfort the Actros truck delivers'.
Founded in 1988, McElchar International Transport Limited is a family-owned refrigerated haulage contractor serving the Irish and Scottish seafood industry. Operating a modern fleet of dual temperature refrigerated semi-trailers, the firm specialises in transporting consignments of fresh fish, salmon, prawns, scallops and shellfish, amongst others.