The excavation and groundworks specialist
30/08/2022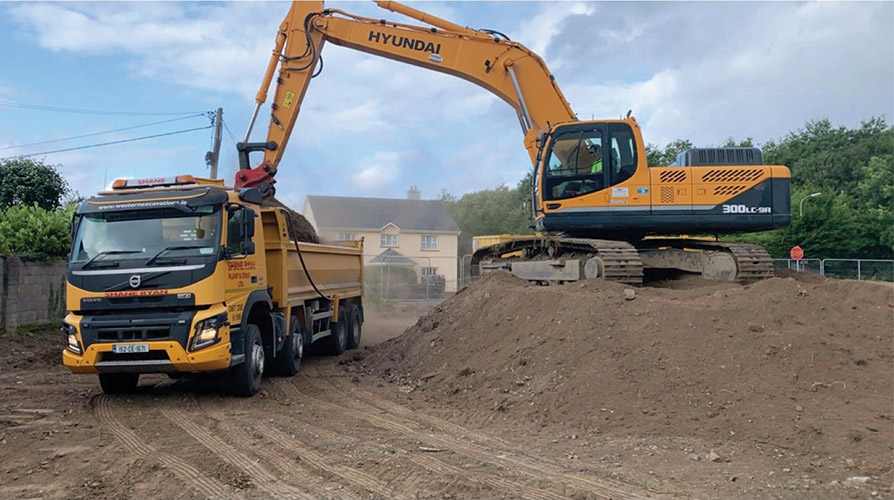 Western Excavations Ltd is a one-stop shop for all your site clearance and waste removal, excavator hire (13-35 tonne), bulldozer hire, crushing and screening, and crushed stone needs.
Based in Lahinch, Co. Clare, the company was founded in 2016 by Shane Ryan and has since become a leading excavation and groundworks specialist in the region. Complete customer satisfaction is always assured with Western Excavations whose services include plant hire, contract crushing, quarry material and civil engineering.
From his two sandstone quarries in Liscannor and Kilmihil, Shane supplies all types of stone to the construction and agri sectors. The stone is regulated and certified by the NSAI for civil engineering and road construction, and is pyrite and mica-free (this has been an issue in the Clare area). Both quarries are certified by the NSAI for EN 13043 (aggregates for bituminous mixtures and surface treatments for roads, airfields and other trafficked areas) and EN 13242 (aggregates for unbound and hydraulically-bound materials for use in civil engineering work and road construction).
Shane can also supply everything from 804 stone and decorative chipping for landscaping and driveways to screened topsoil.
"I had been in the agri contracting business before setting up this company in 2016. We have grown steadily by providing a range of services at competitive prices. Our customers are split 70/30 between construction and agriculture. We supply farmers mostly with 50-70mm stone which is used for drainage and land reclamation purposes," he explains.
Shane runs three tippers and one artic along with a wide range of plant. The tippers are a Volvo FMX, a Volvo FM and a Scania P400. The artic is a Scania R500 which is used for pulling a large tipper trailer and a low loader. The trucks are maintained and serviced in-house as well as by McCarthy Commercials in Limerick (Volvo) and Mike Kelly Commercials in Galway (Scania). Behind the wheel of each truck is a reliable, experienced and courteous driver who takes great pride in the appearance of their vehicle.
In terms of plant, Shane runs four Hitachi excavators, a Komatsu P65 dozer and a Volvo A25 dump truck. In addition, he has a Terex Pegson 1100x650 crusher and a Keestrack screener.
"We have four diggers, a dozer and a dump truck for our own work and for hire. We have our own crusher and screener, and also call on Shnae Foley for haulage, plant hire and crushing. Jason Lyons is another man we deal with for plant hire and crushing. We're constantly investing in our plant and machinery to ensure our customers get the best possible service," he says.
"We also hire machines on self-drive to other plant hire companies and contractors."
The company employs seven staff and is currently undertaking its biggest project to date which involves 'mucking away' / supplying stone to the new Ennistymon Campus. Western Excavations is working in conjunction with Crowley Plant Hire and main contractors Kilcawley Construction. The Campus is an amalgamation of Ennistymon CBS, Ennistymon Vocational School, Scoil Mhuire Ennistymon and a new primary school, and will cater for up to 1,000 pupils when completed.
"We're delighted to be associated with such a landmark project in our locality," Shane continues.
"We were initially contracted to carry out the site stripping and removal of knotweed. We continue to work closely with Crowley Plant Hire who are excavating and laying the concrete and pipework. We're removing the muck from the site to our waste facility, which is also in Ennistymon. We hold a waste collection permit for the whole of Munster and all loads are fully traceable within EPA guidelines."
In summary, Western Excavations are experts in excavation and handling of contaminated materials. If you would like the whole phase of your site clearance or 'mucking away' project managed and completed, Shane and his team can help in providing a solution to meet your exact requirements. The company's fleet is of the highest standard and this, coupled with its vast experience in the plant hire business, ensures that all projects are completed on time and within the agreed budget.
Shane would like to take this opportunity to thank his customers and suppliers for their continued support as well as his dedicated crew of truck drivers and machine operators for their hard work, skill and loyalty.
"Our people are our greatest asset. We are so lucky to have good staff, especially at a time when Covid and the increase in the cost of diesel, tyres and parts has provided many challenges.
Shane adds: "I would like to thank Fergal Cleary and his staff at Euro Plant & Machinery Sales - who look after our Hitachis - for their outstanding sales and service. I would also like to thank Kevin Forde for his years of service as a mobile HGV mechanic. Many times he has got us out of trouble day or night! Thanks also to Darren Griffin from Malbay Tyres for his 24/7 breakdown service.
"I'm grateful too to Vaughan Oil in Miltown-Malbay for working with us through tough and challenging times. "
Shane is also thankful to the agri sector for getting him on his feet.
"I was an agri contractor from 2003 to 2016, running two balers and a silage wagon. I got great support from farmers and we are still going in and out to these same people today delivering stone and doing land reclamation jobs. The farmer is always doing something and is a huge part of our business."
Call Western Excavations today for a competitive quotation.
Western Excavations Ltd
Derrymore,
Lahinch,
Co. Clare.
Telephone: 087 2806199
First published in Irish Trucker magazine Vol 25 No 4, August/September 2022