All systems go at Dooniver Plant Hire
04/10/2022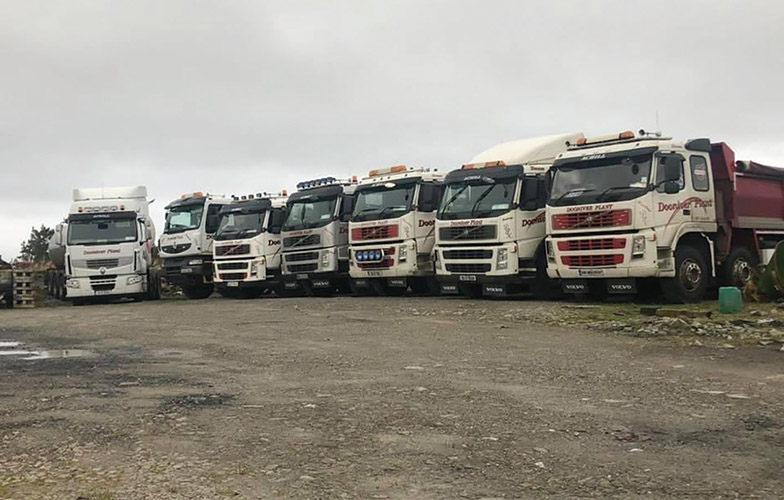 Based in Achill, Co Mayo, Dooniver Plant Hire is a construction and haulage company which provides of all types of quarry material for its customers. Irish Trucker touched base with co-director Anthony Doran to learn more about the company which saw its predominantly Volvo fleet expand from six to 11 trucks in the last 12 months.
These are busy times at Dooniver Plant Hire and the plan for Eugene and Anthony Doran is to try and keep things that way right through to 2023.
Last year saw the company mark 25 years since its inception and the father and son operation in Dooniver, Achill Island, Co Mayo still continues to go strong after all these years.
Employing 10 full-time staff, the company provides its customers with of all types of quarry material, namely from Harrington's Concrete & Quarries.
Irish Trucker spoke with Anthony Doran to find out all about the ins and outs of the company – from its origins to the state of business at the moment.
"We're established since 1996 and myself and my father Eugene are the two directors here," Anthony outlined.
"We have a range of tipper trucks, arctics and rigids and we'd be hauling stone, sands, tarmacadam and we haul wastewater as well.
"Most of the work is for Harrington's Concrete & Quarries in Kilkelly and they've quarries all throughout Connacht."
Operating from Achill Island, the company's trucks can be seen driving the roads all over the west of Ireland week in, week out.
As both a construction and haulage business, Dooniver Plant Hire covers a range of services for its clients as Anthony explained.
"We supply sand, gravel, top soil and all kinds of stone to various locations in the country," he said.
"Harrington has quarries in Sligo and Galway as well and we have a lot of our vehicles going there for them too."
The fleet itself is top of the line and superbly maintained year-round.
Over the past 12 months, Dooniver Plant Hire has added five trucks which goes some way to summing up the high demand for the company's services at the present time.
"Right now, we're running 11 trucks – six arctics and five rigid tippers," said Anthony.
"We expanded from six to 11 trucks in the last year and the fleet itself is made up of 10 Volvos and one Renault. I bought three of the Volvos off Burke Commercials in Claregalway."
Volvo is very much the chosen brand when it comes to Dooniver Plant Hire's fleet.
Since 'Day One', there have been Volvos in the yard in Dooniver and Anthony views it as a brand he knows inside-out at this stage.
"At this stage, I know the ins and outs of every one of them," he said.
"All the parts are the same and it makes it so much easier for having stuff in stock. We have a lot in stock here and a lot of spare parts for the Renault vehicle as well.
"We always maintain our trucks to the highest standard and it's something which stands to us with our customers as well."
The Covid-19 pandemic, and the government lockdowns which followed to combat the spread of the virus, did not overly impact Dooniver Plant Hire's trucks staying on the road either.
The company gained essential work during the lockdown to keep busy and now, it seems, they're busier than ever.
"It (the pandemic) didn't really have an effect on us, to be honest," said Anthony.
"We did some essential work during the lockdowns to take us through them. We diversified into hauling materials for farmers that was deemed essential."
He continued: "Because of the project that's on-going beside us, it's been all systems go lately.
"The N5 Westport to Turlough Road project is right beside us here and the clients on the project are Wills Bros Civil Engineering Contractors and BAM Ireland.
"Work on it started for us in May 2020 and it's been going ever since, so it's been non-stop, thankfully."
So, all of that considered, the burning question is what has been the secret to success for Dooniver Plant Hire over the past 26 years?
How has small start-up grown into a flourishing construction and haulage business with 11 trucks in its fleet?
According to Anthony, much of it comes down to established trust with clients through providing an excellent service time and time again.
"I think our customers know that we're reliable and when they look for something off us, they get it," he said.
"We'd also like to think that we're competitive price-wise and, most of all with us, it's no fuss. We're just in and out and the job's done right."
What more could you ask for as customer?
Looking towards the months ahead for his and his father's business, Anthony hopes that Dooniver Plant Hire can continue to experience the current high rate of business and perhaps freshen up some of its older trucks in the fleet.
"The hopes are to keep everything going steady and maybe upgrade some of the trucks in the fleet in the months ahead as well," he said.
"After that, we just hope that everything will be safe and well as we come out of Covid and that things will run off as hassle free as possible."
Hear, hear.
Dooniver Plant Hire
Dooniver,
Achill,
Co Mayo
Mobile: 087 754 1531
First published in Irish Trucker magazine Vol 25 No 4, August/September 2022