New Galway 'Plate' marks Walsh Waste 50th Anniversary
21/10/2022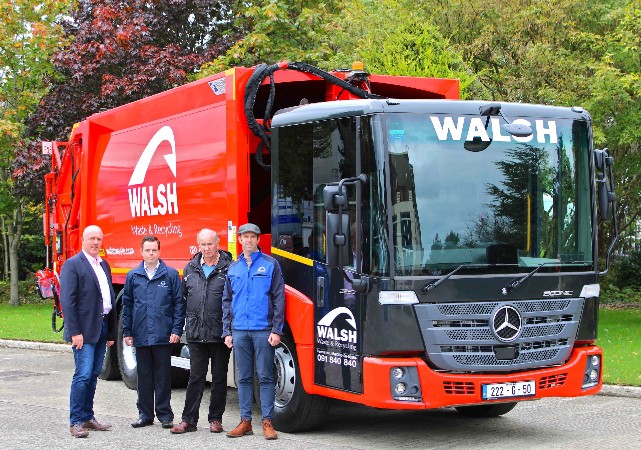 2022 is the year that sees Walsh Waste celebrates 50 years in business and to commemorate the occasion the Galway-based waste management firm has added a new Mercedes-Benz Econic to its lineup of commercial vehicles, carrying a specially commissioned registration plate '222-G-50'.
Ideally suited to the needs of waste collection operations, where workers are regularly climbing in and out of the vehicle, the Econic features a low entry cab with a pneumatic folding passenger door which can be opened with the touch of a button. Inside, the cab comes fitted with seating for a driver and three passengers and is finished with panorama glazing to maximise visibility.
Joining a fleet of 40 units, the new Econic 2630L ENA is finished in the Company's eye-catching scarlet and black livery and comes with a 6x2 rear steer axle, full air suspension on all axles, Allison automatic transmission and a body supplied by Logic Fleet, Dublin.
A Mercedes-Benz customer for 12 years, Walsh Waste managing director, Tom Walsh says the appeal of the vehicle is 'the reliability of the previous Econic on the fleet, coupled with the suitability of its low entry cab for urban work.'
A family-owned business since 1972, Walsh Waste is one of Ireland's most experienced waste management companies, providing collection and recycling services across the domestic, commercial, industrial and building sectors.