The best brands at the best prices
25/10/2022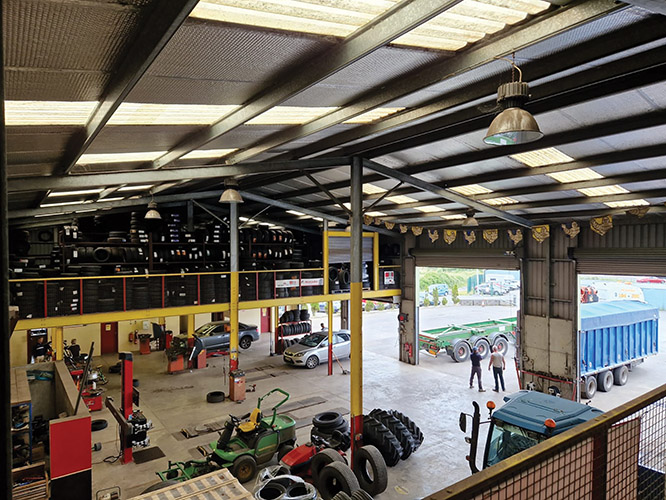 Established in 2000, Loughrea Tyre Centre supplies its customers with quality car, van, truck, bus and agri tyres as well as a top-class service level. Irish Trucker touched base with Managing Director Jamie Monahan to hear more about the ins and outs of the company and its hopes going forward.
These are busy times at Loughrea Tyre Centre and the plan for Jamie Monahan and the rest of the team in Fairfield, Co Galway is to try and keep things that way right through to 2023.
Operating with five full-time staff, the company is one of the premier tyre retailers in the west of Ireland and has earned this reputation by providing its clients with a reliable and professional service.
The business itself was set-up by the late Tommy Monahan in 2000 and, after his passing in April 2019, his son Jamie took over the running of the day-to-day operations.
Irish Trucker spoke with Jamie recently to find out more on the state of business at the moment for the company, the most popular products it currently has on offer and the impact the Covid-19 pandemic had on business over the past two years.
"It's myself and four others working here and my mother Jodi is involved in the company as well," he outlined.
"Business is fairly good right now but the price of materials has gone up a good bit, especially with tractor tyres and that, there's been an increase every couple of months for the last two years.
"Covid was manageable for us as we were lucky enough to be able to work through it. We were closed for a while but always on call and since opening back up, business has been great and we've been busy every day."
Established 22 years this year, Loughrea Tyre Centre moved into its current premises in 2003 and, since that time, the company has grown into a market-leading operation, stocking a full range of tyres for cars, vans, buses, trucks, jeeps, tractors, quads, construction equipment, trailers, agri machinery and everything in between.
Since 'Day One', the objective at Loughrea Tyre Centre has been to provide customers with the best brands and accessories at the best price.
The company stocks leading brands such as Continental, Dunlop, Firestone, Goodyear, Hankook, Michelin, Pirelli, Uniroyal, Federal, Bridgestone and BKT / Agrigear and also stocks rims, batteries, wipers and all parts and accessories associated with the tyre trade.
This makes Loughrea Tyre Centre first choice for its customers when it comes to tyre inspections, puncture repairs, tyre replacements, alloy wheel repair, wheel alignment and wheel balancing.
As well as this, 24/7 breakdown recovery and roadside assistance is also provided for customers.
Indeed, every tyre type is provided at Loughrea Tyre Centre and, as Jamie explained, the most popular brands are always on offer in Fairfield.
"Truck drivers would have always been mainly Bridgestone but, lately, they've been moving away from it a small bit as they have become very expensive and they're going towards other brands like Goodyear and Pirelli," he stated.
"In saying that, Bridgestone is still the most popular tyre with drivers that come to us and then, on the tractor side of things, BKT Agri-Max is the most popular that we sell.
"I'd say 75 per cent of our customers would be some way related to farming, whether it's the farmer himself, his wife or his children."
More recent times have seen the company adding a fully kitted out Opel Combo van, so as it can be on the road for customers whenever needed.
Operating with two vans, Loughrea Tyre Centre carries out around 90 per cent of its tractor tyre fitting work within the yard of the farm itself.
So, all of that considered, the burning question is what has been the secret to the success of this family company down through the years?
How has a small start-up grown into a thriving business with a reputation for providing an excellent service to its customers?
For Jamie, much of it comes down to the company's willingness to go the extra mile for customers and also the fact that it is a very family orientated business. "My girlfriend, Cassandra, a full-time teacher helps out by completing the paperwork in the office on the weekends. Both of my sisters, in full-time third level education give a helping hand whenever they can also. This allows time for me to have more time to attend to customers needs and provide a service that operates 24/7.
"We have a lot of the same customers from 'Day One' nearly and anyone that's with us usually tends to stay with us," the Managing Director stated.
"I'd say a lot of it is down to the service that they're getting, to be honest with you. I know we may not be the cheapest, but the quality of the tyres and our service is excellent. You can be assured that we'd never leave a customer stuck, day or night, weekday or weekend.
"I'm always on the road and always on call. Along with two or three other lads that would be on call also if I was unable to make it to make sure the job gets done for the customer whenever and wherever they need it.
"We'd have a lot of customers that go from Galway to Dublin on trucks on a daily basis and, if they got stuck in Dublin or anywhere around the country, we'd have a man there ready to go for them.
"We work with them and they'd work with us."
The approach has worked so far and, as it stands, Jamie has no plans to add to the team in Fairfield for the moment.
"To be honest with you, I'm happy enough with what I have," he stated. "If I could get a lad that's as good as what I have at the moment I would take them on no bother, but at the moment with the way things are it is very hard to get workers.
"I have four mighty lads here now, who are very proficient and skilful in this line of work."
Looking towards the months ahead for Loughrea Tyre Centre, Jamie says he's keen for more of the same business-wise after having invested in some new machinery in recent months.
"We are happy to stay going the way we're going at the moment. I mean, we take each day as it comes but if business continues each day as it is in this current climate, I will be happy enough.
"We're after buying a new truck machine, a new four-wheel alignment both off Tommy in Apaseal. We've two truck machines here now which helps speed things up for the customer. We'd be happy to keep going as we are now because it is busy here, which I am forever grateful for!
"The machines are going well and business is good, so we can't ask for much more," he concluded.
"I am very thankful for everyone who has helped me in the business during the past three years.
"It was my father, Tommy, who has built the business to where it is now by putting his whole life into this business. I am very humble and grateful to him. I have a great family, my mother Jodi, Cassandra my girlfriend and my sisters Megan and Sophie. They are as important in Loughrea Tyre Centre as I am!"
Jamie added how is he is very thankful to "the local tyre centres as they have been very good to me over the last few years, Keith Kilcar in Gort, Pat Treacy in Portumna and Kevin Burke in Athenry".
Loughrea Tyre Centre,
Fairfield,
Loughrea,
Co Galway
H65 K652.
Tel: 091 841 260
Mobile: 087 982 1917
E-mail: [email protected]
First published in Irish Trucker magazine Vol 25 No 4, August/September 2022