Horan Tyres keeps you moving
28/02/2023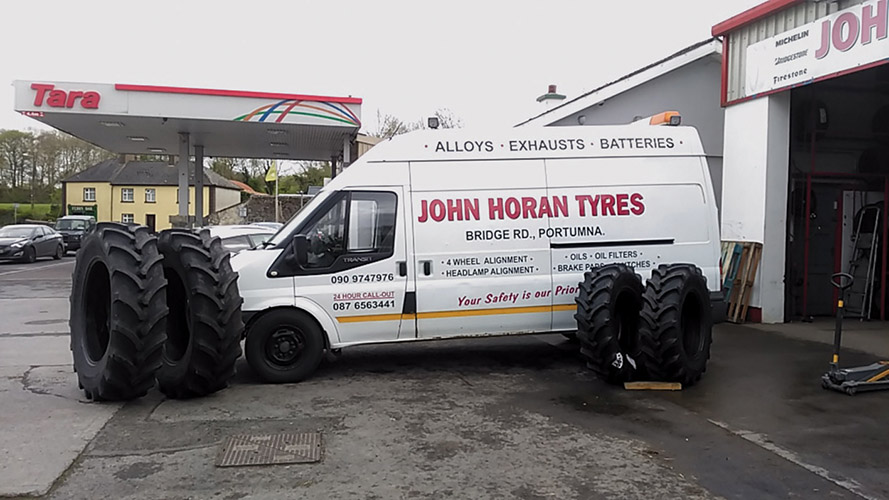 Established in 2005 by John Horan, Horan Tyres Ltd is a leading tyre depot in Portumna, Co. Galway which also specialises in batteries, exhausts and car servicing.
From humble beginnings, Horan Tyres has become the number one for tyres, tracking, fast puncture repairs, balancing and alloy straightening in the region. The company has earned an enviable reputation for supplying, fitting and repairing tyres for cars, jeeps, trucks, tractors and quarry equipment.
"We cater for everything from a wheelbarrow to an earthmover," John proudly states.
"We provide a full service to the car, haulage, agri and earthmoving sectors. We also offer a 24/7 callout service to our regular customers. We have two fully-kitted vans dedicated to this which are able to carry out repairs onsite or on the roadside. We can also fit agri tyres on the farm or in the farmyard. It's all about giving customers the service they want."
In addition, Horan Tyres offers pre-NCT checks along with full servicing at its state-of-the-art four-bay workshop. The Bridge Road depot has everything John and his team need to repair and replace tyres, and carry out servicing, including John Bean 3D four-wheel laser alignment, diagnostics and hydraulic lifts. As well as providing a comprehensive range of tyres for different vehicles to suit all budgets, the garage stocks a full selection of batteries, exhausts, alloys and other accessories.
Horan Tyres offers free and impartial advice on the best quality tyres to suit your needs and budgets. They are authorised agents for all the leading brands, including Michelin, Pirelli, Goodyear and BFGoodrich for cars, Hankook and Bridgestone for trucks and BKT Agrimax, Firestone and Tianli for tractors and earthmoving equipment. A huge selection of mid-range, budget and used tyres are also in stock. Horan Tyres' most popular budget brand is Arivo which is supplied by Bolger Tyre Wholesalers in Tullamore.
"The wear on Arivo tyres is brilliant and they have such a wide range… I would recommend them to anyone who is looking for a budget tyre," John says.
"We pride ourselves on our quality products and top-class service. We're always prepared to go the extra mile for our clients. Customer satisfaction and value-for-money are very important to us. Our primary concern is the safety of our customers, hence the importance of choosing the right tyre to suit your vehicle and the way you drive it."
In the unlikely event of it not having the tyres you require in stock, Horan Tyres will have them for you the next day. "If the order goes in before 3 o'clock in the afternoon, we will have the tyres by 8 o'clock the following morning. We will never see anyone stuck," the affable managing director stresses.
John served his time as a mechanic with Al Hayes Motors in Portumna before working in Galway for a few years. In 2005, he returned to Portumna and set up John Horan Tyres, which was later shortened to Horan Tyres.
"I had only 10 tyres and 16 boxes of tubes starting off," he recalls.
"Slowly but surely, I built it up from there. The support I got from local truckers, farmers and businesses was massive. The likes of Quitmann O'Neill Packaging, GA Claffey, TP Sullivan, Arrabawn Co-Op, Al Hayes Motors, Pat Fahy Haulage and Gill's Agri Contracting in Rathcabin, East Galway Quarries in Ballinasloe and East Galway Stone in Deerpark have been long and loyal customers. We cover a wide area which takes in Galway, Tipperary, Offaly and Clare. We're situated in the middle of those four counties."
Horan Tyres' suppliers include Tractamotors, Euro Car Parts, Kelly Motor Factors (Ballinasloe) and Agrigear Tyre & Wheel Specialists (BTK). John is joined in the business by four full-time staff, while his son John Vincent – who is following in his footsteps by serving his mechanic apprenticeship with Al Hayes Motors – and partner Cheryl also help out.
"I cannot praise our tyre fitters enough. They're excellent at what they do and have played a big part in our growth and success to date. We're all on the same team," he adds.
John has noticed a trend towards smaller tyre profiles on trucks and is also meeting the growing demand for electric car tyres which are a different specification to conventional petrol and diesel cars.
"The profiles on truck tyres are generally dropping 10mm from 31580/32.5 to 31570/32.5. That has been very noticeable, so we've had to stock up on the smaller size. You have to be able to adapt and evolve in this business or else you'll get left behind."
As Horan Tyres continues to go from strength to strength, John would like to take this opportunity to thank his customers and suppliers for their continued support as well as his staff for their hard work, dedication and skill.
Opening hours are 9am to 6pm Monday-Friday and 9am to 5pm on Saturdays.
Horan Tyres Ltd
Bridge Road,
Portumna,
Co. Galway.
Telephone: 090 9747976 / 087 6563441
Email: [email protected]
First published in Irish Trucker magazine Vol 26 No 1, January/February 2023